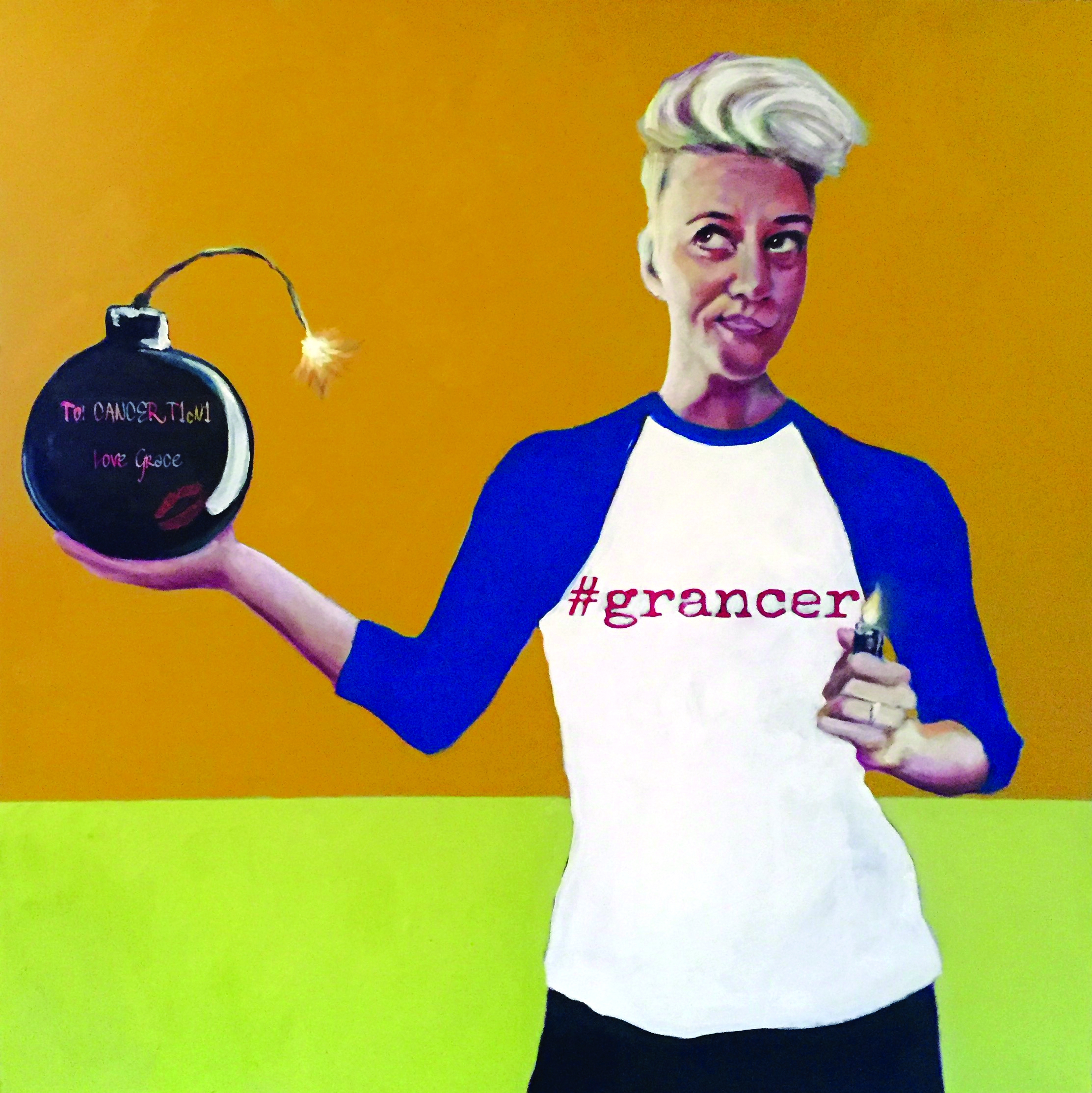 Bowen Kline
Romeo, Michigan 
"Bombs Away"
Oil/Collage
Custom frame provided by Brad Young at BYoungWoodWorks and Art.
36 x36
I would like to introduce everyone to Amazing Grace Fauls Lombardo. A year ago she was given unexpected and unwelcome news that she had been diagnosed with breast cancer. This was shocking, because she believed herself to be healthy and energetically pursuing her life with her family. To help cope with this distressing news, Grace began to write. And write she did! She started her blog, Grancer, a playful mash-up of Grace and cancer, as a way to describe her feelings during this terrible time. She spoke of pain and anger as well as finding humor. It was her writing that broke her through her depression.

Inspired by Grace Fauls Lombardo
Northbrook, Illinois
Survivor
I was diagnosed with stage 2a non-BRCA breast cancer as a very healthy, 35 year old mother of 3 small children. After my cancer diagnosis, everything happened so quickly. Within weeks I had a bilateral mastectomy and a subsequent second surgery to remove more nodes. Next came a nasty infection followed by 12 weeks of chemotherapy and reconstructive surgery.
Through it all, there were a few constants that helped me traverse my 'year of cancer'. First was the overwhelming love and support of my family and friends, most notably my sister, Jennie. She stopped her life to keep me alive. She cared for me so tenderly and meticulously. The closeness we cultivated is a lucky byproduct of the disease. In the very early days after diagnosis, my sister encouraged me to start a blog, a way to keep family and friends within the loop. What started as a way to disseminate information, turned into something much larger. Blogging about my experiences and feelings gave me an outlet I had no idea I needed. True to my nature, I was extremely open and honest in my writing and though I was walking through fire, I managed to infuse each entry with humor, which was part storytelling and part coping mechanism. Through the power of sharing and the internet, my blog grew exponentially. Since inception, my blog has had over 130,000 visitors. The impact I have been able to have on strangers who have been touched by a cancer odyssey is truly a gift.