Mahwish Syed and Sheryl Ann Noday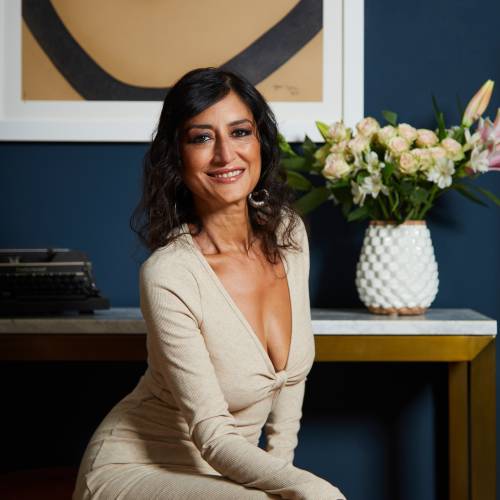 Mahwish Syed
New York City, NY
Survivor
Social Media: @mahwish_syed_designs
Twist on Cancer: Cancer was my doorway to freedom. It had such an indelible effect on me that I recently published a book on it. PURGATORY TO PARADISE: How Cancer Helped Me Design An Authentic Life is my homage to the lessons I learned during my dance with cancer. One of which I will share with you as a fashion and interior designer—that beauty and pleasure were my vehicles to healing. They were not the destination. Meaning that I didn't wait to heal in order to feel beautiful, I felt beautiful in order to heal. How did I do that? By using my designer's eye and all my senses to create beauty as my "car" that I drove to my healing. That lesson is something I practice every day, even now—by finding pleasure, cherishing beauty, and expressing this gift of life that we have.
I am so grateful to share my journey with an artist who transformed my experiences into a visual allegory. The experience of sharing my truth with Sheryl Ann has also been my healing water. In coming together, we realized that it was a two-way street, a dialogue, and a beautiful dance of hearts and minds. Thank you to Twist Out Cancer for creating a marriage of creativity and healing—the offspring of that union is truly magical!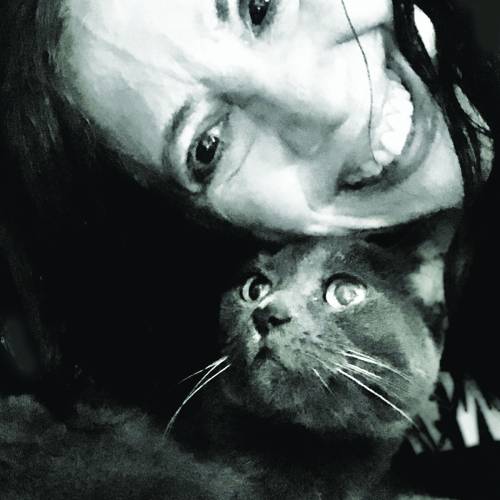 Sheryl Ann Noday
Chicago, IL
www.sherylnoday.com
Social Media: @sheryl_art_the_silent_healer (IG)
"Under the Midnight Sun"
Oil on canvas
24"x36"
$1500
Artist Statement: My painting takes place under the blush pink moon, where all is feminine and all is divine.

The woman, the nymph on the lower left, takes herself out for a swim in the gardens of Monet, where the water is emerald knowing that this is the first step of any healing. To cleanse oneself. She represents feminine energy, offering support for what a world this would be if we could celebrate our differences and see our similarities. And most of all, this is her journey, one that she must take alone.

I like to believe we all have a little Mahwish inside of us, the part that leaps into unforeseen waters, the part that knows without this plunge there is no other way out. Under the Midnight Sun, she enters Monet's gardens as if by invitation. As if time stood still to call upon her ally.
The one and only spirit self for she knows the moon and the light of the lantern will guide.

Few would go skinny dipping in unknown waters.

I bet Mahwish would.

In that way, this is the very inspiration that led me down the path to imagine, then to paint this piece. We all have many paths in which we can let go, to surrender and just be. In my painting, we see a bridge that leads to light. Beauty will be where we are called.

That is what Mahwish is all about.

One simple word: beauty.


Life is not perfect, although we strive to make it so.

Life can be a series of chapters of redoing, reinventing and reorganizing, which is just what
Mahwish did when she learned she had cancer.

She embraced this time by diving head in to rediscover herself and create anew. Walking through a doorway, as we see in my painting.

I like to paint my figures showing their backs. It's a way for the viewer to become involved and be part of what the subject is experiencing and to journey together.

Born of life, an ancient tree gives birth to a bridge that leads the way.

We also see a frog in the emerald waters, silently watching.

We never know when prince charming will make his presence known.

In that way, the perfect balance begins. The dance of the feminine and masculine.

This is the healing power of creation, which is the backbone to all my art. I call my work Magical Realism.

I learned a long time ago this is where my passion lives, this is what creates the eternal heartbeat within me. This is where I will be forever inspired by healing.

By love.

And the waltz goes on.