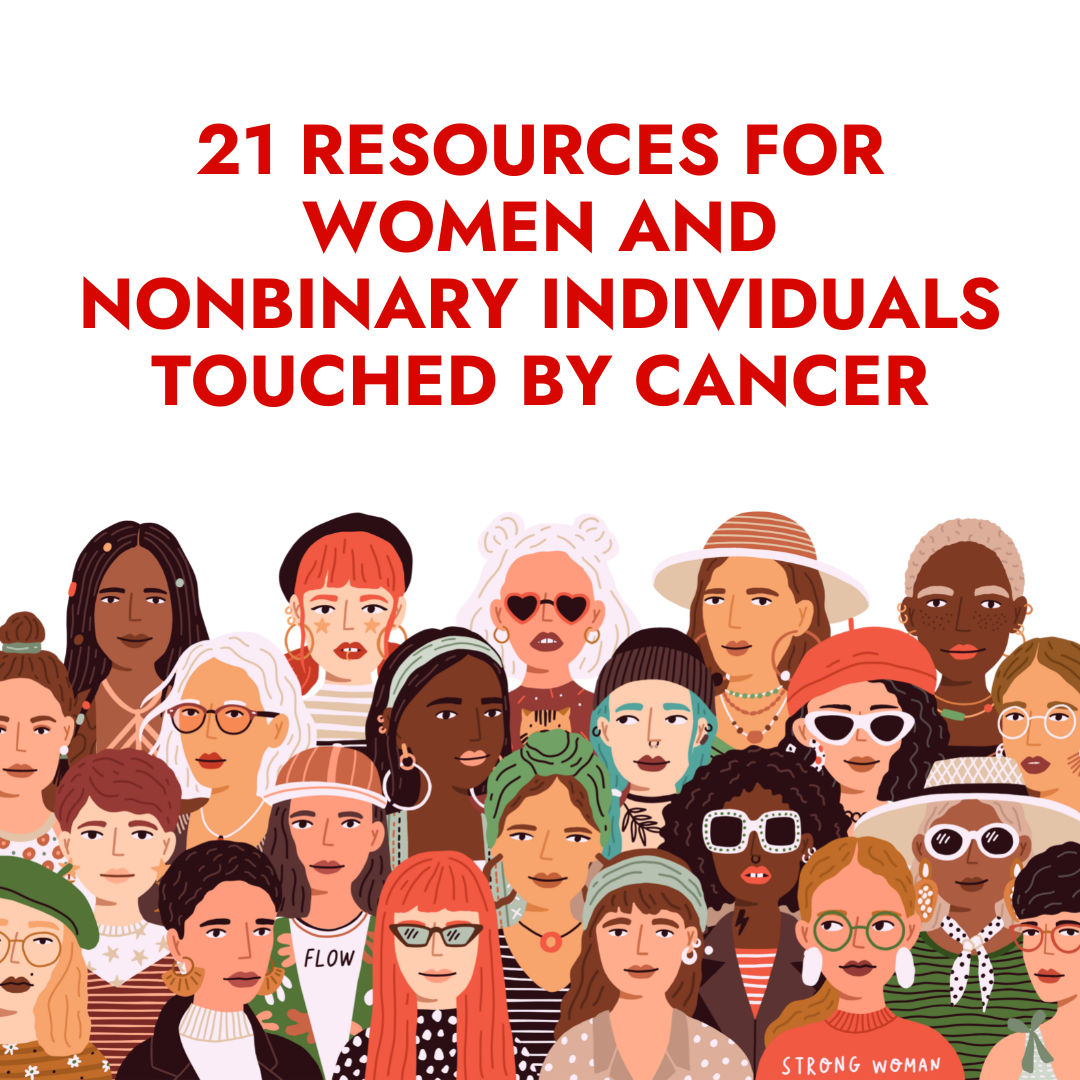 If you are familiar with cancer, you know the disease doesn't discriminate. Cancer doesn't take gender, race or ethnicity into consideration, however, these details do affect how individuals touched by cancer gain access to resources and unbiased care. 
In the United States, it is estimated that 39 out of 100 women will develop cancer during their lifetime. However, for women, accessing equitable resources is just as challenging as navigating cancer – and even more challenging if a patient is transgender seeking an informed consent model of care. Multiple studies have proven women and trans individuals receive different treatment from their male counterparts, and that women's pain is often dismissed. (With Black women seeing the brunt of that dismissal.)
Historically marginalized groups rely on resources to give them the assistance necessary to reach full health equity. The challenge is finding time to track them down – or even knowing the resources needed to research. 
In honor of Women's History Month, these 24 resources can help women and nonbinary individuals of all backgrounds access the help and support they need.
"The Boobie Docs: the girlfriends guide to breast, cancer, breast health, and beyond" was created in 2018 by Dr. Robyn Roth, board certified radiologist specializing in breast and abdominal imaging at Cooper University Hospital. Dr. Roth wanted to create a space to discuss breast health in an approachable and educational way, which is how The Boobie Docs began. In 2019, Dr. Roth found a way to incorporate her best friend, Dr. Adrienne Rosenthal, into her project and together, the two advocate for early breast cancer detection, share risk reduction strategies, and help women cope with newly diagnosed breast cancer. For more relevant content and resources, follow @TheBoobieDocs on all social media platforms.
Quality resources are better when they're free, which is what Breast Cancer Freebies is all about. The website is a one-stop shop for free breast cancer resources. Through the main menu, click which area is most needed and you'll be taken to a list of organizations, groups and services that are free to utilize. Categories include mammograms, wigs, financial assistance, transportation, scholarships, medication and more. 
Cancer Care's Women's Cancers Program
Part of CancerCare, Women's Cancers Program provides specialized services and resources to help female-identifying individuals coping with cancer. The program offers  professional oncology social workers to guide patients through counseling, resource navigation, support groups, education, financial help and more. 
Anyone who has their own cancer journey knows how much the disease and treatment can steal a person's energy. Chores, errands and typical day-to-day activities become nearly impossible in a body that needs as much rest as possible. Cleaning for a Reason recognizes that limited energy and provides free home cleaning services to cancer patients. 
Brushes with Cancer Inspiration Anna Warner-Mayes founded The Lipstick Journey in honor of her relationship with lipstick and color. Throughout her cancer journey, Anna used various lipstick colors to communicate her moods. Through every purchase from The Lipstick Journey, Anna either donates one lipstick to someone going through cancer or the dollar amount to a cancer-focused organization. 
EBeauty is another resource that helps female-identifying individuals experiencing hair loss. Through its Wig Exchange Program and Hospital Partnership Program, anyone who needs a wig – regardless of location or economic status – can request one. Donated wigs are refurbished and through EBeauty's connection with its hospital network, wigs are distributed to patients onsite. 
This organization awards Recovery stay grants (Genevieve Memorial Breast Cancer Recovery Grant) that moms apply towards healing and resting from any type of breast cancer treatment, including reconstruction, which some charities do not consider treatment. Additionally, moms receive up to three days and nights at an agreed upon suite hotel, with a companion, all expenses paid, including a small travel voucher. When a mom is Stage 4, it's a Respite Grant (Genevieve Memorial Respite Grant), which offers the same benefits. When someone applies to us for financial assistance only, Genevieve's Helping Hands always takes the time to look for resources for them and never turns anyone away.
Hair loss due to cancer treatment can be a traumatizing experience, especially for female-presenting patients. Good Wishes helps those going through hair loss feel confident and beautiful through a free wrap or scarf. Patients can request a free wrap through the Good Wishes website, where they can choose their top three designs. 
Founded in honor of Helen Rindfleisch, Helen's Room is a positive appearance and resource center for cancer patients. Those touched by cancer can receive free, private and confidential consultations with specially trained volunteers, as well as offer services and products for low-income, uninsured patients. Services include free hats, scarves, turbans, wigs, breast prosthetics, mastectomy bras, books and videos, as well as community resources and support groups. 
Hope Scarves is Founder Lara MacGregor's legacy, who passed away in January 2022. Started as a way to ground herself in the face of uncertainty during stage 4 metastatic breast cancer, Lara's unique twist on offering free scarves to patients was to include stories of hope in each delivery. Additionally, a portion of every dollar goes toward metastatic breast cancer research.
An alternative to traditional breast prosthesis – which can be hot, heavy and sticky – Knitted Knockers is a more comfortable option for those going through breast cancer treatment. Additionally, they do not require special bras or camisoles to wear and take the shape and feel of a breast. Patients can request their free, handmade Knitted Knockers through the website. 
Community can ease the pain of a cancer diagnosis and Living Beyond Breast Cancer is there to provide education and support to those that need it. The organization's closed Facebook groups connect people around the globe and its Breast Cancer Helpline connects individuals with trained volunteers that offer emotional support, guidance and hope. 
Established specifically for individuals living with stage 4 metastatic breast cancer, METAvivor is also the only U.S. organization with ongoing support for stage 4 breast cancer research. In addition to funding research, the organization raises public awareness and offers support programs for those touched by stage 4 metastatic breast cancer.
Post-mastectomy tattoos can help individuals feel confident and beautiful, something Pink Ink Fund founder Amy Black deeply understands. Amy began tattooing in 2000, and in 2010 discovered the art of nipple and areola repigmentation, which recreates the natural coloring of the nipple and areola. For individuals that cannot afford repigmentation, they can apply for the Pink Ink Fund grant, which helps ease the financial burden.
Pink Hearts Funds supports individuals going through breast cancer treatment. The organization provides free wigs to children and adults experiencing treatment-related hair loss, as well as breast prosthetics and mastectomy bras. 
The average breast cancer treatment costs between $20,000 and $100,000. Pink Warrior Advocates exists to help ease some of the financial burden that so many breast cancer patients face. In addition to the organization's financial aid grant, it also provides care kits, mastectomy bras and support through advocates to anyone touched by breast cancer. 
Established to support anyone diagnosed with women's cancers, SHARE provides multiple resources including expert-led educational programs and support groups, helplines, online communities, clinical trial assistance and more. 
Jewish women and families living with or at increased genetic risk for breast or ovarian cancer can turn to Sharsheret for support. The organization provides individual and peer-to-peer support, educational resources, financial assistance and more. Pronounced 'shar-sheh-ret,' Sharsheret is Hebrew for 'chain,' which symbolizes the connections made through support and community. 
Founded by Brushes with Cancer Inspiration Sonya Keshwani, Style Esteem Wardrobe sells stylish turbans for all – with a focus on supporting individuals going through hair loss. Style Esteem's turbans are fashion forward, thanks to Sonya's mission to find a stylish and comfortable head covering when she was diagnosed with breast cancer. Additionally, Style Esteem has a donation program, where people can sponsor a turban for a cancer patient in need. 
Gynecologic cancer patients can find support through Woman to Woman, which provides one-on-one emotional support and mentoring with trained survivor volunteers. Pairs are carefully matched based on a number of factors, including cancer type, age, language and culture and patient preferences. Volunteers go through intensive training that focuses on active listening, communication skills and how to address cultural differences.
Young adults touched by breast cancer can find support in the Young Survival Coalition, which educates on how breast cancer shows up differently in young adults. The organization tackles the issues of lack of research, more aggressive forms of cancer, body image challenges and the financial impact of breast cancer in young adults and provides support programs, educational resources, digital meetups and more.