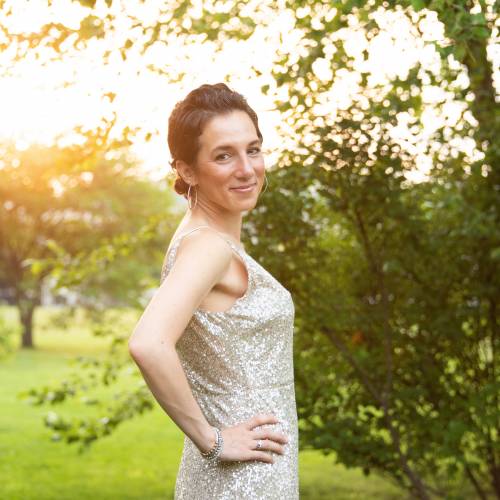 Brushes with Cancer Inspiration Abby Match's breast cancer diagnosis was a one-two punch. While processing the hit-by-a-truck feeling that comes with every diagnosis, another truck was right around the corner. 
"My dad was diagnosed with prostate cancer on the same day I was diagnosed," Abby said. "We went to sleep one night thinking everything was fine, to waking up on Aug. 5, 2020, to two cancer diagnoses."
Shortly after the double diagnoses, her mother learned that she was a BRCA1 mutation carrier.
"I felt like cancer was trying to destroy my entire family." 
During treatment, Abby turned to beading as therapy to calm her mind and work through the layers of trauma that entrenched her. As Abby realized the positive impact it had on her mental health, the hobby grew. 
"My daughter is always like 'You're so obsessed,' and I'm like 'There are worse things to be obsessed with!'" 
Beading was just one way creativity worked its way into Abby's healing process. The other was participating in Brushes with Cancer as an Inspiration. 
The second step: Anna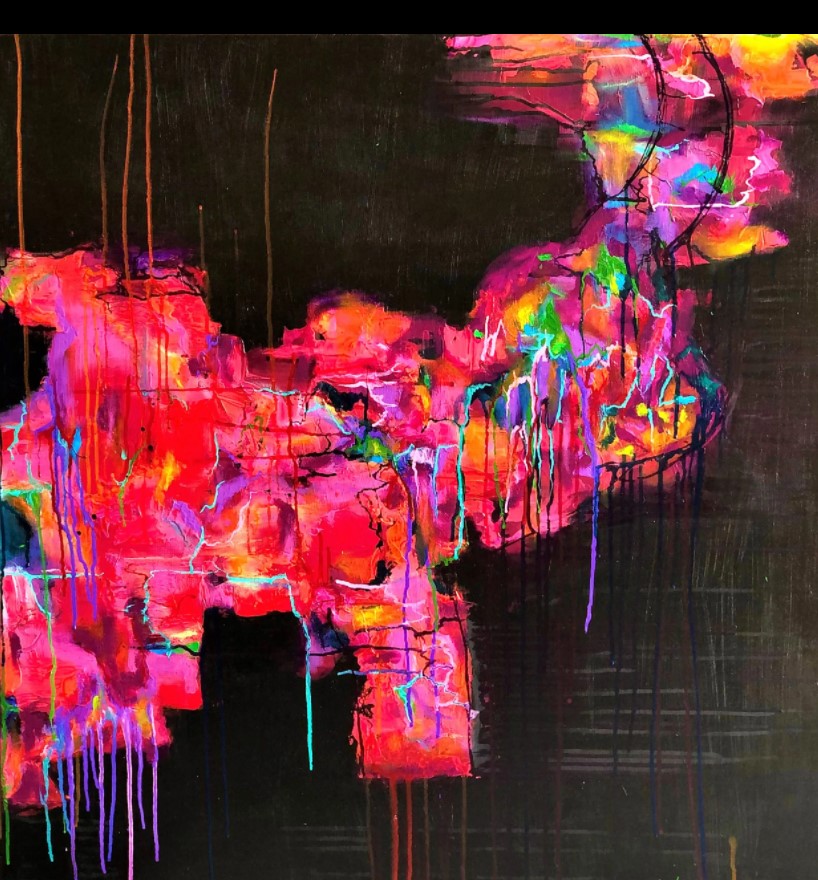 For the 2021 Northeast Brushes with Cancer program, Abby was matched with veteran Brushes Artist and Twist Out Cancer Board Member, Anna Feneis.  
"Although Anna doesn't have cancer, she has so many family connections and friendships that are similar to what my family was going through," Abby said. "She told me when she saw my application, she said 'I need to be matched with this girl.' We were such a complete match."
Anna understands what it's like to support a parent during cancer. In 2020, her father – also an artist – was diagnosed with cancer. Additionally, Anna is a four-time Brushes with Cancer Artist, which added a layer of comfort to their connection. 
"It was the perfect fit," Abby said. "She helped me have this comfort level and trust to think about my journey and my story a bit more. It allowed me to process things I wasn't processing."
In fact, their connection turned out to be cosmic. Throughout her cancer treatment, Abby often looked for signs – patterns, numbers or symbols. During this time, the signs that kept coming back to her were butterflies and the number eight. 
"It really confirmed for me – and this is what I always go back to – that you can believe in signs,' she said.
Anna, an abstract artist, created a piece titled "Elephant" to represent Abby and her journey. She used bright, bold colors to match Abby's personality and incorporated symbolism in her artistic journey similarly to how Abby used it during her cancer journey.  
"Elephants are revered as a symbol of good luck, a destroyer of evil, and a remover of obstacles," Anna said in her artist statement. "In art, oftentimes elephants are depicted in battle – charging head first into the opposition. They are a symbol of strength, compassion, and wisdom. All of the qualities that Abby possesses."
When the painting was revealed to Abby, she immediately saw the signs.
"I get this painting and look at it and go 'Oh my gosh!'" she said. "It confirmed to me that throughout the entire journey there were subtle and deep signs, and through this art, it has everything."
Paint dripped in figure-eight formations, and throughout the elephant shape, Abby saw multiple butterflies. 
"My anthem was 'Rain On Me' by Lady Gaga and the way the paint drips, there's rainfall," Abby said. "Anna did not necessarily know all of that, but she created it and it's so amazing – it has every single sign." 
The third step: Beading for good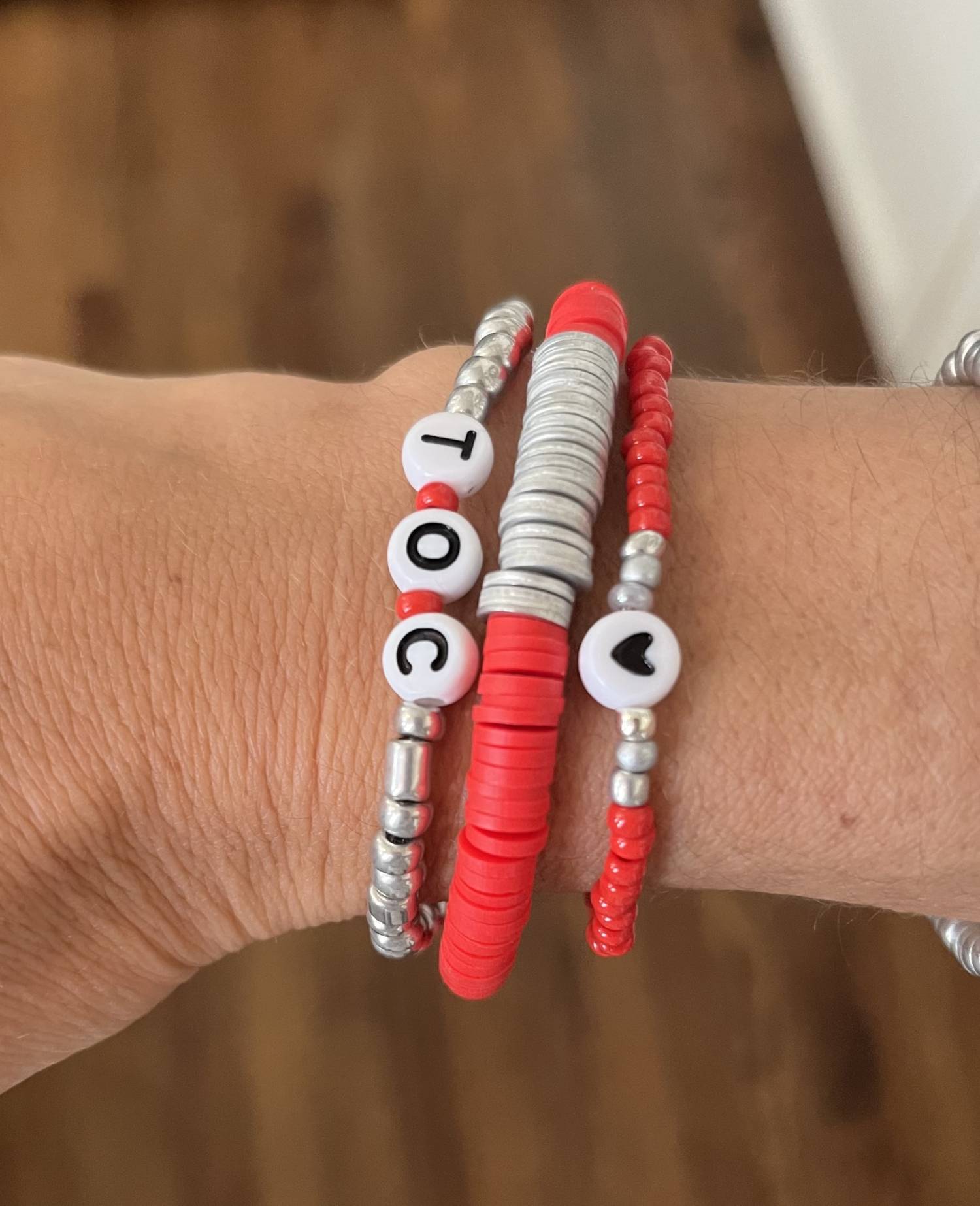 Participating in Brushes with Cancer and meeting Anna helped Abby take the necessary steps toward healing, as well as raise thousands for charity. 
"My twist on cancer developed with the program and I began to turn my grief and anger on cancer into more purpose, and use it as an opportunity to help other people."
Abby saw her beading obsession as a way to fulfill that purpose. On March 25, 2021, Abby took her beading to the next level and started her Instagram page, Beading Cancer Together. By selling her creations, which include bracelets and necklaces, Abby has raised more than $23,000 for charities.  
"It's good for my mental health and it brings in money for organizations that are close to my heart."
The next organization Abby is fundraising for is none other than Twist Out Cancer. To design the bracelet, Abby worked with Twist Out Cancer Founder and CEO Jenna Benn Shersher to determine a stylish look that represents the community. The final result is a red and silver bracelet with Twist's initials. For a limited time, Abby's custom Twist Out Cancer "Celebration" bracelets will be available for $36 and all proceeds will go to the organization. 
"I don't expect everyone in the world to do beading – it's not a passion for everyone – but if everyone could take five hours out of their week to do fundraising, the world would be a better place."