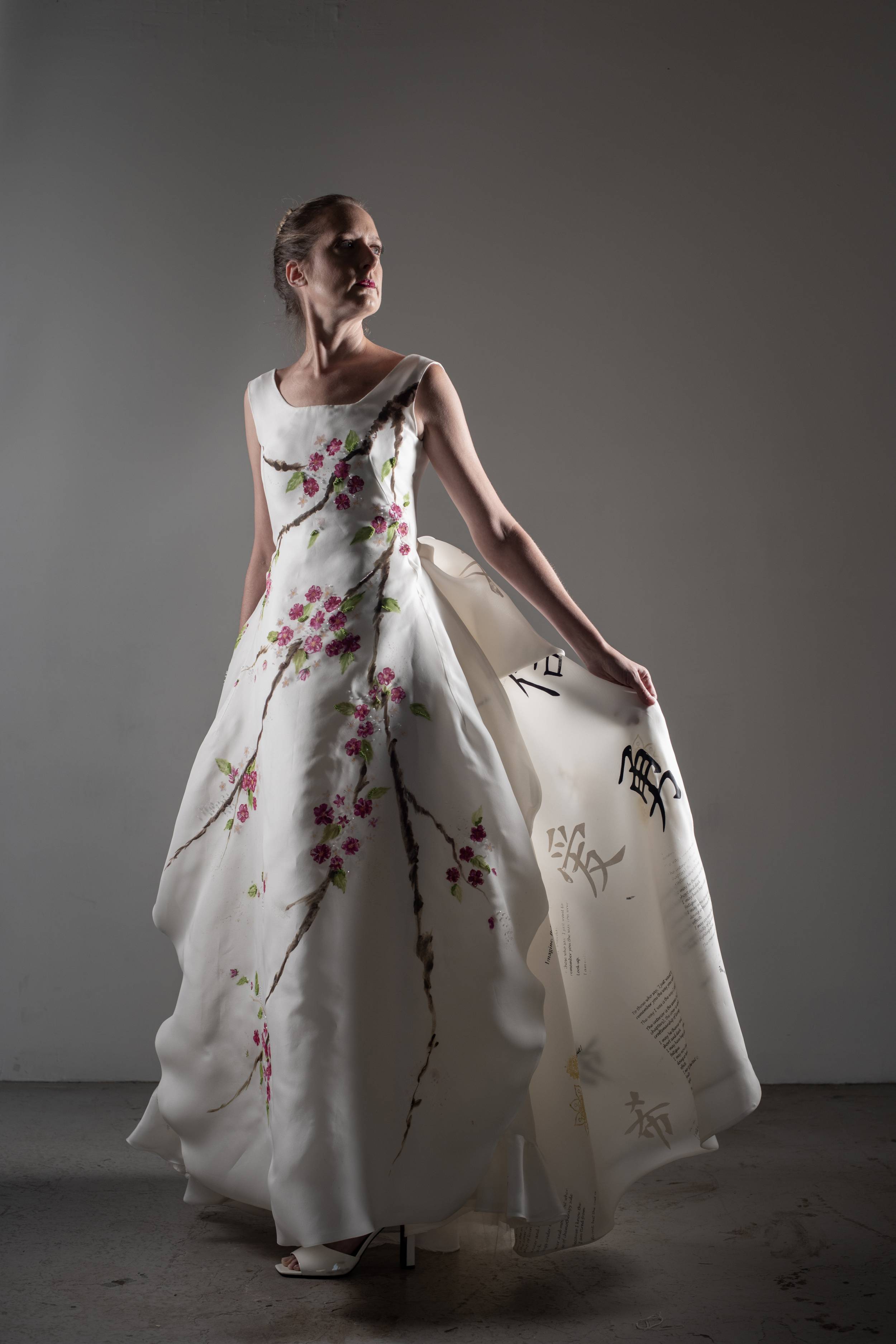 Sujata Gazder
Chicago, Illinois
www.sujatagazder.com
Artist Statement: This Is Sakura. The rear skirt of the gown is hand screen printed and stamped with writing and symbols. The writings are Tracy's poems and essays. The Chinese symbols are "Courage", "Hope", "Love", and "Faith". This is in shades of grey and black representing the past, the struggle, the darkness….the cancer….. and the courage with which this battle has been fought. The layers and ruffles represent the complexity of the disease, as well as the layers of raw emotion and angst experienced. The front of the dress is straight. The shape represents the strength with which this twist in life has been faced head on. It also symbolizes heading into a new dawn. We see color now. Color signifying renewal, a new start. There is light ahead. The flowers painted on the dress are Cherry blossoms. It is symbolic of the beauty and fragility of life. For those of you who have traveled this difficult road the cherry blossoms are a reminder that life can yet be powerful, glorious and intoxicating. For the rest of us, it makes us pause – marvel at this existence, looking on it with joy and passion. It reminds us to pay attention!
Inspired by Tracy Ahrens
Momence, Illinois
Survivor
Twist on Cancer: It is still hard for me to talk about what I have learned in this cancer journey, because that journey has not ended. The unknown hangs like a fog. I'd like to proclaim a profound message for everyone, but my message is only what you see of me today for coming through cancer to this point. I wrote an essay for CURE magazine that noted, "I still am." I watched many people (who I thought valued me) disappear from my life at diagnosis and never return. They wanted to remember me "as I once was." I watched as people, including scarce family members, were indifferent to the battle I fought. I was mostly alone in this war. No family helped me. No partner or children were at my side. The strength that I found to keep moving every day came from God. He kept me here and has shown me many messages I keep receiving. I don't know what He wishes for me by keeping me here. I keep listening and watching and using the talents He has blessed me with. I know others diagnosed with breast cancer who are no longer alive. I hate being alone and fear it will happen again. I ask God to change this setting for me. I wish to love and be loved without hesitation. I aim daily for the smallest of bucket list goals. I cry. I physically hurt. I walk away from negativity without hesitation or regret. I still am.