Florinda Ruiz & Kara Thomas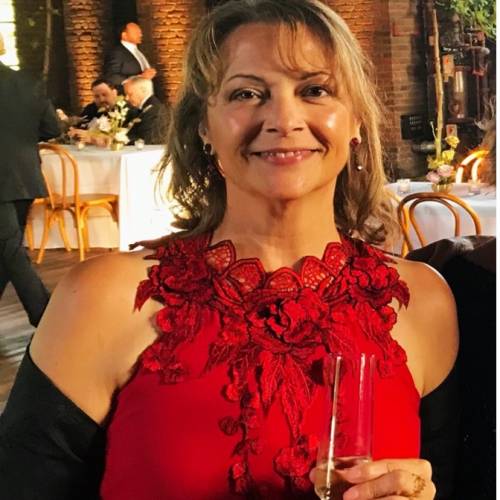 Florinda Ruiz
Lexington, VA
Social Media: @flor_ruizmarcos
Survivor
Twist on Cancer: ​​I was diagnosed with Stage IV NSCLC in November 2020. As a professor, I teach the powerful and artistic relation between the written word and the visual image, something I also practice through my own poetry and photography. Writing poetry, thus, immediately became the most effective tool to deal with the intense emotions of a new life experience with terminal cancer, always in combination with my love for and use of meditation. When I encountered the BWC program, it made perfect sense to me, what luck!: I had already begun to write about the experience and someone could use those words as a form of artistic and healing inspiration. I was perfectly matched with the amazing ceramist Kara Thomas, but a whole new and unexpected level of soulful and artistic communication was about to open up: her magic to tap into someone else's suffering and extract beauty.

It takes a true listener and a deep, reflective mind to capture key personal details to translate into an artistic experience of healing. Kara asked to see some of my photography, read some of my poems, and her miracle began to unfold. She decided to connect an image of various archways I had captured at the Sheikh Zayed Grand Mosque in Abu Dhabi with my invocation poem, "A Spell for Renewal," directed at goddesses of strength and healing from different cultures. Little did she know that I had already begun to re-interpret in my mind that very image of while columns, paths, and archeways as representatives of my own internal temple and skeleton, where now cancer tumors needed to abandon sacred spaces of healing for my soul to move forward, as requested in my poem. Kara, beside paying homage to my personal journeys of meditation inside of each arched ceramic tile, has added vertical verse lines of white words into the backdrop of the completed shrine, like a veil of cleansing rain, a light supportive embrace, and the spirited zeal and thunder I needed. Color, ceramic, wood, verses, tokens, sage, candles, the power of storytelling. Her celebratory piece heals through its delicate artwork, calms fears, spreads joy, builds hope, awakens our courage, reminds us all of existing beauty and gratitude.
​​
Poem:
A SPELL FOR RENEWAL

Isis, Sirona, Eir, Aja,
unleash the infinite powers of my soul!

Inhale the ashes of my brazier.
Scatter the ambers into the four winds.
Never to return.
To be no more.
The north to replace them with health.
The east to replace them with strength.
The south to replace them with light.
The west to replace them with life.

Cast a healing circle.
Draw down the moon.
Wrap the embrace of its light
over my tangled throat.

Hold a blessing chalice.
Spread the anointing oil.
Paint the power of its scent
over my shaking limbs.

Light a white virgin candle.
Brighten this bleak altar.
Unfurl the glow of its flame
over my shaded thoughts.

Smudge my shrine with sage.
Scatter sweetgrass on all corners.
Infuse the energy of its aroma
over the rhythms of my breath.

Awaken new dancing spirits.
Tap the hide of a joyful drum.
Harmonize the voices of its beating
over my heart's faint vibrations.

Unfold layers of gold leaf.
Sprinkle the healing dust.
Gild the shine of its aura
over my charred radiance.

May the thunder of your spirits
dispel the fury of this ruthless foe,
untrap the zeal of my mind,
and release the fire of my being.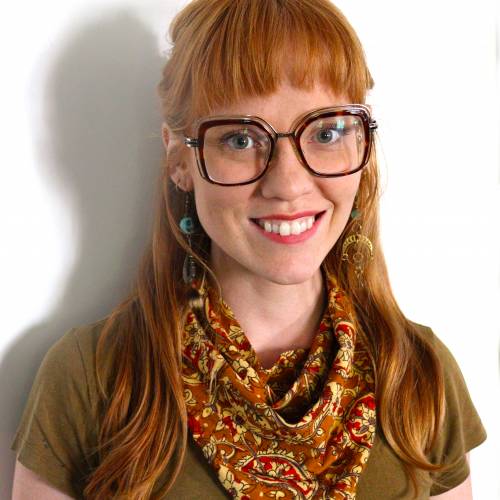 Kara Thomas
www.karamariethomas.com
@transcend.the.moon
"Shrine For Renewal"
Wood, Acrylic, Porcelain, Found Objects
20in x 24in
$300
Artist Statement: During the Brushes with Cancer program, Florinda told me of all her travels around the world. She also shared with me many stunning photos that she had taken along the way. I was specifically moved by a photo she took of the archways in the Sheikh Zayed Grand Mosque from her stay in Abu Dhabi. The three archways and ceramic tiles seen in this piece pay homage to that photo.

The archways act as a gateway into seeing depictions of passages from her poem "A Spell for Renewal," written on the backdrop of the piece. Each ceramic tile is an illustration of lines from the poem and a reference to some of Florinda's experiences in meditation. The first tile was inspired from the passage: "Cast a healing circle / Draw down the moon / Wrap the embrace of its light / Over my tangled throat."

The second tile is a vision that came to me after Florinda told me of her experience with Kundalini meditation.

The third tile references a later passage in the poem: "May the thunder of your spirits / Dispel the fury of this ruthless foe / Untrap the zeal of my mind / And release the fire of my being."

After Florinda's cancer diagnosis, she was offered prayer by those around her; to her, this poem is a window into understanding the use and power of prayer. In the poem, she brings together in unity four different goddesses from four different cultures to help her view her diagnosis in a new light. This shrine is meant to be used as a tool for her to add to the spiritual practices that help her during this difficult time.

Objects referenced in the poem are displayed on the shelf of the shrine. Among these objects include a white candle and sage, a collection of precious stones, and sandalwood incense.

Our twist on cancer is that circumstances do not have to determine happiness. After working with Florinda, I feel truly blessed to know her. Her open perspective on life and death has allowed her to keep a positive outlook. Despite the chemotherapy and surgeries she has had since we've met, Florinda is always a joy to be around.