Megan Day and Theresa Bond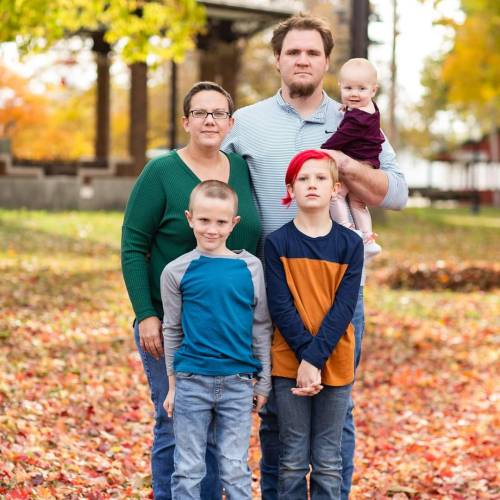 Megan Day
West Branch, IA
Survivor
Twist on Cancer: At 27 years old, I was working full time, had two young children (3 and 5) and going to school full time to earn my bachelor's degree. Two weeks before graduation I came down with pneumonia where the x-rays showed a tumor in my chest, which eventually led to my cancer diagnosis. After six months of chemo, I reached complete remission. In August 2020, I found out I was pregnant, and a week later found a lump on my neck. After monthly check ins on the lump a biopsy eventually determined my cancer was back. After having my baby, I started treatment and went through an auto stem-cell transplant, however, that failed and in September this year, I had an allogeneic stem-cell transplant, which is where we are at now. My cancer has really affected my kids this time around, as they are older and understand more of what is going on, however, my family has been the best support system you could ask for in helping ease the stressors.

The artist I was matched with, Theresa B., has been amazing and has not only completed her task as an artist perfectly, but she has helped me to learn it's okay to slow down, take a deep breath and not always feel like I need to be busy/in control - and to accept help. Finding hobbies that I enjoy may help with stress when things seem to get too much to give myself a break.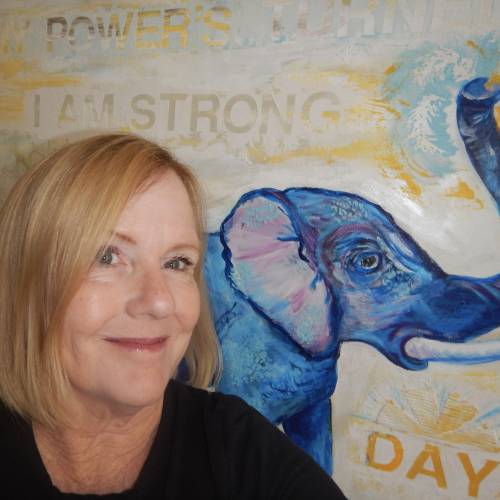 Theresa Bond
Austin, TX
www.tbondartist.com
Social Media: tbondartist; bondartist
"My Power's Turned On"
Acrylic on canvas
36" x 36" x 1"
$450
Artist Statement: ​​Megan is an amazing person. While going through a challenging diagnosis she has remained a devoted and involved mother to 3 children. She went through having Covid while pregnant and dealing with her illness! She has a passion for helping others; working as a habilitation worker for Goodwill all through her illness.

Megan provided me with wonderful background information – she finds joy in so many things that it was difficult to decide what elements to include in painting. I decided on the lyrics to "Fight Song" by Rachel Platten, which has been her anthem the past 5 years. Megan also mentioned that if she could shrink down any animal and carry it around in your pocket, it would be an elephant because they are sooo cute and also caring, intelligent, family oriented, and emotional (just like her). I went out of my comfort zone here with my color choices and texture because I wanted to bring in some bright happy colors. My hope is that she will be flattered by the painting as she is truly a wonderful inspiration.