Grace Fauls Lombardo and Ceci Lombardo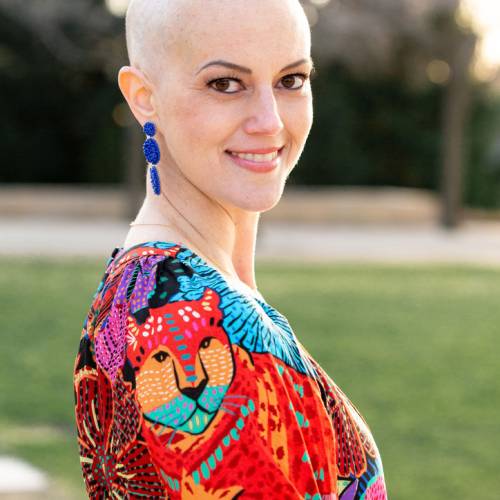 Grace Fauls Lombardo
Chicagoland
Social Media: Grancerforreal (IG). Grancer2016 (TikTok)
2 time Breast Cancer Survivor
Twist on Cancer: I completed treatment for stage IIa breast cancer in 2016 at the age of 36. In the following years, I became a cancer blogger and public speaker at events as far away as England and Australia. I proudly represented the breast cancer community on a billboard in Times Square. Working within the cancer space was a real right turn, but has been wildly fulfilling.

Five years passed and I celebrated my chances of recurrence dropping dramatically. A mere six months after passing the five-year mark, my oncologist felt a lump at a regular check-up. Despite the odds, I had cancer again.

I am currently finishing up rigorous treatment for the recurrence of my disease.
Between the years of 2017-2021, I would tell people that as long as I never got cancer again, having the disease was worth it as the perspective gained was invaluable. Now having been diagnosed for a second time, I am reticent to reaffirm this statement, but open to the possibility that cancer has more to show me about how to live fully.

This is my second time participating in Brushes With Cancer. My art from 2016 hangs proudly in my dining room and reminds me and my family that life does exist after a diagnosis. Though I wish I didn't have a reason to participate again, I am honored to have the experience with my TWO artists; one a dear friend and the other, my daughter.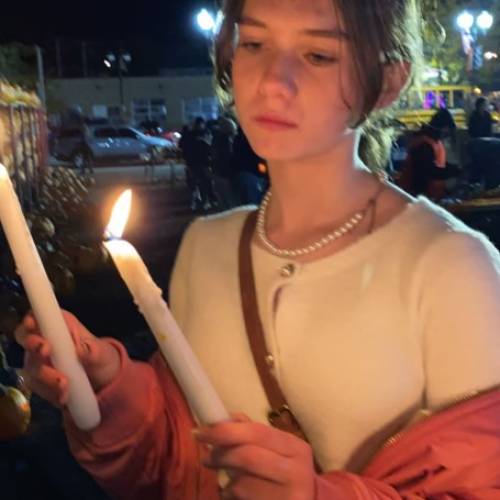 Ceci Lombardo
Chicago, IL
"Skyline"
Wood shadow box with acrylic painting
11"x14"
$360
Artist Statement: The piece of art I created was inspired by my mom. I wanted to find a way to represent something that wasn't just focusing on the bad things, I wanted to bring out the light in it. The city lights shown capture the idea of bringing light into the situation. My mom and dad met in New York so it has always been a special place to our family. Also, my family, especially my mom and I, like to travel. The shadow box caught my attention when I first saw it and I knew it should be how my art was displayed. My mom really likes shiny and sparkly things like sequins and gems so I thought it would be a good detail to symbolize her preferences, and support the idea of bringing light into it. I hope that she will be able to tell my thought process and why I decided to do what I did.