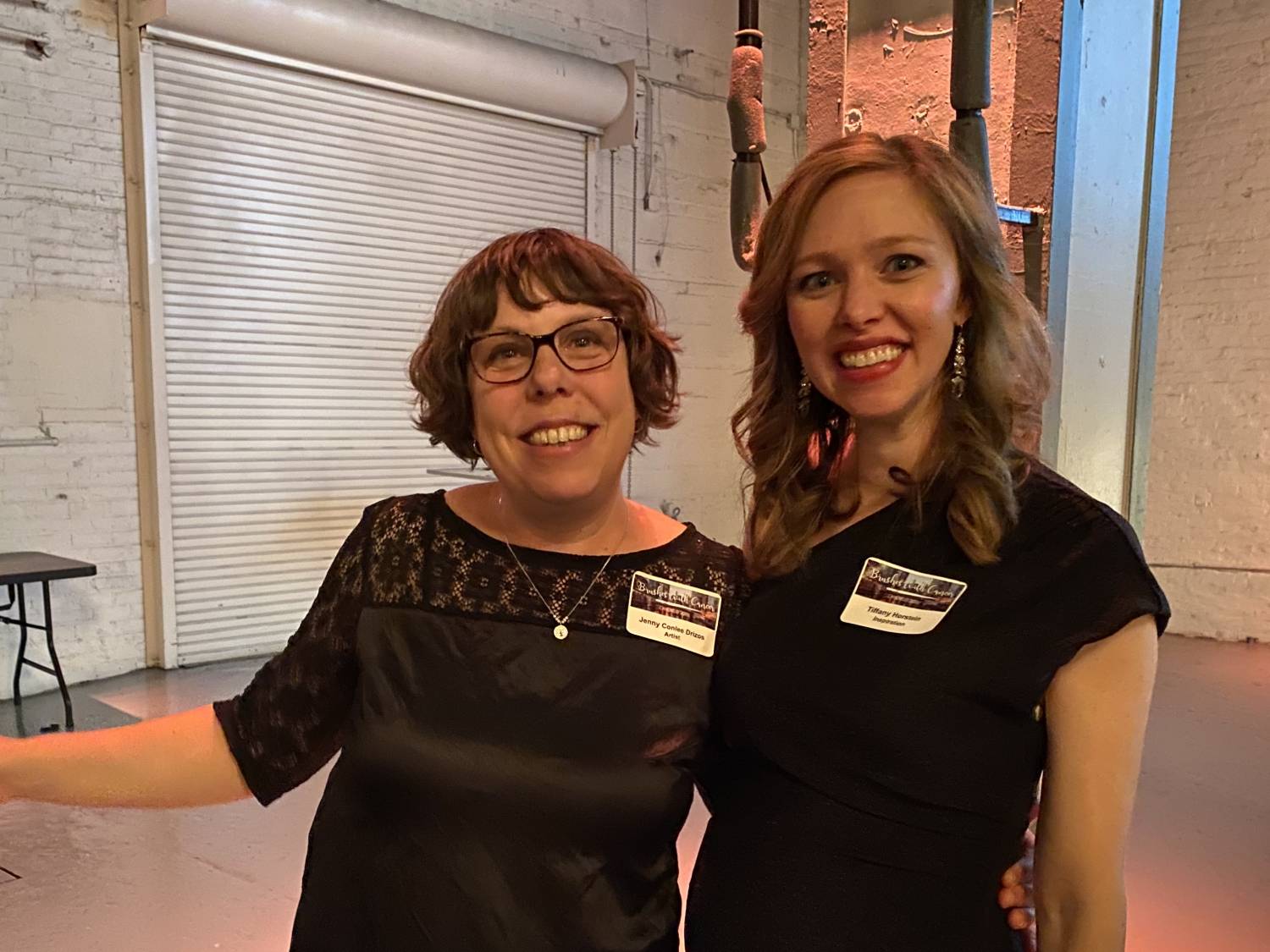 Stories Through Song: Jenny and Tiffany's Brushes with Cancer Experience 
In 2011, Jenny Conlee-Drizos received information that would change her life forever: she had breast cancer. After going into remission that same year, the Decemberists multi-instrumentalist wanted to use her experience to help give back. 
As she worked with different people and organizations within the cancer sphere, she was introduced to Twist Out Cancer and eventually her inspiration, Tiffany Horstein. 
"I thought [Twist Out Cancer] was very sweet and personal, and a different take," Conlee said. "When you get affected by cancer, you're like 'What can we do to help? This is crazy.' It's emotional support and a sweet way to do it, which not everyone does."
Conlee applied to be an artist for Twist Out Cancer's Brushes with Cancer event, which pairs artists with people who have been touched by cancer. 
"A lot of cancer is like 'Fight, fight, fight"'" Conlee said. "With Twist Out Cancer it's, 'No, we're going to heal.' People's emotional health is super important and I love that's Twist Out Cancer's focus."
Conlee-Drizos was matched up with Horstein, a cancer survivor who got blindsided with her diagnosis as she and her husband were trying to have a child. 
"A lot of things with my cancer journey have seemed serendipitous,"  Horstein said of connecting with Conlee-Drizos. 
During treatment, Horstein and her friends saw The Decemberists perform at Taste of Chicago. A month later, she went to Portland with her husband. 
"I would watch Portandia throughout treatment and I knew Jenny was Sparkle Pony on the show," Horstein said. "All those pieces connected and three and a half years later, things were coming full circle and the match was meant to be."
The two connected on the phone and spoke about their own journeys for an hour and a half. 
"She was really open about sharing her experience," Horstein said. "It creates that instant connection when you hear someone else has gone through something similar. Hearing her share her story made me more comfortable sharing my story. She's so easy to talk to."
Even though the two spoke for a relatively short time, Conlee-Drizos was instantly inspired by Horstein's story. After the conversation, Conlee-Drizos wrote an outline of the major moments discussed during the call. 
"I sat down at the piano to find a chord progression that felt like flowing in a stream," Conlee-Drizos said of the process. 
The challenge was conveying Horstein's journey through instrumentals, so Conlee-Drizos explored dissonant chords and how they best illustrate that blindsided moment during diagnosis.
"My husband Steve said the song's end should have a dark aspect in it because life is never the same after," Conlee Drizos said. "The feeling after the big blindsided moment and when it holds, that comes from my experience too. When you get the news and everything falls away. You realize everything in your life stops."
Being that year's Brushes with Cancer's only musical entry, Conlee-Drizos planned to perform her piece at the 2019 event. She knew how emotional it would be for Horstein, so she sent the composition over prior to the event.  
"I was so overwhelmed at how she captured the story, how beautifully it played out in the music," Horstein said. "I think anytime you reflect on the experience it's such an emotional thing. It's good I was able to listen to the piece on my own because It was overwhelming initially. Both positive and bringing back the hard memories."
When the two met in person for the first time at Brushes with Cancer, both say there was a lot of hugging and crying. When Conlee-Drizos sat down to perform the piece, she admitted there were butterflies. 
"I was nervous in general because I hadn't played that piece in front of people," she said. "It's not an easy piece."
The performance ended up being a highly emotional and moving experience, especially for Horstein. 
"I was definitely standing there choking down sobs," she said. "It's so beautiful and it's not just sadness, there are so many ups and downs in the journey. For me, it was closure. It allowed me to reflect on those highs and lows. I'm still in it and not done—it's something you will always take with you—and the piece that Jenny put together displayed that. It's moving forward, it's just different."
Currently, Conlee-Drizos is preparing for The Decemberists' summer tour and Horstein is enjoying life as a new mom to daughter, Hailey. 
[embedyt] https://www.youtube.com/watch?v=EZN7V2aw2bI[/embedyt]
[embedyt] https://www.youtube.com/watch?v=PgAEggJvw3c[/embedyt]
[embedyt] https://www.youtube.com/watch?v=3qn3bZXi8Ts[/embedyt]