Amanda Marion and Barbara J. Mason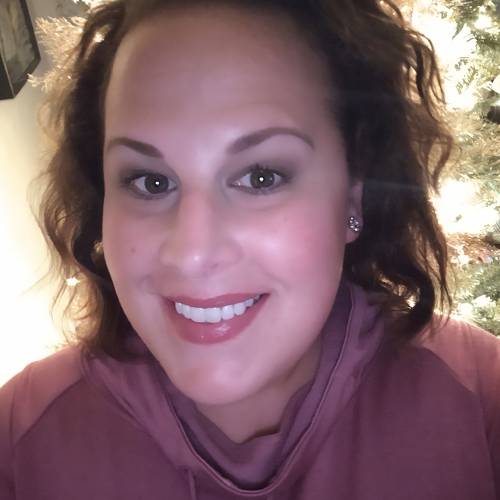 Amanda Marion
Converse, TX
Survivor
Twist on Cancer: As a single mother and serving for the past 19 years on active-duty in the Army, my life has always been go-go-go. Even when I was diagnosed in 2019, I was rushing from a meeting with my command to pick my daughter up at school and that's when I received the call: "You have cancer." My heart momentarily dropped and I almost hit a telephone pole while driving. I never once from that moment really got to FEEL my emotions again until I found Brushes with Cancer, thanks to my cancer support group, San Antonio Cancer Survivors & Thrivers. When I was matched with Barbara, it was like talking to a long-lost friend. I was able to connect with her, and for the first time, truly let my thoughts and emotions come to light to someone who wanted to know the good, bad and ugly of everything - she wanted to know me as a person and not someone who 'has cancer.' Today I still fight, but know that it's ok to cry and to FEEL this ongoing journey I (and my daughter) are in.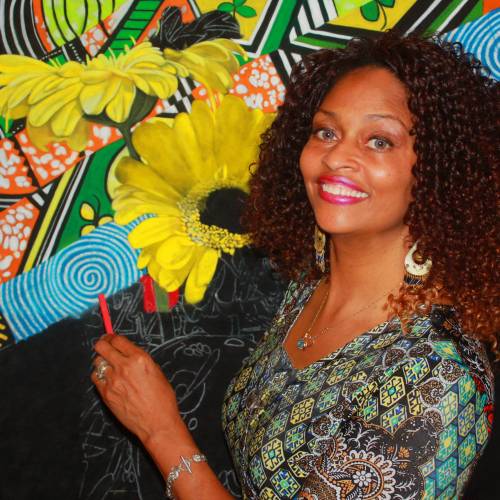 Barbara J. Mason
www.dragonflystudiocreations.com
Social Media: @dragonflistudiocreations (IG); @barbmasonart (FB)
"INTERTWINED"
Soft Pastel
36" H x 36"W unframed, 41"H x 41"W framed
$2,500
Artist Statement: I'm in awe of Amanda's story as she openly discusses her stage 3x breast cancer journey. Over time, I grew to admire, respect and bond with this single mother, 19-year Army service woman and cancer survivor. During our zoom, text and phone calls, I learned all that Amanda is and loves: A strong woman and gentle mother who loves her daughter, serving her country, Gardenia flowers, Ford Blue, pageantry, long hair, putting on makeup and being in nature. As I created this pastel artwork, I reviewed notes from our girl-talk conversations. Our talks were open and honest as we cried, laughed and shared a small moment in time in Amanda's tumultuous-yet-beautiful journey.

The overall shape of the painting is circular to represent the full circle of life regarding healing and restoration. The juxtaposed floral design on the borders of the mat board represent incomplete and open-ended spaces that are to be filled in the future with BETTER and THE BEST that is yet to come. The Gardenia flower has deep symbolism. Gardenias symbolize TRUST, HOPE, LOVE and RESPECT and BEAUTY. It is no surprise that this is Amanda's favorite flower because it symbolizes everything she represents. Gardenias also symbolize the idea of a renewal and starting something new. The small drops of tears symbolize her pain and hardships. This is balanced with the cool-and-strong Ford-blue color against the gentle and softness of the white, floral petals. You will find several stars that represent the lone star state of Texas and a few dragonflies that represent my participation in telling her story through Dragonfly Studio Creations gallery/studio. I placed the adolescent hands just beneath the flower, as they appear to be embraced and protected by the adult set of hands - this portion represents Amanda's nurturing side. The child's hands are nearest to the flower because the Gardenia also represents purity and innocence.
On the completion of my painting, I felt as though I did my newly found friend a small bit of justice as I tenderly attempted to share the things that hit home and inspired and moved me creatively, and emotionally, but most importantly, forever changed my life through this intentional pairing of souls. This is my way of visually honoring Amanda with her crown! Wear it well, my friend!

This pair is generously sponsored by