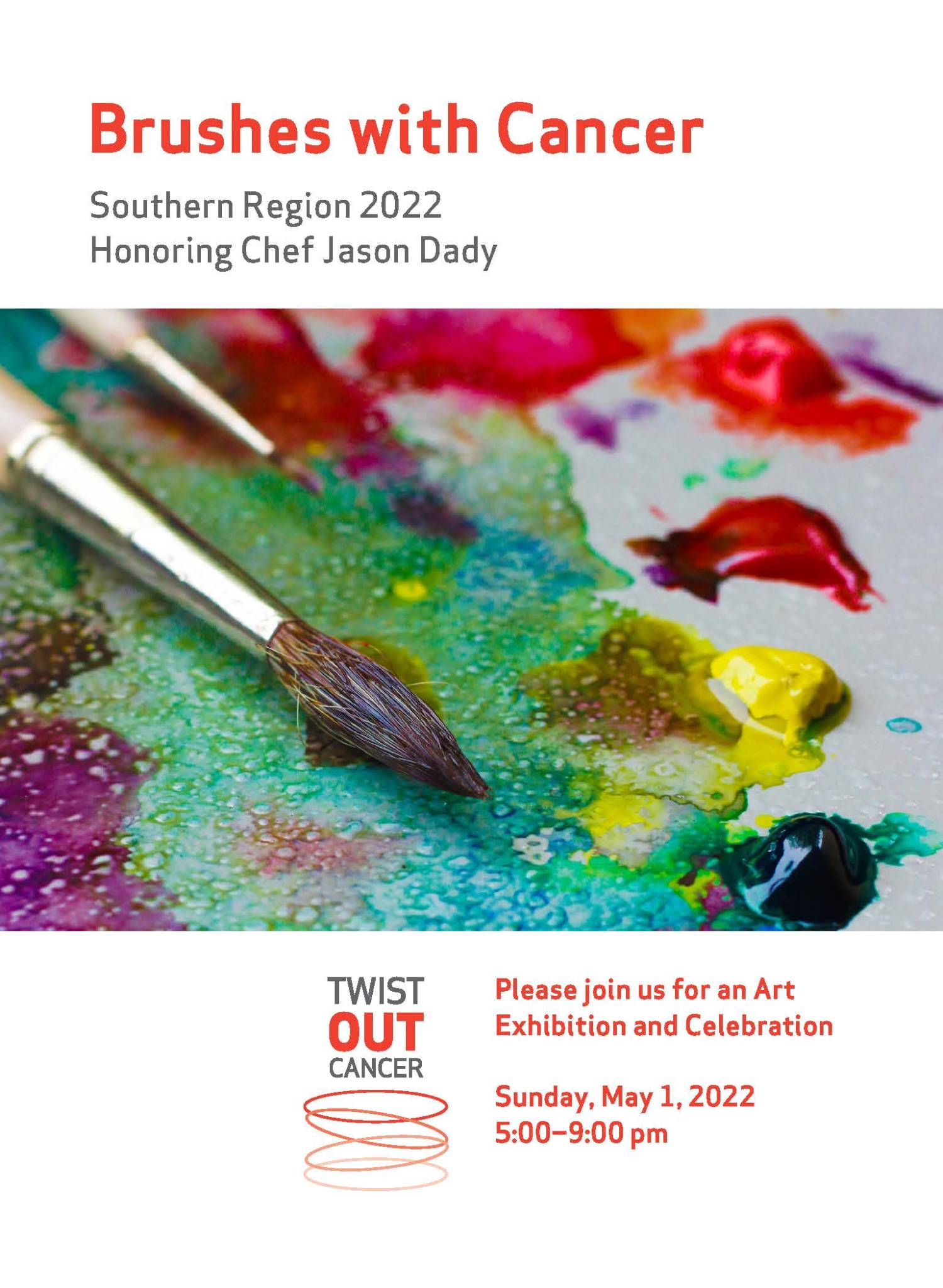 Twist Out Cancer, an international non-profit charitable organization that provides psychosocial support to individuals touched by cancer through creative arts programming, announced today it will hold an in-person celebration at Drippings Springs Distillery on Sunday, May 1, at 5 p.m., to celebrate the culmination of the 2022 Southern Brushes With Cancer program. It features 36 Inspirations and 35 artists, some of which are from Austin, San Antonio, and cities throughout Texas. Other Inspirations and Artists come from 18 states, Canada, and Israel. A virtual program will be available for anyone to view at 7 p.m.
Brushes with Cancer is a unique celebration that pairs accomplished Artists with Inspirations, who are those who have been touched by cancer as previvors, survivors, or caregivers. As the Inspirations share their twist on cancer – stories, feelings, and experiences – the artists create a unique work of art that represents their personal journey with cancer. The unique artwork that is part of the 2022 Southern Brushes With Cancer program will be included on the Twist Out Cancer website in mid-April. The artwork and stories that came from the collaborations between Inspirations and artists at recent Brushes With Cancer programs are here. Twist Out Cancer is celebrating its ten-year anniversary and has positively impacted over 146,000 people since the organization was founded in 2012.
"After such a tough couple of years, we are so excited to host an in-person celebration, which will feature all of the artwork on display, food, dancing, and so much more. I am so excited to hug and embrace the community in person," said Jenna Benn Shersher, Founder and Chief Executive Officer of Twist Out Cancer. "This is our third Brushes With Cancer program that we have held in Austin, and I continue to be astounded by the connections that have been made locally by Inspirations and the artists that they are paired with, which has led to countless moments of healing."
The Master of Ceremonies will be Texas' own SaulPaul, who is a Grammy Award nominated artist. Music will be provided by Dave Scher, who is a world renown electric guitarist and singer. The Brushes with Cancer Honoree is chef Jason Dady and the co-chairs for the Brushes with Cancer Southern Program are Kimberly Kass and Andrea Reichl.
The in-person event will be held inside and outside at Dripping Springs Distillery, 5330 Bell Springs Road, Dripping Springs, Texas. When inside, people will be required to wear masks. General Admission Tickets are $95 and include entry to the event at 6 p.m., food provided by Jason Dady Restaurants, drinks, live entertainment, as well as access to the art exhibit, auction, and the virtual program. Those that have a VIP ticket, which are $195, can join Inspirations and Artists for the VIP program at 5 p.m. The virtual Brushes with Cancer program will focus on the power of storytelling, community, and hope. It was created and designed by Kobi Swissa of Swissa Creative, which is a creative agency and production company specializing in bespoke video content. Tickets to the virtual event at 7 p.m. are $60.
Later in the year, the 2022 Midwest Brushes With Cancer Art Exhibition and Celebration will be held on Saturday, November 19 in Chicago. If you would like to bring Brushes with Cancer to your region or city, or if you have any questions on corporate partnerships and licensed programs, please send an email to [email protected].