Shoni Brown & Holly Carton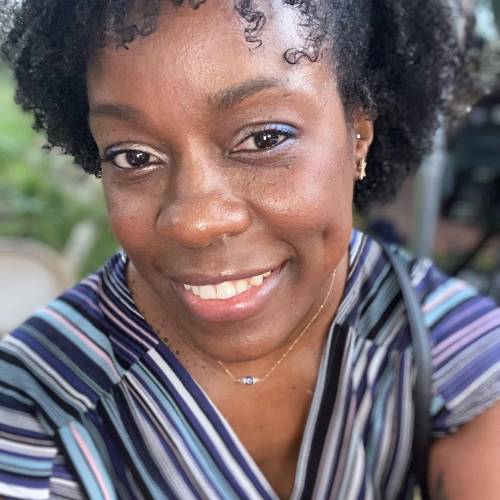 Shoni Brown
Freeport, NY
Social Media: @Brsuga
Breast Cancer Survivor
Twist on Cancer: I was diagnosed after finding my own lump in my breast. My biggest lesson is to always be your own advocate. You know your body better than anyone. If a doctor is not on the same page as you, you can fire them and find someone you trust. Your relationship with your oncologist is life-long sadly, so you need to have someone you trust your life with, and someone you feel has your best interest at heart. Cancer is scary enough. No one needs to feel like your team is not on your side. I've also learned to ask questions- no matter what- and ask for clarity and transparency.

One of my favorite quotes is "life isn't about waiting for the storm to pass … it's about learning to dance in the rain." What I take from that is cancer is the storm, and either you let it take over your life, or you keep living your best life through it. There will be good days and bad days. Sometimes you can make a bad day good by how you act.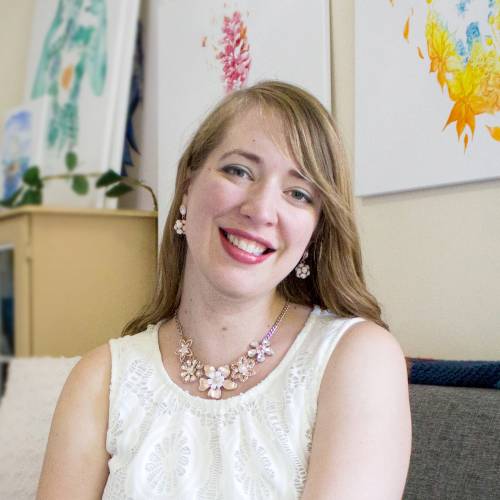 Holly Carton
www.hollycarton.com
Social Media: @hollycarton
"Long Journey"
Watercolor on Canvas
24x36x2"
$900
Artist Statement: This portrait was inspired by the story of a breast cancer survivor, and I tried to capture the depths of endurance it takes to go through all the treatments and surgeries required by choosing special colors and plant meanings.
I chose butterfly wings as a motif, since the Inspiration identifies with butterflies, and I was reminded of the Monarch Butterfly's long migrations every year.

The plants included in the wings are:
Cypress - Mourning, Death
Blackthorn - Hope Against Adversity
Marigold - Pain, Grief
Dandelion - Endurance Through Hardship
Aloe - Grief, Healing

The plants in her body are:
Vervain - Pray for Me, Protection Against Evil
Geranium - Determination
Borage - Courage
Bamboo - Longevity, Strength, Grace
Magnolia - Perseverance

And sprinkled throughout the painting are tiny Speedwell, which means "Safe Travels."