Meet Twist Out Cancer's First Book Club Author Kristin Meekhof
Kristin Meekhof created her book A Widow's Guide to Healing: Gentle Support and Advice for the First 5 Years out of necessity. In 2007, Meekhof lost her husband Roy to adrenal cancer eight weeks after his initial diagnosis. As a young widow, Meekhof didn't have a resource to help her heal. 
Written with psychologist James Windell, the book helps to navigate the grieving process by offering firsthand experience of how to move forward after loss, including interviews with women who have been through it all. 
"I was interested in people's stories and how they cope," Meekhof said. "Narratives of women are not well fleshed out … I went all over the globe to find people's stories."
The stories came naturally, too. Word of Meekhof's project spread and her connections kept growing.
"I would tell people about my project and they were kind," she said. "They sensed that what I wanted to do was with intent for healing."
In addition to these international stories, Meekhof includes topics like finances, single parenthood, navigating the workplace and navigating the social sphere solo. 
"When we connect, we realize others have taken a similar journey," Meekhof said. "I've always loved to read, so it was instinctual to do the book."
Since its release in 2015, the best-selling book has been described as "an Architect of Change"by Maria Shriver and "A very valuable and practical guide" by Dr. Deepak Chopra.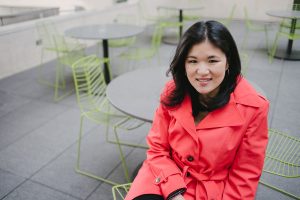 Understanding grief and embracing gratitude  
Roy wasn't Meekhof's first brush with cancer. At five years old, she lost her father, making her mother the first widow she ever knew.
"As a child, losing a parent to cancer early on before being aware of that long-term impact made me come about life in a different way," she said.
After losing two people to cancer, Meekhof spent three years processing grief, dying and how it affects people psychologically. A clinical social worker, Meekhof has a bachelor's degree in psychology (as well as an M.S.W. degree in Social Work from the University of Michigan) and used her background to better understand her grief. She now had a few tools she couldn't access as a five-year-old girl.
"Loss is very painful, it is isolating and difficult to describe at times," she said. "It's not something you overcome, but you learn to cope in healthy ways."
In 2002, Roy planted seeds that eventually became necessary tools in Meekhof's healing. It was the year before the couple got married, and Roy encouraged Meekhof to start a gratitude journal. 
"That habit – little did I know – is something that sustained me," Meekhof said. 
During those harrowing eight weeks, Roy would ask people their names – medical professional, strangers who exude kindness, anyone who crossed his path – so he could write their names in his gratitude journal. 
"Those small things changed the way I see gratitude," Meekhof said.
Around 2010, Meekhof turned to writing as a way to continue her healing process, which ultimately led to her book. And the responses have been deeply touching.  
"It's very bittersweet because when someone reaches out to me, I know their heart is breaking," Meekhof said. "It's coming from a place of great pain and I don't forget it."
She recalled an event at a Michigan library. An older gentleman came up to Meekhof after the event and asked her to sign his book for his wife. 
"He said to me, 'I want my wife to have a plan for healing, because I know I will go first."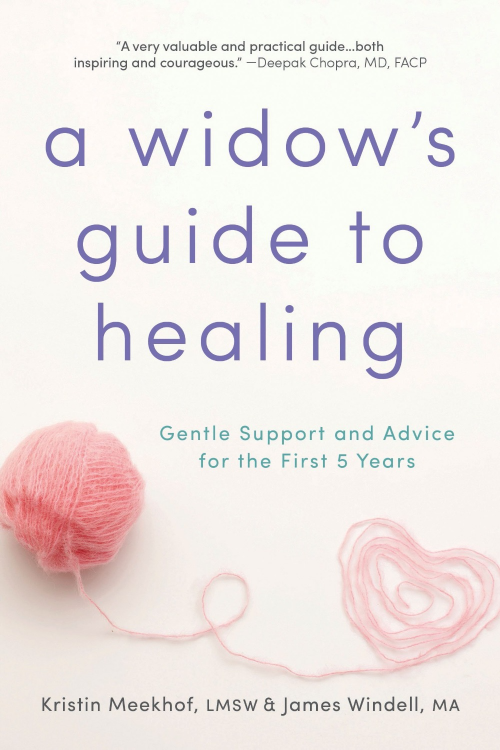 Twist Out Cancer's First Book Club 
As the Twist Out Cancer team got A longtime friend of Twist's CEO and Founder Jenna Benn Shersher and 2021 Brushes with Cancer inspiration, Meekhof is also Twist's first book club author. For spring,  A Widow's Guide to Healing: Gentle Support and Advice for the First 5 Years will be the first book club selection.
"I look forward to sharing stories of healing and inspiring others when they feel stuck," Meekhof said of the book club. "We often heal, grow and evolve when we listen to stories of others."
The book club will include virtual meetings, opportunities to ask Meekhof questions and overall, the opportunity to understand as a community how to live with grief and work toward healing.
"I'm feeling very grateful," Meekhof said. "It's a huge honor and I'm overwhelmed with joy that Jenna and the team thought of me. I hope the book club will offer something for the community and plant a seed for healing."
To participate in our book club, all you have to do is purchase Meekhof's book! 
Follow us on Facebook, Instagram, Twitter and LinkedIn for book club updates and news. Purchase A Widow's Guide to Healing here.