The Tough Stuff: How to Talk to Children About Cancer
One of the main concerns for parents and other family members who have been diagnosed with cancer is knowing what to say to their children. People often struggle to find the right words to help children understand what a cancer diagnosis is and what it means to them. 
There is also the natural instinct for parents to want to shelter their children from what is happening. Whilst this instinct to protect and minimise harm is completely understandable, preparing children and having a truthful dialogue is what will help them to cope better. 
As parents, we cannot fix cancer, however, we can show our children how we can respond to it and talk about it in a way that supports each other. Books like the Nurse Ted series open a door to these conversations with children at their level. Talking about cancer is not an easy task but in the Nurse Ted books, we explore why it is best to be open and truthful. 
Sharing and connecting helps build trust 
Sharing information early on and keeping children informed can help to build trust and make them feel included. Research has found that children who are in open and communicative environments are typically less anxious. 
It's important that children are brought into the conversation because they are incredibly perceptive. Even young children can sense something is happening and may blame themselves and worry more if they are not told anything. What children imagine can sometimes be worse than the reality. Being open with your child and helping them to process what is happening does not mean you have to tell them absolutely everything: whilst being truthful is important, how you tell them is dependent on their age and temperament. 
In the Nurse Ted series, we make suggestions on how to talk to your children about cancer. Below are a few tips we recommend: 
Choose a quiet time, when the house is calm

Use age-appropriate language that is easy to understand

Give information to younger children in bite-sized chunks and revisit conversations where necessary

Tell your child that it is OK to get upset and that is also OK to be happy

Encourage them to talk about how they are feeling

Ask them if they have heard words like "cancer" and "tumour" and ask what they understand by them so you can correct any misinformation

Ask your children if they have any questions and tell them that sometimes you don't have all the answers

Give them permission to ask questions at any time

Make a thoughts, feelings and questions post box where they can write everything down for later discussions

Have frequent family update meetings to help them feel included, safe and secure

Spend time with your children having fun and doing normal daily activities as routine helps them to feel safe and secure

Tell the child's school about the changes at home 
If we know we should be open and truthful, but we do not want to scare our children at the same time, we have to find a way of talking about cancer. This is where books are particularly useful – they make talking about cancer a little easier.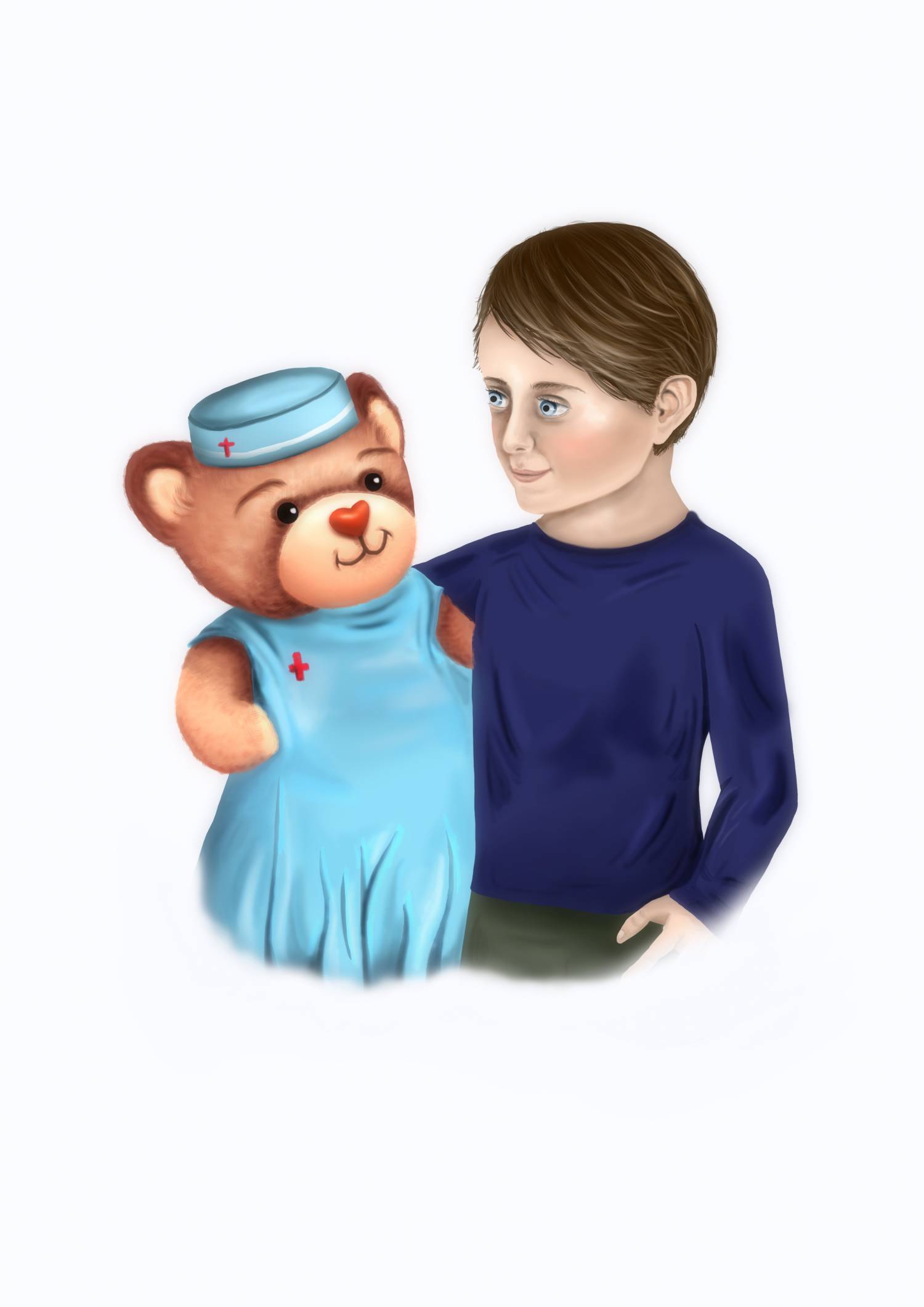 Why books are a good way of communicating with children
Books are a helpful tool to gently explore difficult topics such as cancer. When dealing with something like cancer that is difficult to talk about, realistically written books can help children cope by talking to them at their level in a non-threatening way. Children tend to be less defensive when talking about a book that deals with a difficult topic than if they were having a one-to-one conversation. This is because it feels safer, less confrontational and therefore, less stressful. In this way, books are a safe space to open the dialogue whilst also providing comfort and reassurance when things feel out of control. 
Picture books are particularly useful for younger children, as the pictures can serve as a useful distraction if things get too much. In the Nurse Ted books, we also have the teddy bear nurse character, who immediately makes children feel at ease. The teddy bear is truthful and explains what cancer is but is also reassuring in its familiarity. 
Research has also found that children are more willing to listen to a story about someone else's troubles than talking about their own. Reading about characters who are going through similar experiences makes it easier for children to work through their own story. By exploring how these characters respond to events, the child's feelings are normalised.
This is another important function of books. Books decrease the sense of loneliness that many children feel when faced with a difficult life event by making them realise that they are not the only one going through a certain situation. Books validate children's experiences, by allowing them to see themselves reflected in stories. As one thing cancer can do is to make the child feel isolated or different, books can be an enormous comfort as the child reads about characters whose situation they can identify with and who they can relate to. 
Another important function of books when facing something like cancer is how they can support the child's understanding. When children understand what is happening in simple factual terms, things are demystified and become less overwhelming. 
When a family is affected by cancer,  it is a challenging time for the children. However, with the right support children often cope much better than we think. 
Ffion Jones
www.nurseted.com
Another great way to help lessen children's anxiety over these topics is to attend our virtual Twistshops. These monthly art therapy-focused workshops promote healing, relaxation and emotional recovery through art therapy based interventions that are designed to reduce symptoms of depression, anxiety and stress related to cancer. Twistshops welcome individuals who have been touched by cancer to engage in art therapy based workshops that focus on utilizing the arts as a mechanism for healing.
Virtual Twistshop Session II
Thursday, March 25
6:30-7:30 CST/ 7:30-8:30 EST
Facilitated by Sherry Warner MA, ATR-BC you will explore themes like intuitive-abstraction, using natural elements (earth, wind, fire, water) and incorporating self exploration, acceptance and restoration through the creative process.
Contact [email protected] for more information
(Minimal art supplies required. Suggested materials paper, markers, colored pencils/pencils, watercolor paints.)