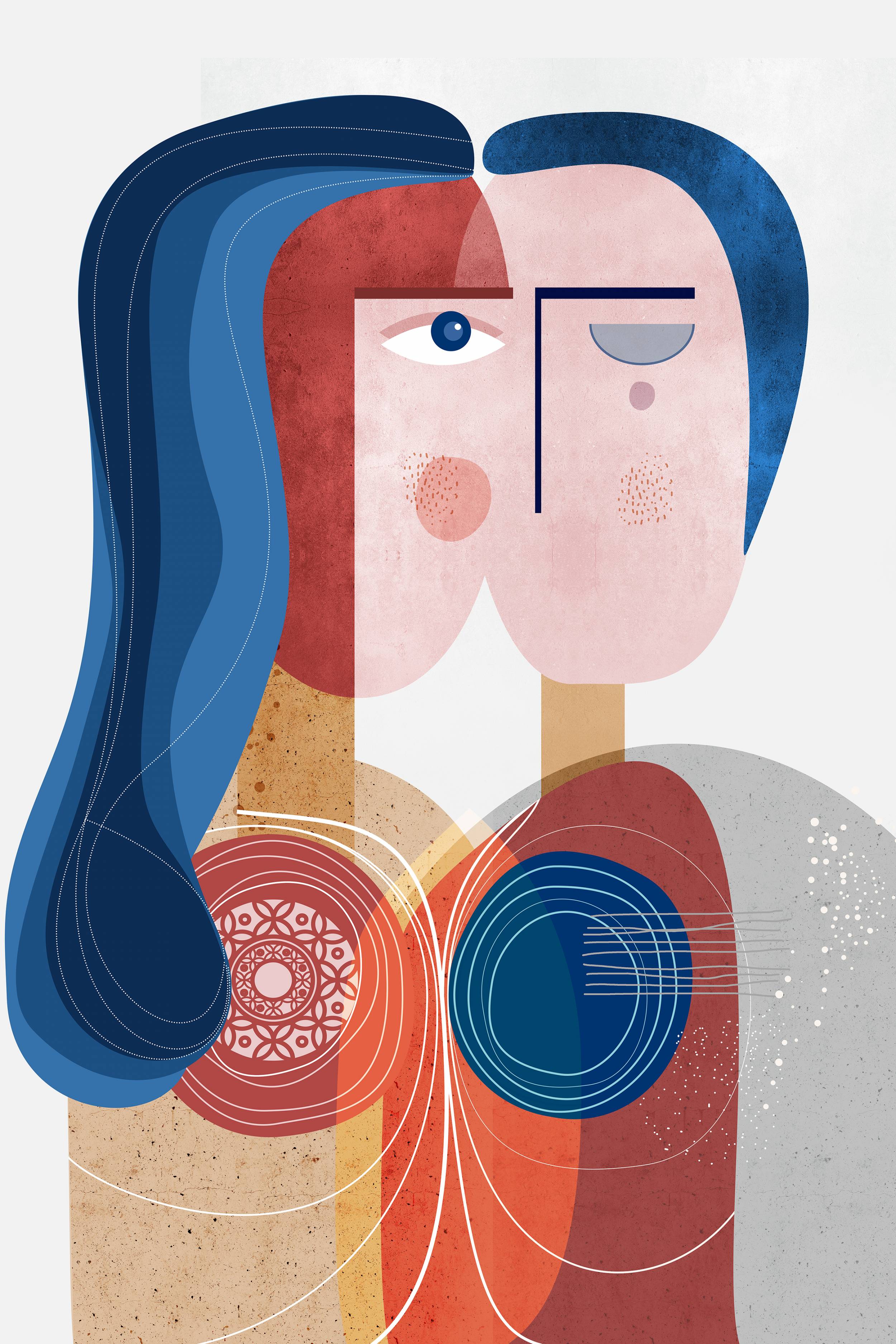 Ishita Banerjee, Artist
Montreal, Canada
"Our Tangled Stories"
Artist Medium: mix-media, digital print
Art Dimensions: 24″ x 36″ Framed
Artist Statement: "Our Tangled Stories" is the story of Virginia and her late husband Jay, which are completely intertwined. While Virginia was battling a deadly and rapidly spreading breast cancer, double mastectomy and its intense aftermath, her husband underwent lung failure and passed away leaving her with two young children, and a tremendous fight to battle. Layered and complex, her story had so many levels. The center point of the story is the breast and the lung. The place where it all began. The breast and the lungs are generally in the same area of the body and I tried to show how where one began and one ended. Their stories are tangled, interlinked and can be seen as two breasts, one breast and a lung or two lungs. The radiating lines tangle and weave the stories together. The tattoos on the breast that Virginia chose to cover up the scars is symbolically represented, while the hair also plays a big part in the composition. While Jay is no longer present physically, he is still a big part of the story in spirit and so the closed eye, the lines and dots that symbolise his onward journey. I deliberately kept away from black, choosing instead shades of blue, rust, terracotta and flesh tones. The female form representing Virginia is strong, vibrant and is an inspiration to look up to. I have had to fight tears every time I worked on it. The magnitude of what she had to go through was staggering. The statement I am trying to make through this art piece is both poignant, harsh yet strong and determined. A celebration of who Virginia is and the optimism with which she has forged on. Getting to know her, her sense of humor and the tenacity with which she fought the biggest battle of her life was a gift to me. If ever faced with this kind of adversity, her strength is what I hope to imbibe in my own life.
Inspired by Virginia Champoux-Sokoloff
Survivor and Caregiver
Montreal, Canada
Twist On Cancer: I watched my mother fight this disease for almost 20 years before passing away from it. When it came for me, a mere 3 years later, I took a completely different treatment approach – guns a-blazing, and I left no stone unturned so that I would be cancer free for a long, long time.