Dawn Minch & Tracey Bouchey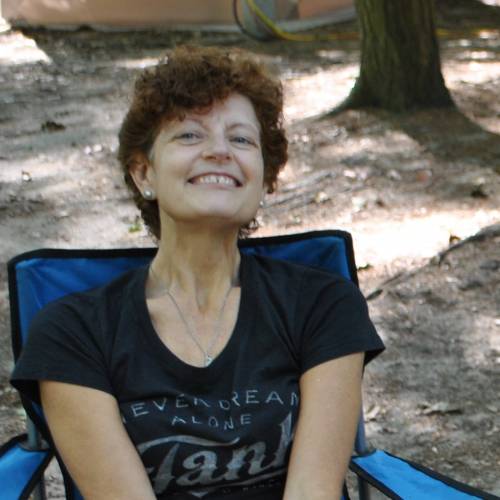 Dawn Minch
GM Warren, MI / Oakland Township, MI
Survivor - Esophageal
Twist On Cancer: I came into this program with no expectations and have come away with an exceptional experience. My artist has been very caring and concerned, which made it easy to share my experiences. One of the first cancer specific questions she asked was "What does/did you cancer look like to you?" The question took my breath away as many images came flashing back. The first image being, a black mass. I recall knowing that something very dark was growing in my body and it needed to be attacked head on. That was the start of a new friendship and an additional avenue to talk through my cancer challenges, old and new. As we talked, she learned at the time of diagnosis my family was more fearful than I. They wanted to be on the phone or in the office for every doctor visit. Their support and prayers gave me the strength to combat the months that lie ahead. I went through scans, blood work, more scans, chemo, more scans, more blood work, sickness, repeat, repeat, while telling myself STAY POSITIVE! After several months, I was approved for my surgery. I knew at that point the perseverance, courage, strength and positive attitude found through prayers and support, was going to keep me on God's earth a while longer.
I have learned to live life very differently with a much smaller stomach and will continue to adapt. I still become anxious when I'm due for CT scans and check-up. However, my love of life has not diminished or my heart hardened from my cancer experience. It's quite the opposite. I want to hug more, visit more, smile more and make those around me know they can be a survivor also. It doesn't matter what challenges you face. Stay positive, loving, strong and caring; what happens next is up to fate but you'll have lived a life that radiates sunshine.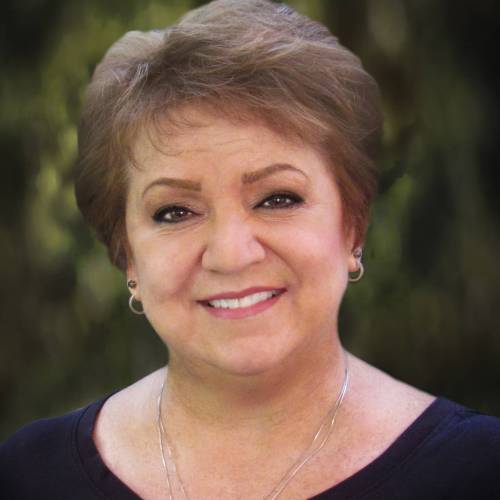 Tracey Bouchey
"Briars to Blooms"
Watercolor & Tissue Paper on Canvas
24" x 30"
$300
Artist Statement: I first connected with my inspiration through email and we exchanged basic questions to get to know each other. She is a positive person and loves to garden… like me! Before meeting through video, an image came to me exemplifying positivity and beautiful flowers mixed with typography illustrating the progression of feelings through her journey. When we met online, she told me how words of encouragement and always staying positive helped her. She shared with me a gifted statuette that meant so much to her. I was shocked that her statue and the centerpiece of my concept drawing matched! I knew I was on the right track.
I immediately envisioned watercolor and torn tissue paper for the medium. I see the journey and recovery from cancer as being fragile and imperfect but yields beautiful results. Exactly like watercolor and torn tissue. My inspiration provided me with all the words she felt through her journey from the discovery through recovery. I put them under a veil of tissue as they were her underlying feelings. Vines represent how the tendrils of cancer stay with you even after initial recovery. She continues regular scans that cause her some apprehension; it remains part of her, so the vines remain. She chooses to focus on and look towards the beauty that comes from all of it represented by the blooms at the top.
My inspiration is a strong, positive and beautiful person and I thank her for inspiring me personally and artistically!

My studio is my space, just mine. I like that I can play soothing music or nature sounds while working and just get lost. I have been making art all my life – my aunt and father inspired me when I was young, I went to art school, met and married an artist. Our three kids, and now grandkids, are all artistic, and my son is an illustrator. It is a big part of our lives and normal in our family, but respected. Making art has always been a type of therapy for me, like meditation. The rest of the world and the business of my day melts away. Raising three kids with a demanding career did not leave much time to practice my craft and I now make art whenever I can!