Kristina and Jim Burke & Maura Matthews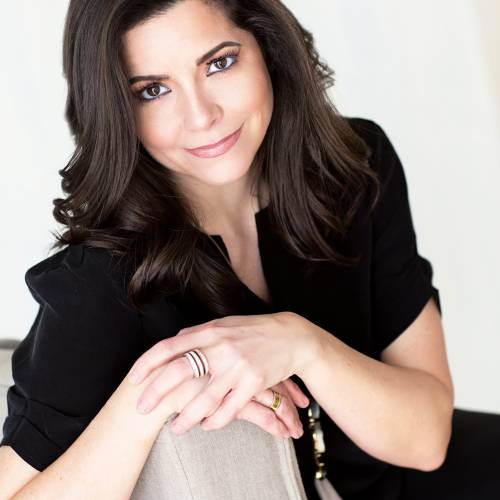 Kristina Burke
Philadelphia, PA
Social Media: @kristinaburke; @TAGTimeHappy Hour
Kristina is both a breast cancer survivor and a caregiver to her husband Jim (a survivor)

Twist on Cancer: I was diagnosed with stage II breast cancer in October of 2019, just after working on The Brushes Cancer event for Jenna. A year later, in August of 2020, my husband was diagnosed with Stage IV lung cancer.
After learning about my husband's diagnosis, I started a fundraiser for research projects that will benefit patients like him living with EGFR lung cancer. I used my contacts in the Philadelphia dining scene and my social media savvy to propel a two-month fundraiser that brought together the public and our hospitality colleagues. We raised over $100k for two research projects for LUNGevity & EGFR resisters, which are now fully funded for 2021.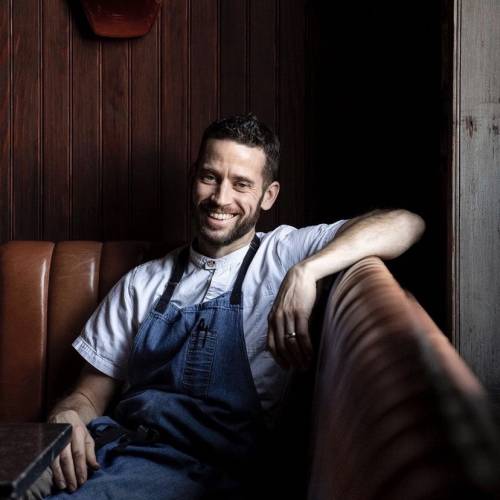 Jim Burke
Philadelphia, PA
Social Media: @kristinaburke; @TAGTimeHappy Hour
Lung Cancer Survivor

We both believe (and have found from experience) that the more open you are and the more you share your story, resources and experience, the more the universe finds a way to give back to you. Cancer is a daily grind, it's a constant and relentless battle that requires fortitude, empathy, awareness and hopefulness. But you make connections with people along the way that fill you with a hope or a new sense of purpose. You cannot stop finding joy or sparking joy for others. As much as cancer takes from people, it can be the impetus for realizing how fragile life is, which in turn makes you appreciate small moments which can make you feel whole.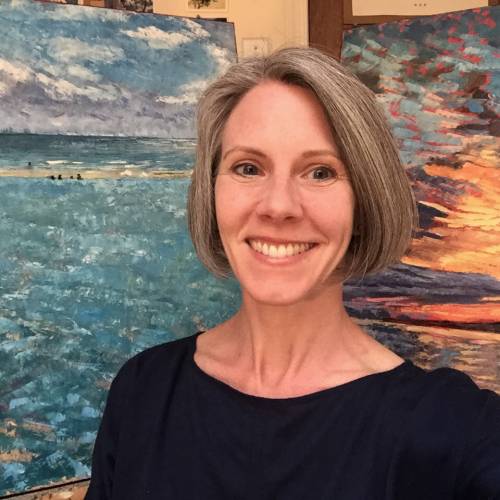 Maura Matthews
www.pigsalley.com
Social Media: @pigsalley
"INSIEME"
Oil on canvas
24" x 36 x 3/4" (unframed)
$900
Artist Statement: "Love conquers all" and that is certainly the case with my inspirations, Kristina and Jim Burke. Before meeting them in person, I learned that they both were diagnosed with cancer in the past 2 years. Such a situation would be hard for most people to handle, but not for this phenomenal couple who amaze me with their strength, spirit and above all else, love for each other, their children and life and all its moments. When we met, Kristina likened her experience with cancer to being underwater – feeling both weightless and heavy with hopeful light above and unknown darkness below. As she and Jim reminisced about time spent on the coast of Italy listening to Neil Young's Harvest Moon, I envisioned a painting of them embracing in moonlight. The resulting artwork is layered, starting with their figures underwater – hers on the move, just as she is – his still, with an open ear, listening. Tender and tough, together they will be able to handle whatever comes their way.