Laura Cipolla and Jennifer Stumbaugh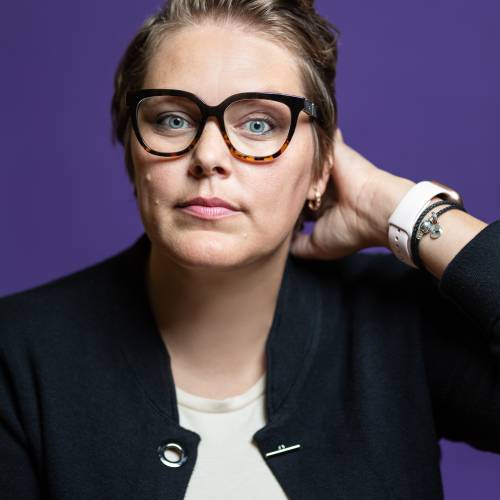 Laura Cipolla
Survivor
Twist on Cancer: My name is Laura Cipolla and I am a teacher, a sports enthusiast and a coach. I live in Toronto, Ontario and have previously lived in the United Kingdom. However, my identity has changed. I am now a cancer survivor.

I found out over the phone in April 2020, after advocating for a second opinion, which I advocated for after having a very weird gut feeling.
It was breast cancer.

It was hard, very hard. I was 38 years old, I worked hard, ate healthy, was active, and took my supplements. Why me? It was a question I pondered? And I still think about it daily.

I have learned over the course of this journey that we have limited time and we need to be grateful for the time we are here. I have some beautiful people on this path and want to continue to give back to this community to try and eliminate this disease that affects 1 in 8 women.

I am now 40 years old and my priorities have shifted my life from stress and overworking to gratitude. I am now excited to say I live my life everyday healthy and happy and grateful. Oh boy, am I grateful. Gratitude was my word for 2020. I am forever grateful for the lessons I have learned about myself, my toughness, resilience and what we all can be capable of in the face of adversity.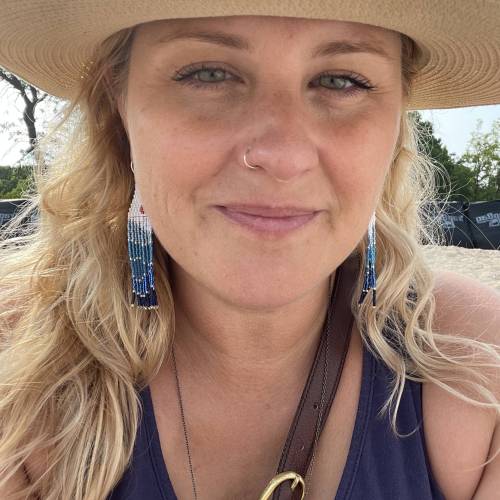 Jennifer Stumbaugh
Social Media: @ladyjen
"Transformation: Everything Changes"
Acrylic, gold enamel, and gold leaf on canvas, poplar wood frame"
37" x 49" x 2"
$500
Artist Statement: When Laura and I first spoke, it was an instant connection. Her optimism and strength were the inspiration for this piece. Sunflowers follow the sun and represent joy and optimism, and throughout this cancer journey, she has embodied both, even when things were difficult. Family and friends are everything to her, but when she was diagnosed, she was alone in her home and had to process this life-changing moment on her own. The bee represents that moment of being part of a collective, but also laboring and processing by herself. Both the sunflower and the bee are a visual reminder of transformation - turning nectar into honey, and a flower blooming into seeds that nourish. Laura's drive to truly live life to its fullest, no holds barred, is an inspiration that I will carry with me forever.