Marianne Duquette Cuozzo & Cat Van Doren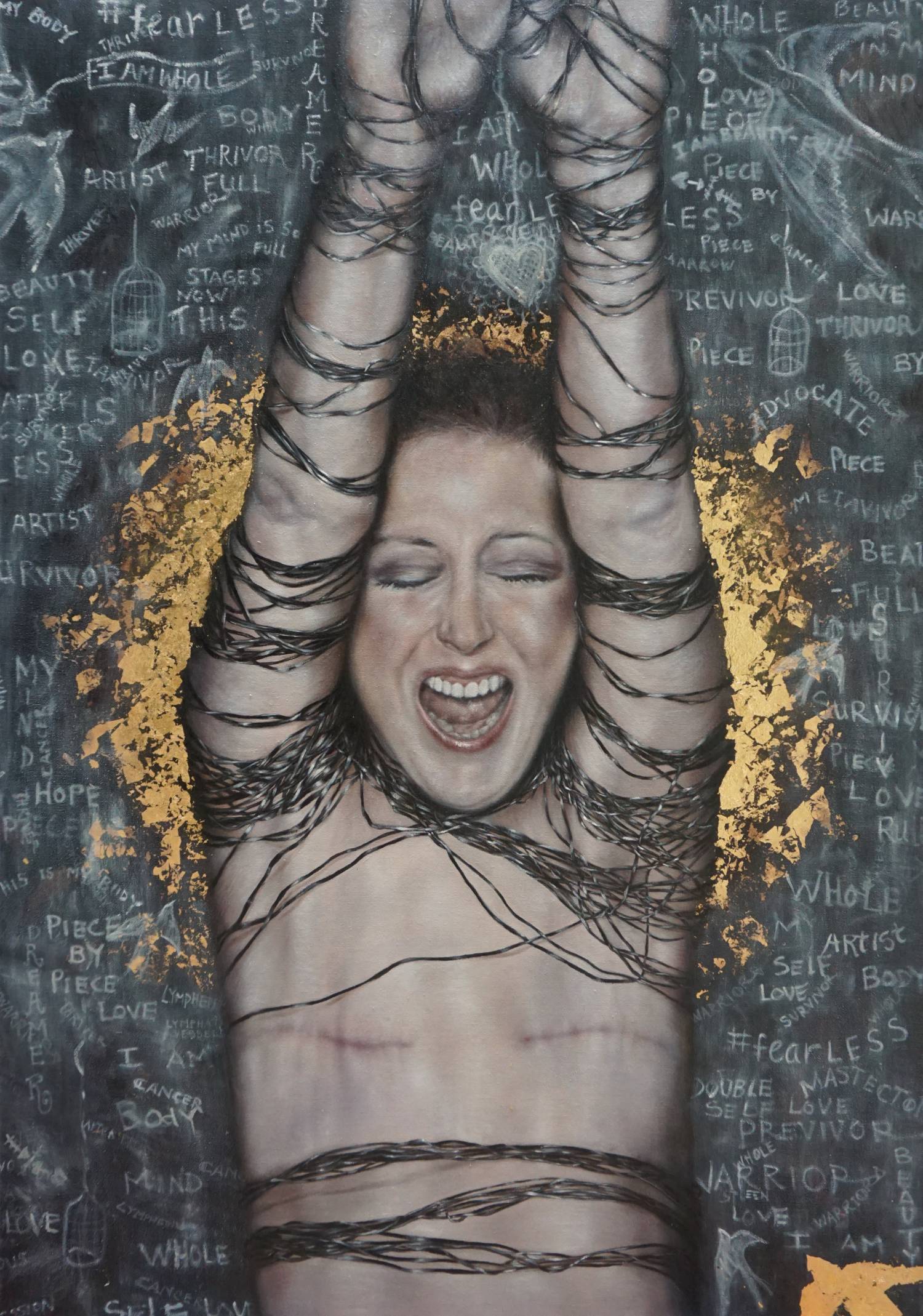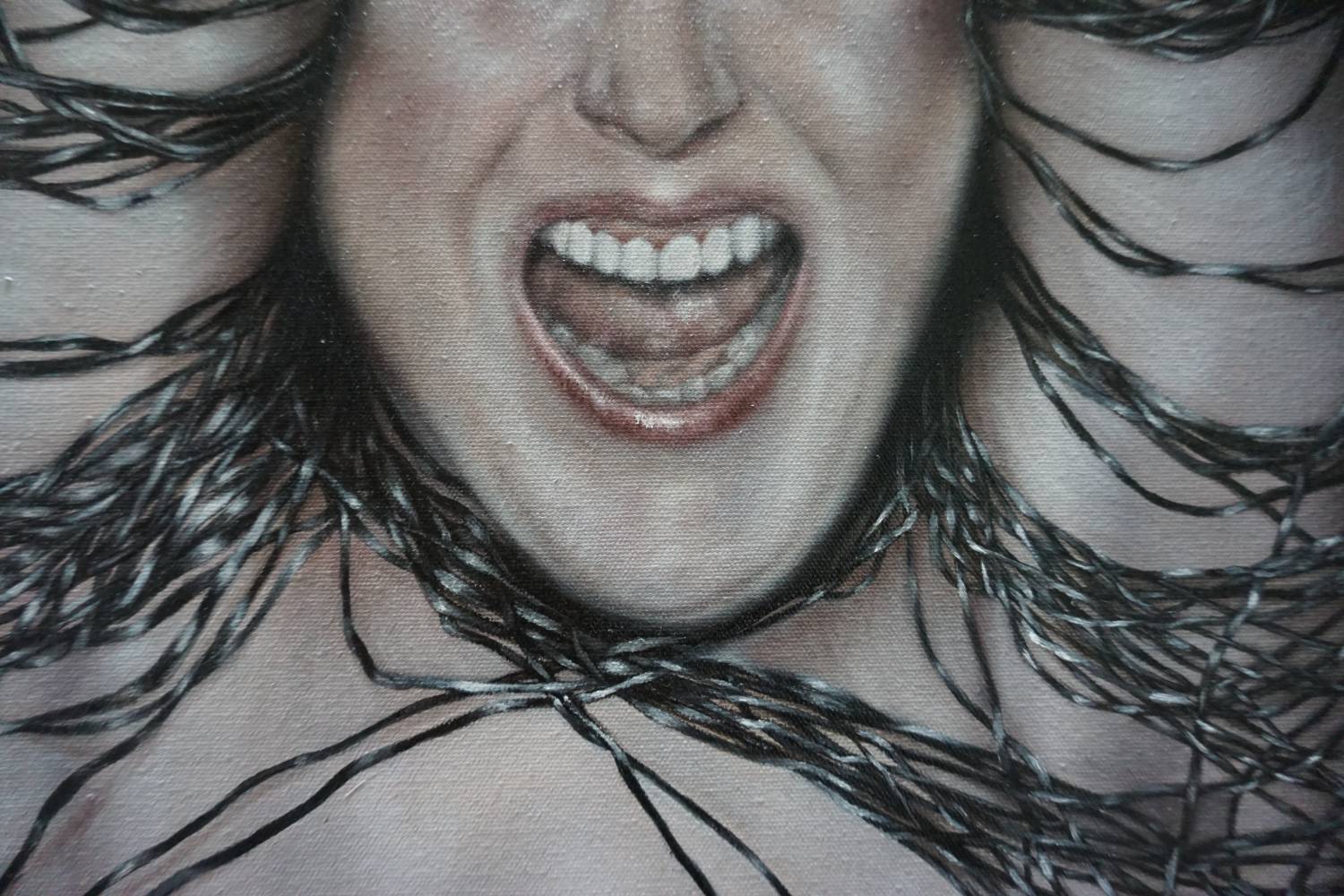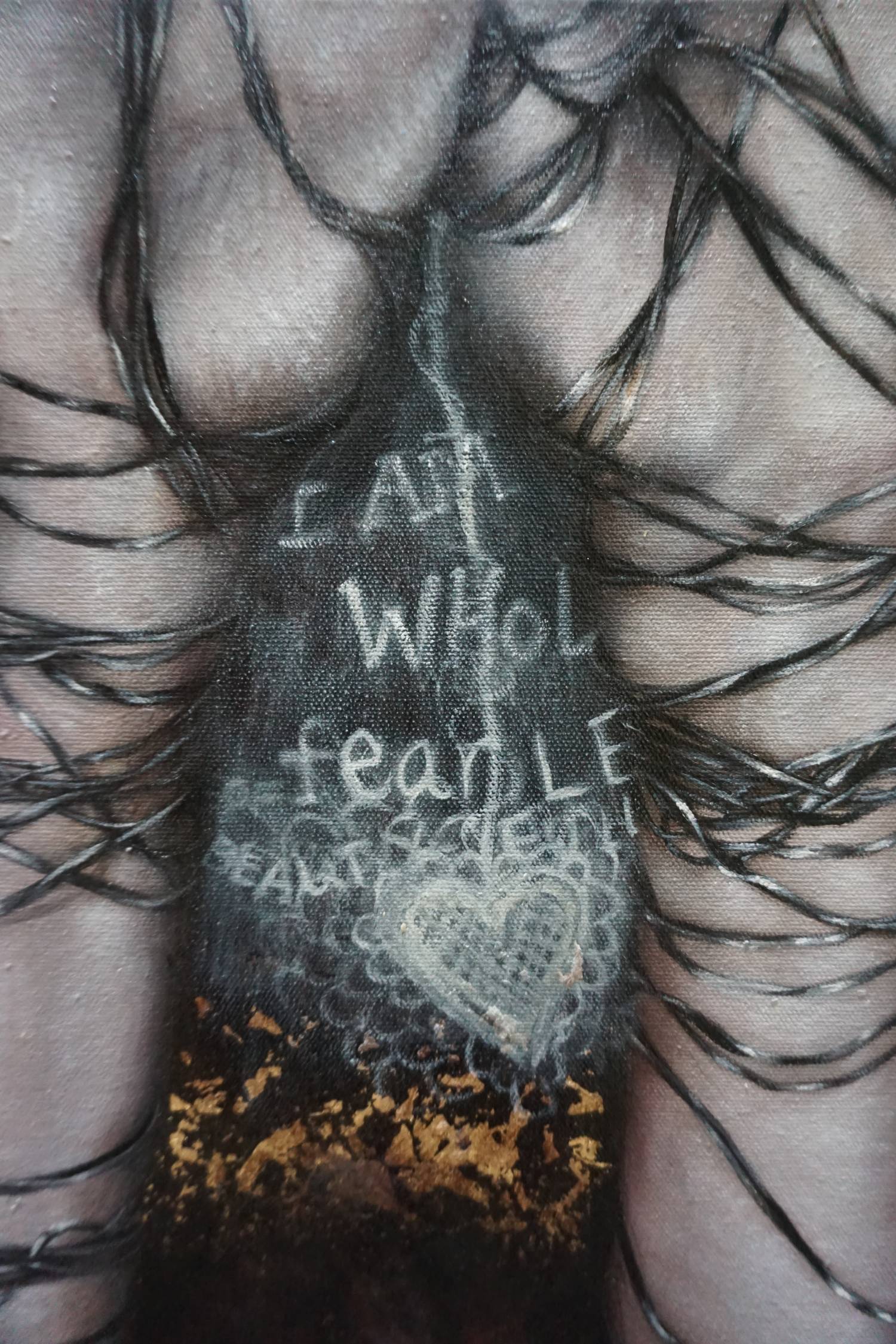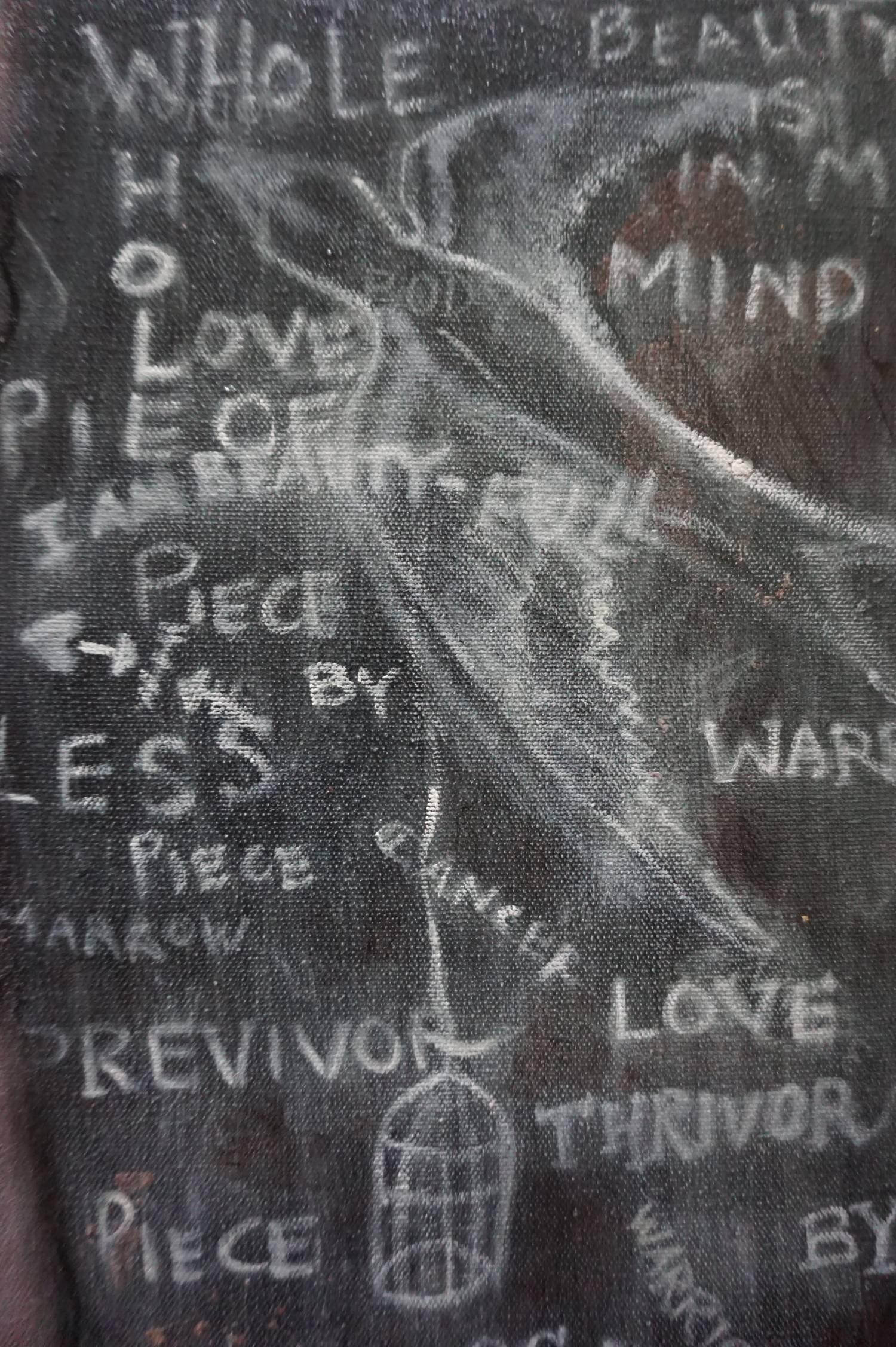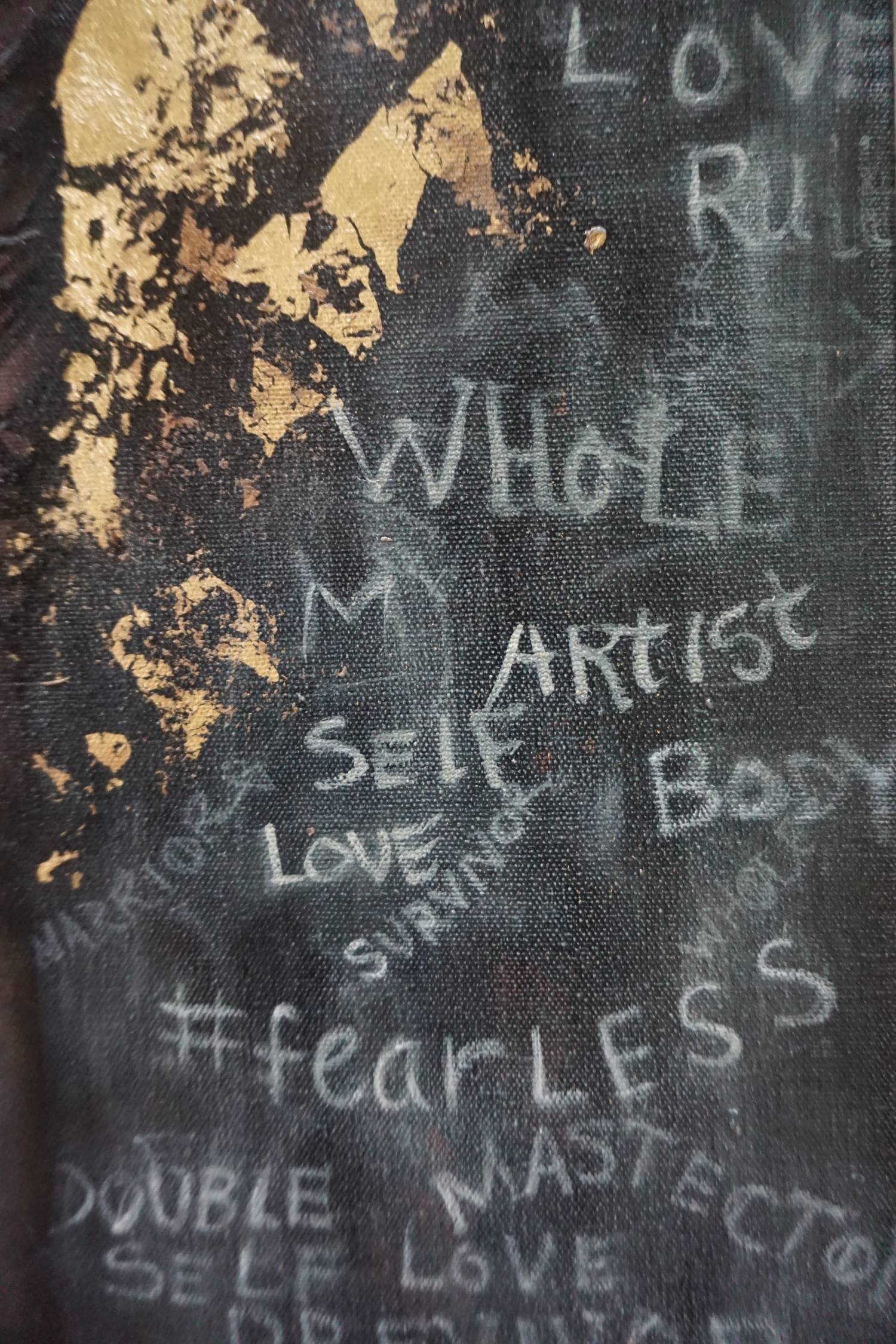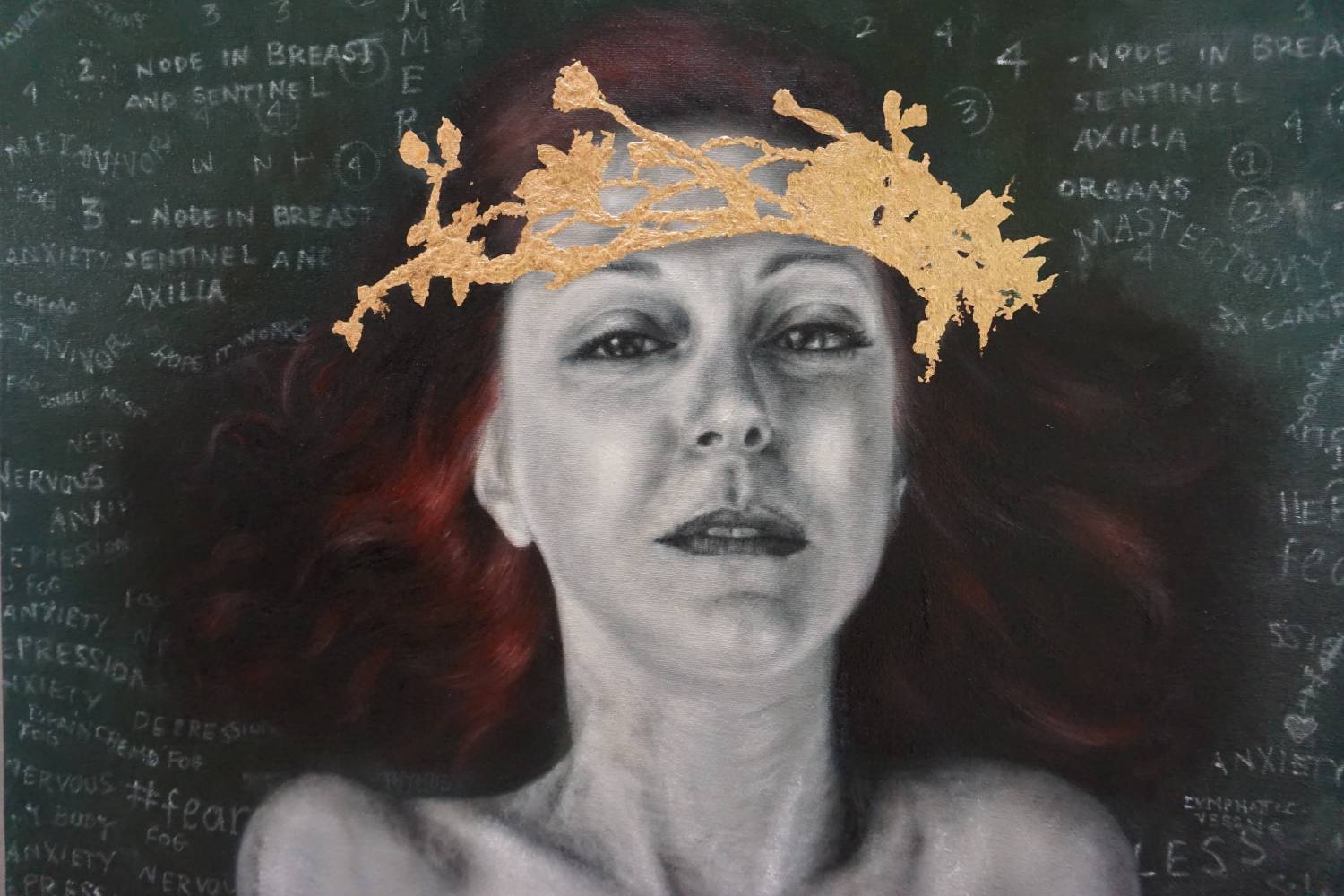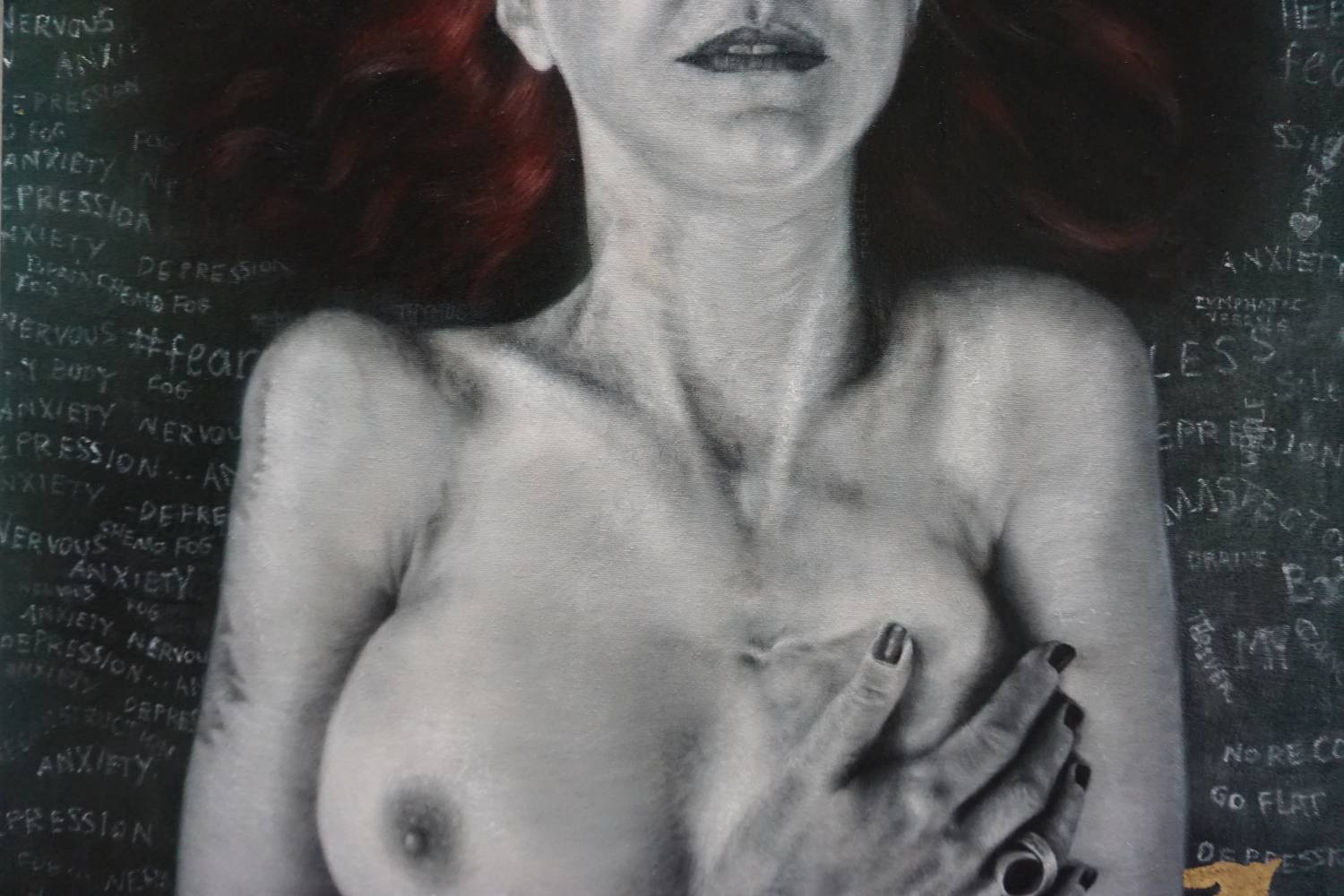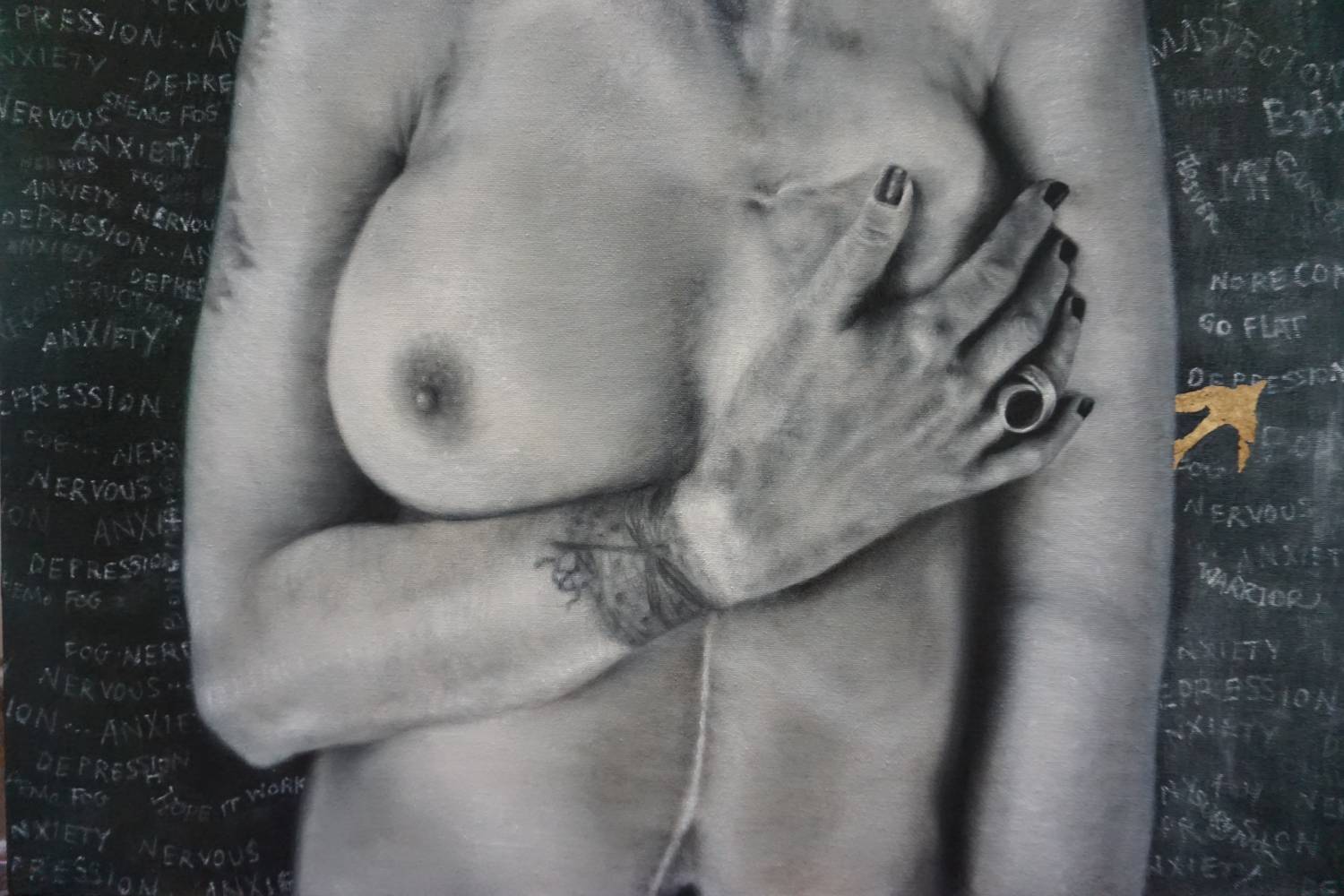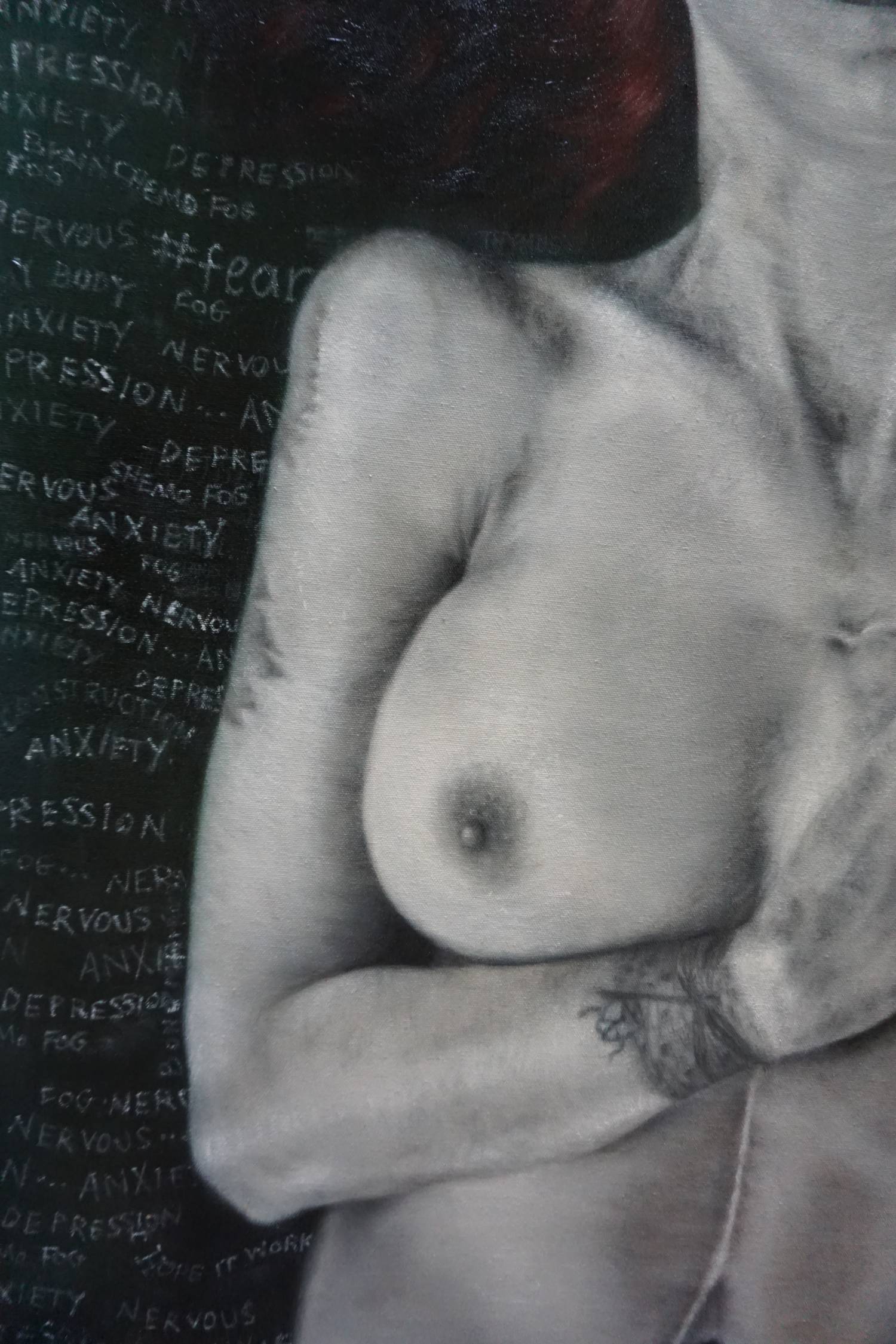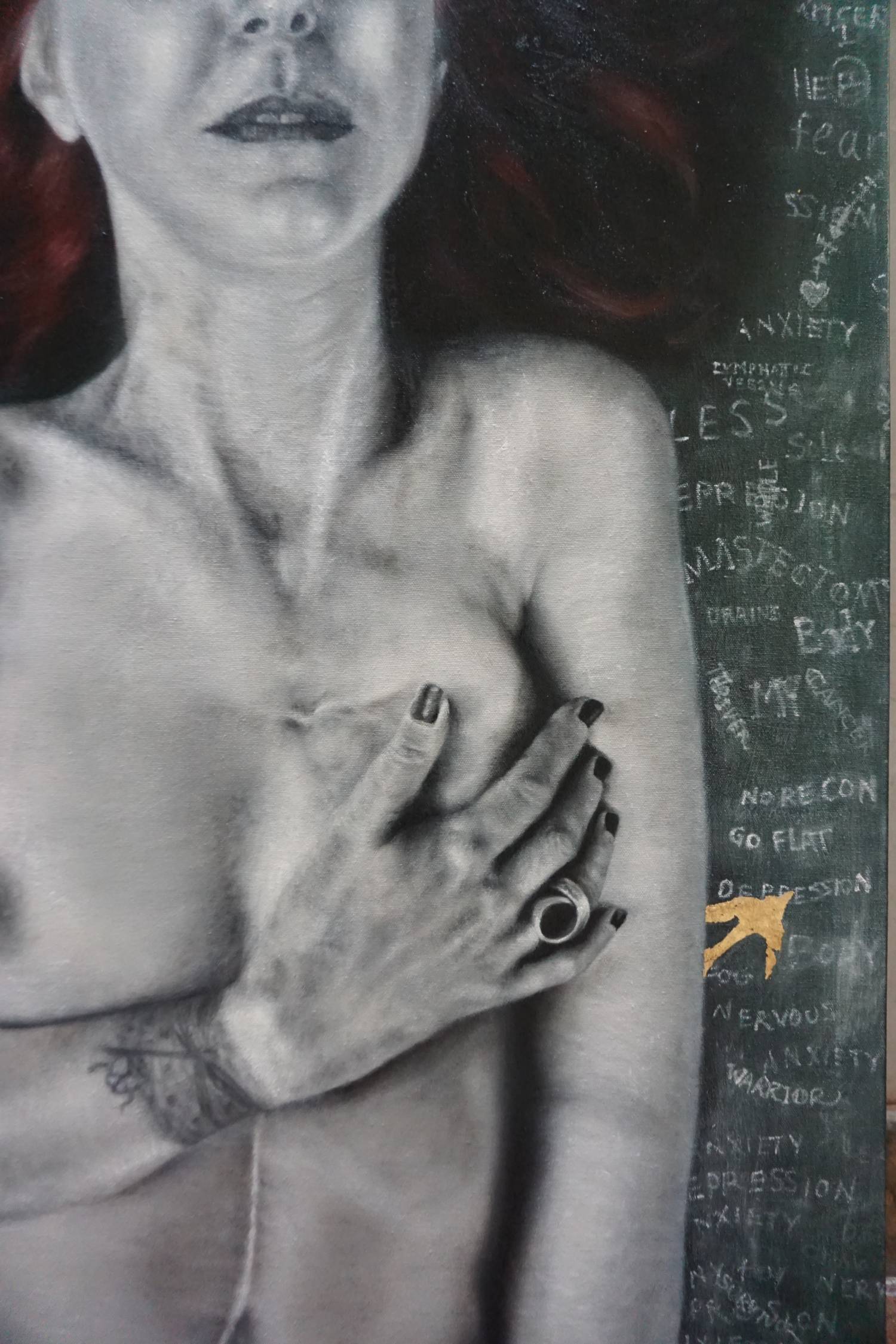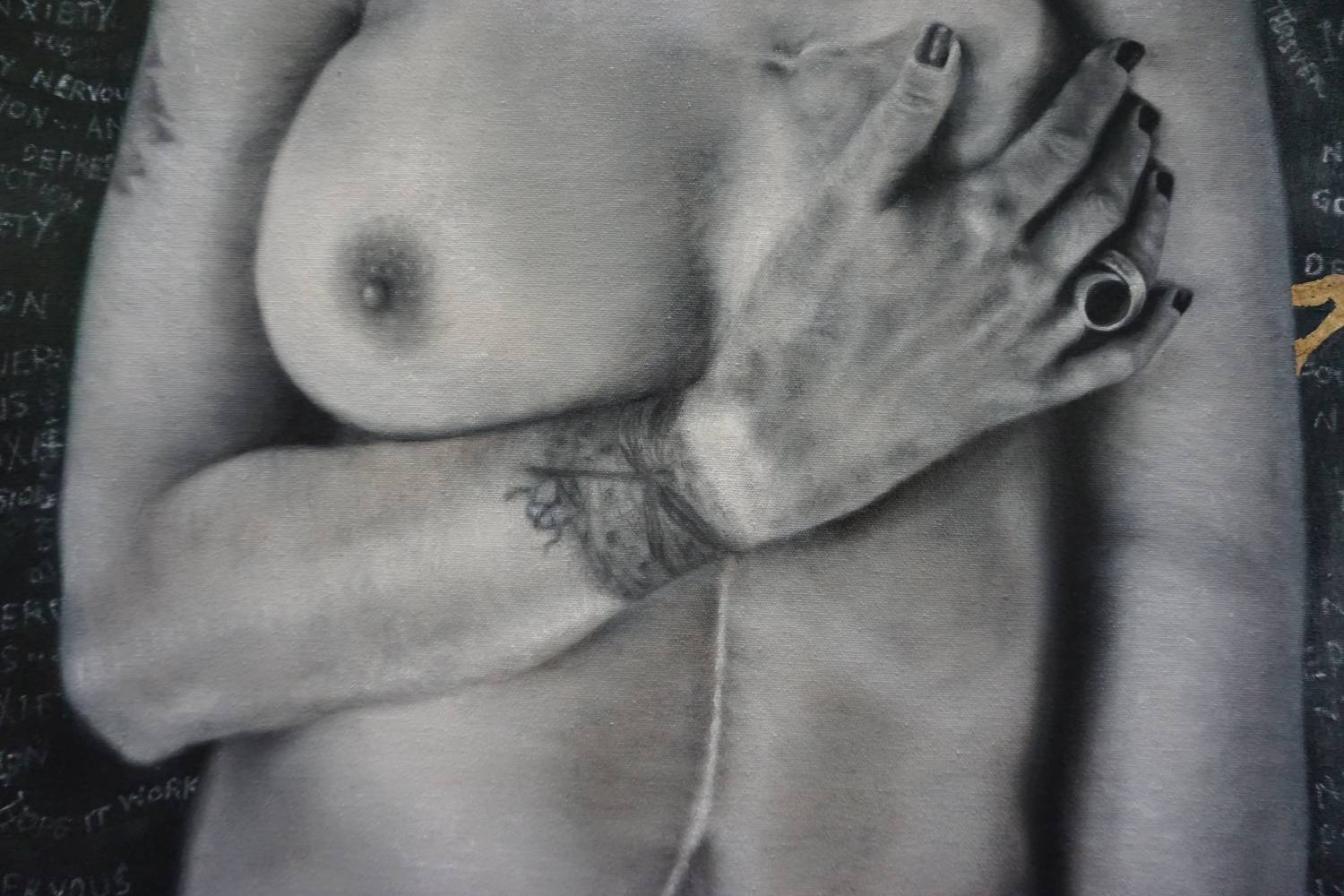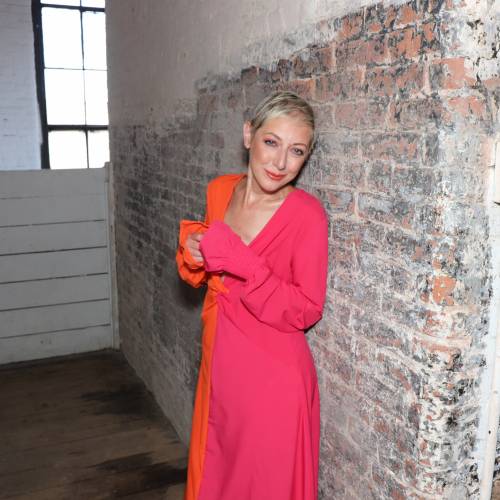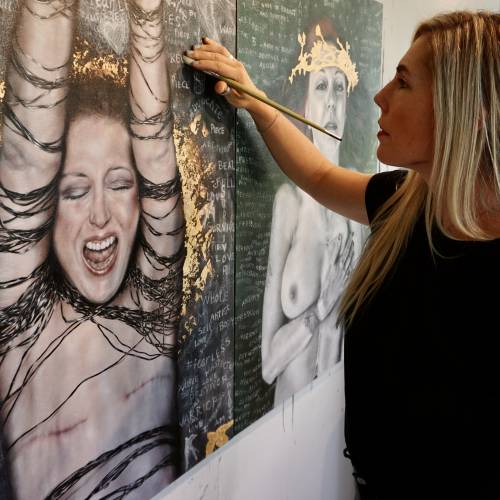 Cat Van Doren
https://www.instagram.com/catvandoren/ and https://www.facebook.com/catvandorenart
Dyptych
Oil paint and pure gold leaf on canvas.
#1 "Marianne before her surgery titled: Silent Warrior" #2 "Marianne after her surgery: Breaking Free"
oil on Linen
2 canvases each 3 ft X 4 ft together 6X8 ft
Artist Market Value: $8,000
Artist Statement: At the age of 29, a woman named Marianne DuQuette Cuozzo was diagnosed with lymphatic cancer.

The long scar along her stomach and breast bone is from a splenectomy, a procedure that left her skin to fuse to her chest bone. This was the first of many surgeries to come.

She also endured 45 rounds of radiation on her chest and abdomen. She was devastated to learn that the radiation would leave her infertile. She had always wanted children.

All of the words scrolled across the canvas in the background behind her are Marianne's poetry about her journey.

Marianne has always used her art to communicate with the world. Upon her first diagnosis, she created large, charcoal drawings. Charcoal is a messy medium that is hard to control, and it helped her to convey her anger and inner turmoil. She instinctively knew she needed to use charcoal to convey and move her feelings.

After a grueling two years with three rounds of chemo, there was a welcomed break. Throughout this transition, Marianne's artwork shifted to more controlled portrait line drawings. These drawings increased her feelings of hope and helped her feel less lonely.

During her first remission, her body was able to take a breath, and as she exhaled, she birthed a tiny miracle: her baby boy, Leonardo.

Then it happened again. The cancer came back as a result of her radiation treatments for lymphoma 23 years prior. She underwent chemo again. After multiple hospitalizations from her implants becoming septic, her breasts were completely removed. She had no other choice if she wanted to survive.

The day before she had to say goodbye to her breasts, her best friend and fellow art therapist Mia Barken Clark, took the photo for the painting titled "Silent Warrior." She took many beautiful photos of Marianne that day. This photo art therapy process helped her to feel her current radiance and accept her incredible transformation.

The second painting after her surgery depicts the bind of metastatic cancer and her breaking free. Beatrice de Gea took this reference photo after her surgery. Marianne is screaming that she is alive. She has made it. She has survived. Piece by piece she has become beauty-full and whole. Here she is embracing love, hope and healing of the body and spirit.

I chose to include Marianne's artwork throughout my portraits of her because her artwork is such a moving example of how art can heal. The two reference photos chosen for these paintings were pivotal moments for Marianne towards her recovery.

Her artwork is whimsical, narrative in nature and tells the story of her survival. "Piece by piece, I am whole" and "beauty-full" are recurrent words in her art. The heart from the string (Breaking Free) represents her forever present hope.

Her work focuses on body image and returning to self love after trauma. Self care and sexuality are recurring themes that open conversations for other survivors not easily talked about. The birds in her artwork represent her breasts and the birdcages are her sexuality.

When asked about her life she now says she has no regrets because the cancer has made her who she is today. Currently, her continuing mission is to tell her story though her art to help others heal.

Her determination is boundless. She is an advocate for cancer research. She is a mentor for the healing and growth of survivors. Her art empathizes the path between pain, suffering and resilience so that others can feel understood. She continues to inspire all she touches to transcend in the face of extreme adversity. She is a reminder to never give up the power of hope, even in the darkest of hours.
..........................................................................................
Katie Van Doren is an art therapist and artist based in San Miguel de Allende, Mexico. Her surrealist figurative paintings are inspired primarily by the strength of women submersed within the human condition. Her paintings can be found in private collections and galleries in Mexico, Europe and the United States.

Show them some love and tell them how you feel.
This match is generously sponsored by Dr. Debra Patt and Marcia Levy.