Tammy Cedo and Dajah Callen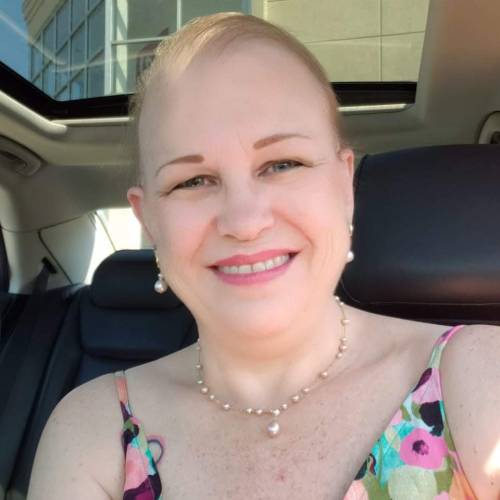 Tammy Cedo
Southfield, MI
Social Media: Tammy Cedo (Facebook)
Survivor - Breast Cancer
Twist on Cancer: I have been getting mammograms every year since 1996 (I was 29) due to my father being diagnosed with breast cancer at age 55, (he passed away in January 2001). In July 2014, I was 47 and married for 24 years with 4 kids — a soon-to-be sophomore (boy) in high school, and 8th, 6th and 5th graders (all female at birth)— when I was diagnosed with Er/Pr+, Her2neu-, Invasive Ductal Carcinoma, Invasive Lobular Carcinoma, Ductal Carcinoma In Situ, Lobular Carcinoma in Situ, in the right breast, Lobular Carcinoma in Situ in my left breast, and Metastatic Carcinoma, 1/6 nodes.

I was faithful with my mammograms, until my husband retired in 2013, and we lost our health insurance. So, I skipped it. In 2014, the Affordable Care Act came into effect, allowing then-Governor Rick Snyder to expand Michigan`s Medicaid program, which I qualified for. In that one year, I noticed a lump where there was a 27-year-old scar, and a dimple under my right nipple. I got myself to my doctor, he ordered a mammogram and told me not to worry about the lump — it`s most likely scar tissue.

I got my mammogram on July 10, 2014, they also did an ultrasound, concentrating on the right breast. I had the biopsies, yes, the lump was biopsied, on July 11, 2014. They were not all that concerned about the lump because it was up near the chest wall and "Most likely, scar tissue." I received the phone call that both biopsies came back positive for cancer on July 14, 2014. Double mastectomy on August 25, 2014. Six rounds of chemotherapy, Cytoxan and Taxotere, from September 29, 2014 to January 12, 2015. DIEP reconstruction was started on April 12, 2015, and finally finished on January 20, 2020. I was also diagnosed with Alopecia secondary to Chemotherapy in March of 2016.

I am currently in remission and will be declared "Cancer Free" in February 2025 after a 10-year "fight."


I don't really have a "twist" on cancer, but I do wish others would realize that our fight isn't just during active chemotherapy or rads treatment. Those things commonly last 3-12 months. The side effects from those treatments can last for years! Even after we are declared "Cancer Free!"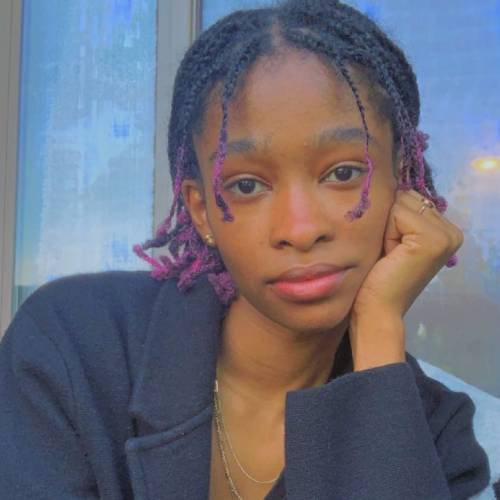 Dajah Callen
Southgate, MI
Social Media: @dajartchives_
Website: https://dajahcallen.com/
"Tammy"
Medium: Acrylic paint and colored pencils on canvas
Dimensions: 18"x24"
Value: $200
Artist Statement: Meeting Tammy was a comforting experience. She made me laugh, she shared a lot of her life with me, and I felt honored getting to know her. I wanted to capture her elegance, warm nature and strength in a portrait.

Tammy has been a born-again Christian since she was 22. I thought it was fitting to paint a cathedral glass background similar to one you'd see inside of a church. I used her favorite colors; pink, purple, and green as the color palette. I added her favorite flowers, lily of the valley, to symbolize the joy that is Tammy Cedo.