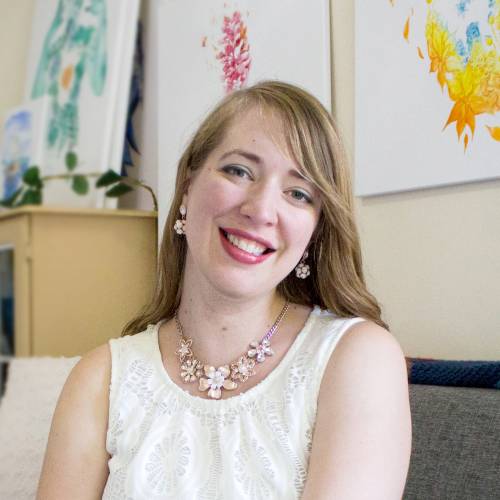 Brushes with Cancer Artist Holly Carton embeds secret messages in her paintings. 
It began when she first saw the 2001 film, Kate & Leopold, a time-travel romantic comedy where the titular character Leopold is living in the 19th century and finds himself in early 2000s New York City. Holly was struck by a scene that involved the Victorian language of flowers. 
In the film, Leopold asks a character to assemble a flower bouquet and is turned off by what he receives. Flustered, he lists off each flowers' meaning and why he cannot give the arrangement to its intended recipient. 
"The orange lily implies extreme hatred, the lavender and begonia danger and suspicion, respectively. Every flower has a meaning, Charles. Might I suggest the amaryllis, which declares the recipient a most splendid beauty."
Years later, Holly began incorporating flowers and plants into her artwork to convey a deeper meaning.
"Throughout my teenage years, the scene was always in the back of my head," she said. "At first, I didn't think I liked painting flowers, but I love it – especially if there's a deeper meaning behind it."
In 2021, Holly had a chance to participate in Twist Out Cancer's Brushes with Cancer program, which pairs Artists like Holly with Inspirations, who are individuals that have been touched by cancer. 
"I think it's so cool."
Several members of her family have their own cancer stories, and the program specifically brings to mind her mother in law, who passed away nearly three years ago.
"She was artistic, so she would've loved it," Holly said. "I participated in Brushes with Cancer as an ode to her. She would've been so excited to be part of the program."
Holly's special relationship with art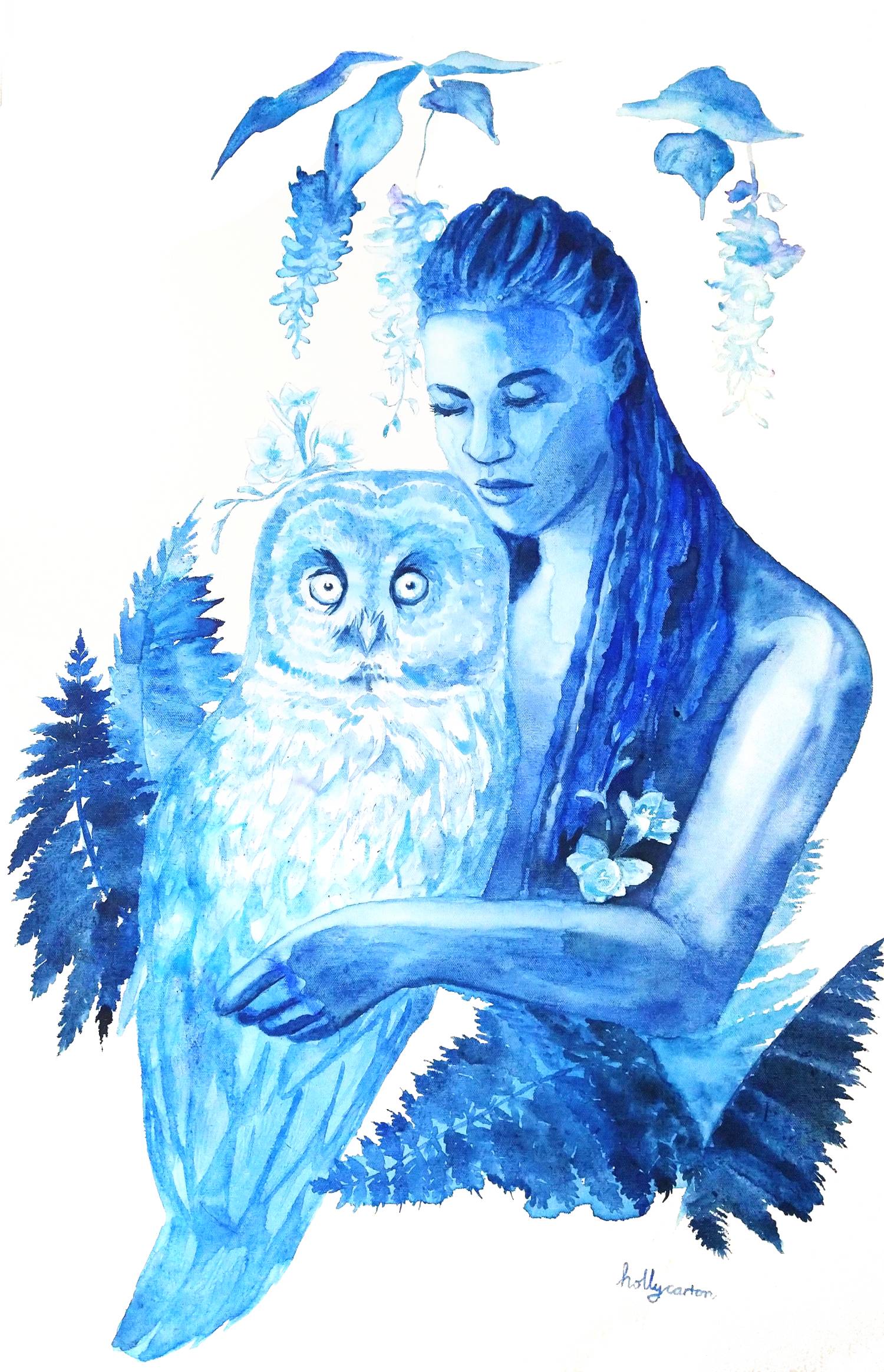 Family has always been a big influence on Holly's creativity and art. Growing up, her family was interested in personality types. They would often get into discussions around topics like what animal they would be.
Her family followed the four temperaments personality types, which are related to the four elements. Sanguine types are people oriented, Phlegmatic types are typically introverted and service oriented, Melancholy types are detail oriented and cautious, and Choleric types are extroverted and strong willed. 
"Because the personality types are related to the four elements, it's easy to connect them to colors," Holly said. 
Being a portrait artist, it is important for Holly to get to know her subjects so she can visualize their personalities. 
"As I get to know someone, those colors come out for me."
That personality and colors guide what her painting eventually becomes. 
"My art practice is all about doing portraits – I call them personality portraits," she said. "I hear who somebody is, what their story is, what they've gone through."
During her portrait sessions, Holly gets to know her subject by asking them about their personality, what their loved ones would say about them and other ways to truly understand another human. By getting to know her subjects holistically, Holly brings to light details in her portraits that may have otherwise been missed without that human connection. 
"It's special to work with someone and hear inner parts they don't tell to everyone," Holly said of working with her portrait subjects.
Shoni's hidden messages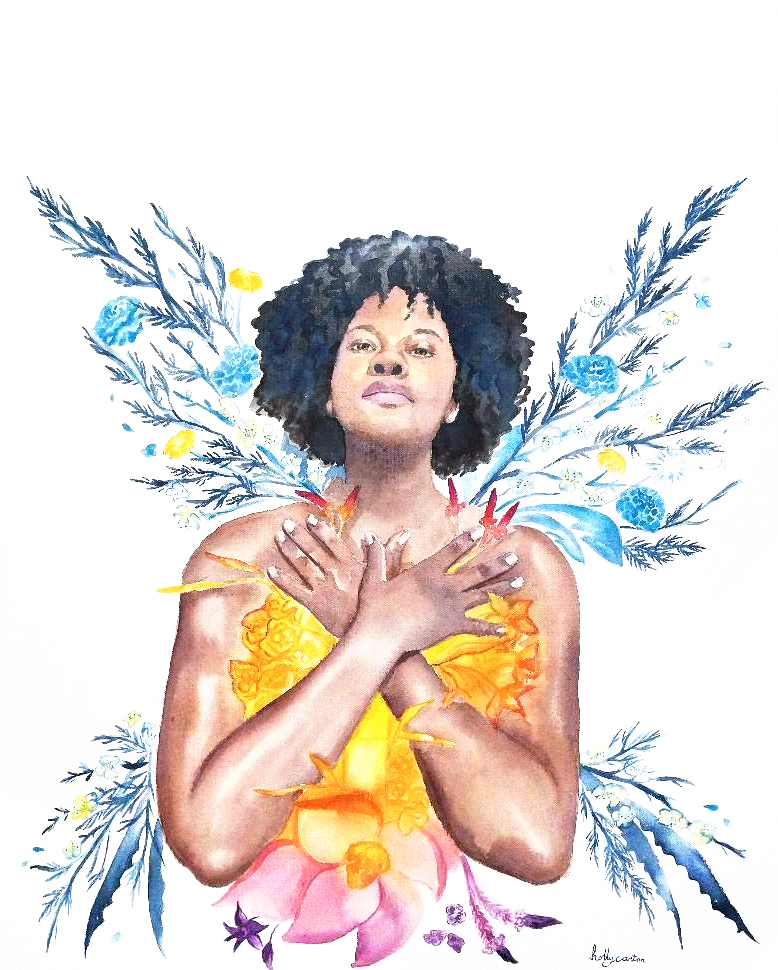 Holly's own process organically fits with the Brushes with Cancer process, as it is much more than the painting. 
In 2021, Holly was matched with Inspiration, Shoni Brown. And while Shoni focused on her healing journey as a breast cancer survivor, Holly was there to deeply listen and take in Shoni's story.
"I've had several people say it feels like a therapy session. If it's someone who's interested in learning about themselves, that's the type of person I like to work with."
As Holly got to know her Inspiration, she was struck by how Shoni balanced both strength and grace – something she wanted to highlight in her Brushes with Cancer piece. So, when it came time to put the piece together, she chose the symbolism carefully. 
"I often use animals as a representation of a person or further descriptor of their inner world," Holly said. "For my inspiration, she mentioned that butterflies are something she connected with a lot, and Monarch butterflies go through this whole journey every year. So, in her portrait, I gave her butterfly wings made out of plants."
In the painting, Holly focused on two areas to build her floral storytelling: Shoni's body and beautiful butterfly wings sprouting behind her. Each group of plants has a larger meaning, in addition to their individual meanings. 
"All the plants and flowers in the wing shapes had to do with grief and pain, and all the flowers I put in her body represented growth. It's like journaling all over the painting, but it's sacred."
Within the wings are Cypress (mourning, death, Blackthorn (hope against adversity), Marigold (pain, grief), Dandelion (endurance through hardship) and Aloe (grief, healing). On Shoni's body are Vervain (pray for me, protection against evil), Geranium (determination), Borage (courage), Bamboo (longevity, strength, grace) and Magnolia (perseverance). Sprinkled throughout the painting are small Speedwell, which means "safe travels."
"She's so sweet," Holly said of Shoni. "It is always such an honor to hear someone else's story. Brushes with Cancer pushes you to do something you wouldn't have done otherwise"