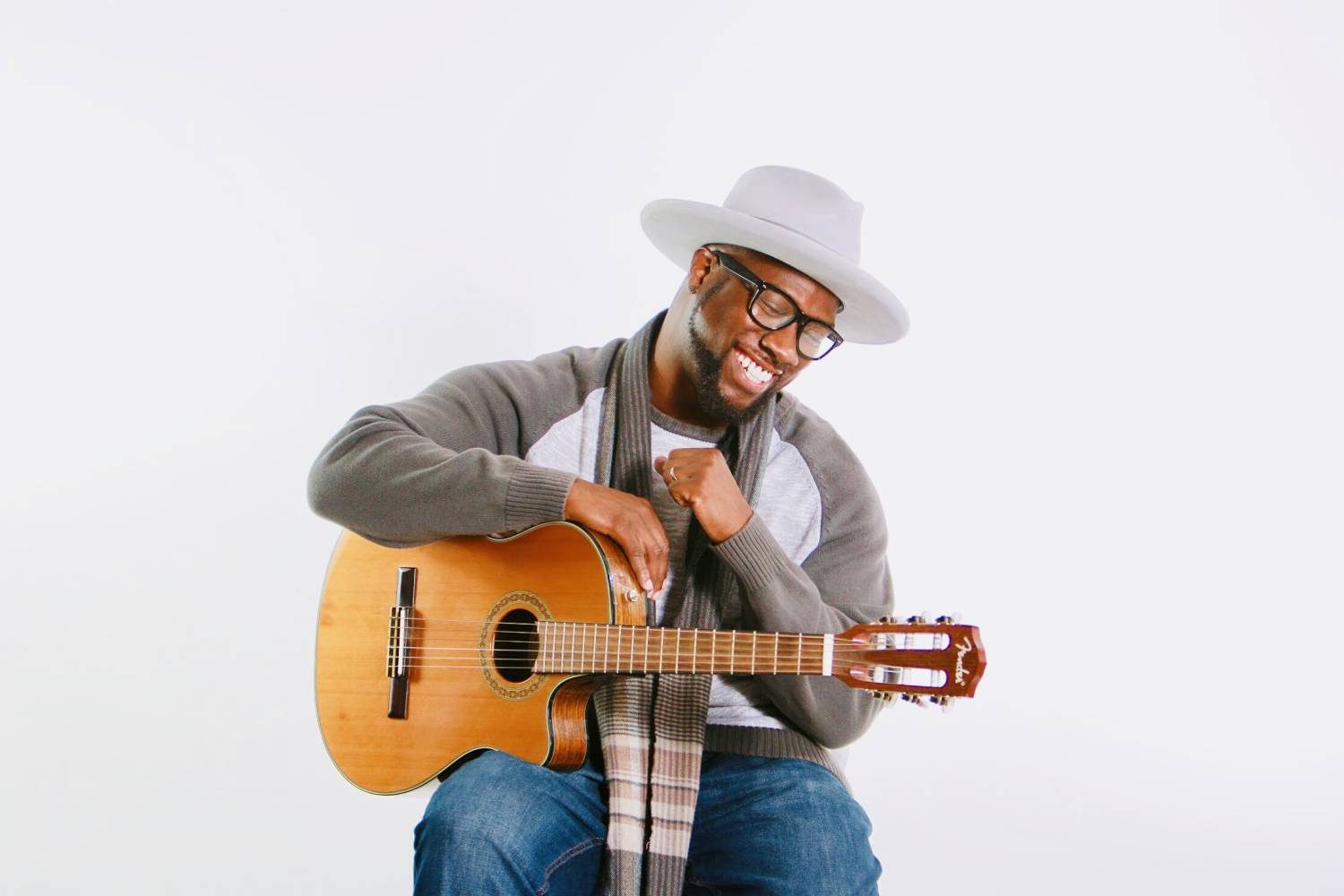 Grammy-nominated artist SaulPaul lives his life based on the example his grandmother set for him.
"Even though she got food from the food pantry, I remember people coming over and her preparing a meal for them," he said. "She taught me that as long as you have something, you have something to give."
Her influence set in motion something extraordinary, as SaulPaul has crafted his career into one that is much bigger than his own talent. To date, the artist and speaker has touched more than one million young lives through his mission to inspire and empower. His work as a changemaker is well recognized in his Austin hometown, where he has received many honors, including the Austin Music Awards' AMP Esme Barrera Award for Music Activism & Education.
"I planned and plotted on how I could have the biggest impact," SaulPaul said of his path. "I took a self-assessment of my various talents, skills and opportunities I had. Music was one of those gifts, and I was going to bank on that one."
SaulPaul's message has taken him across multiple, high-profile stages. His resume boasts three TEDx Talks, performances at five Super Bowls, being featured on "America's Got Talent," and much more. Most recently, SaulPaul was one of 24 featured artists on the 2022 Grammy-nominated album, All One Tribe. The family album features 24 Black musicians on 25 tracks that are meant to resonate with Black children and their families. 
"I get to see so many people that my platform can influence," he says of these opportunities. "As one who strives to change the world and makes good gains doing it, I get to meet amazing people."
Give when you have something to give
SaulPaul's upbringing showed him the impact that one good deed can have on a person. At three years old, his mother passed away. Without his father in the picture, SaulPaul was put into foster care. That's when the woman who would change his life swooped in and adopted him.
"Her investing in me, her modeling to me what love and community service looks like is me just doing what's obvious. It doesn't feel special – it's just what you do. This is what was modeled for me."
SaulPaul's grandmother lived a life of service, rearing 16 children throughout her life. By the time she adopted SaulPaul, all her children were grown and had moved out of the house. But the love within those walls was consistent. 
"I didn't have much growing up, we lived in a wood house sitting on bricks," he said. "But the house was always filled with love."
That love was so big that it made SaulPaul acutely aware of how acts of kindness can change lives. So, when he launched his music career, he also launched the SaulPaul Foundation, which empowers young people to know their purpose through exploring their skills, the tools they have available and support within their networks. 
"I get life by giving life to others," he said. 
SaulPaul focuses on youth because he wants to be the kind of person he didn't have when he was a child. The person that helps kids bridge the gap between them and the messages that are important to hear.
"In my childhood, there were so many people who had good intentions and hearts, but not good communication," he said. "Because of that, those messages didn't land, and I didn't want that to be the case with young people. Time is so precious, and we only have a certain amount of time with young people."
In addition to his foundation, SaulPaul launched ChangeWater, which produces high-quality, affordably priced bottled water. The bottles are 100 percent recyclable, the water is premium electrolyte water boosted with oxygen, and 50 percent of ChangeWater's proceeds are donated to local nonprofits. It's just another avenue that supports his mission to give back.
"With my singular goal of changing the world, my brain is always twisting and turning and calculating on how to scale and do good."
Empowerment through storytelling 
On May 1, 2022, SaulPaul is taking his message to the Southern Brushes with Cancer Art Exhibit and Celebration. For the first in-person Brushes with Cancer event in two years, SaulPaul will serve as master of ceremonies. 
Brushes with Cancer Artist Karen Hidalgo introduced SaulPaul to Twist Out Cancer and the Brushes program. An elementary school teacher, Karen would bring SaulPaul in to host poetry slams for her students. 
"SaulPaul is the epitome of transformation, finding beauty in darkness and using his amazing gifts to impact others," Hidalgo said. 
Over time, the two became friends and when she was honored with Teacher of the Year in 2020, she brought him as a guest. It was at that event where SaulPaul learned Hidalgo's full story.
"She won an award, shared a major piece of life and I was like, 'Whoa! What is this?'"
SaulPaul was taken by Twist Out Cancer's mission to share, connect and heal – a mission that is similar to his own life's work. 
"Cancer has personally touched my life through family members and friends that have had battles and won," SaulPaul said. "It's an omnipresent thing that impacts people. As I become so familiar with how those that battle cancer deal with it, Brushes with Cancer is the most advantageous opportunity to serve people touched by cancer."
At the Southern Brushes with Cancer event, SaulPaul is combining all his talents as he steps into his M.C. role. 
"People always want you to pick: Are you a rapper or singer? Are you a speaker or performer? I found success in all those places," he said. "But if I had to pick, I'm a storyteller."
And stories are exactly what make Brushes with Cancer a unique experience. One SaulPaul is certain to enhance – just ask Hidalgo. 
"His gift of connection and deep care for the world and all of humanity makes him the perfect person to celebrate and inspire the amazing artists and inspirations here today affected and impacted by cancer."
To purchase in-person or virtual tickets to the Southern Brushes with Cancer Art Exhibit and Celebration, click here.