How Becky Galvez Got Her Resilience from Her Stepfather
Longtime Twist Out Cancer donor and former board member Becky Galvez knows a thing or two about adapting. 
While Galvez's stepfather was going through treatment for colon cancer in 2011, she had to jump in and manage the business – Shop4Ties, now Candor Threads – he began in 1982. 
Galvez was going through her stepfather's cancer journey when she learned her high school acquaintance was diagnosed with cancer: Twist Out Cancer founder and CEO, Jenna Benn Shersher. Galvez and Benn Shersher reconnected as adults and offered strength to one another during their respective cancer journeys. Galvez quickly turned to Twist Out Cancer for additional support. 
Galvez's stepfather went through remission for a couple years but was re-diagnosed in 2013. Within months, her stepfather's cancer progressed rapidly and he passed shortly before Galvez gave birth to her second child. After her father's death, Galvez became more involved with Twist Out Cancer, passionately serving on the board of directors for years.
"It provides vulnerable and honest connections," Galvez said of getting involved with the organization. 
Shop4Ties has been an annual sponsor at Brushes with Cancer Chicago for six years and has provided custom ties and scarves for the Twist community. Galvez continues to enthusiastically champion the Twist Out Cancer mission online.
A new challenge for Galvez 
Then when COVID-19 broke out, Galvez had another unexpected circumstance to adapt to. 
Shop4Ties is a B2B company that specializes in custom apparel. Its main markets include schools, organizations, teams and more. The business has a healthy relationship with their clients, and when COVID-19 hit, Galvez and her team were devastated that they couldn't fulfill orders. The company's manufacturers are in China and with the country putting everything on lockdown, Shop4Ties couldn't get its orders out. When China came out of its lockdown in February and supply chains operating, demand for custom apparel had dropped. 
So Galvez had to pivot, and pivot fast. 
This was around the same time people started using DIY masks as COVID-19 cases rose in the United States. Shop4Ties already works with the recommended mask fabric, and knowing that, Galvez got back to work. She emailed her supplier and flipped her idea for masks in around three days. That quick thinking wouldn't have happened without a key person in her life.
A stepfather's influence 
Galvez had grown up around her stepfather's business since she was a teenager. 
"I remember him waking up early and hearing fax machines all throughout the night," Galvez said, adding that her friends noticed entrepreneurial spirit when she traded stationary and stickers as a child. 
But Galvez didn't get into Shop4Ties at first. Instead, she spent seven years as a teacher. In 2008, she tried her hand at entrepreneurship while living in Chile and eventually came back and decided to go into business with her stepfather. 
"I remember the first day, my first job was to fold mailings and get 2,000 of them out," Galvez said. "They were 12-hour days and he didn't tell me I could just take them to Staples. It was a steep learning curve." 
One day, Galvez's only job was to listen to him make phone calls. He wanted to make sure she knew how to take care of his beloved clients. He'd often stay on the phone with them for 30-40 minutes, which had a big impact on how Galvez runs the business today. 
"Consciously connecting is one of our core values," she said. "I've always said when I hire people, 'No matter if your client is the biggest or the smallest, you treat everyone equally.'"
In 2011, three months after Galvez joined Shop4Ties, her stepfather received his first colon cancer diagnosis. During his treatment, it was on Galvez to step up and make sure the business was running smoothly. 
"You look back and you're like 'What positives can I take from this?'" Galvez said. "What a blessing in disguise that I started working for him at the time." 
Galvez's resilience 
Without her stepfather as a business mentor, Galvez was now the one making the big business decisions. A priority was modernizing processes to help grow the business and continue innovation and product development. 
"I loved working with him," Galvez said. "He and I were very similar, and people oriented. My first real business education I got was from him. He gave me an amazing opportunity. How fortunate am I that the foundation was there?"
Because she had to adapt, show resilience and learn fast early on in the business, she's able to stay profitable during the COVID-19 pandemic, which has been a stressful time for small businesses. 
Galvez's quick thinking with masks made it so she could cover business expenses by selling the custom masks directly to her clients, while taking the opportunity for the company to give back. Candor Threads – the new company name – has adapted its business model to sell individual purchased masks and is donating all proceeds toward feeding those who are on the front lines during the COVID-19 pandemic.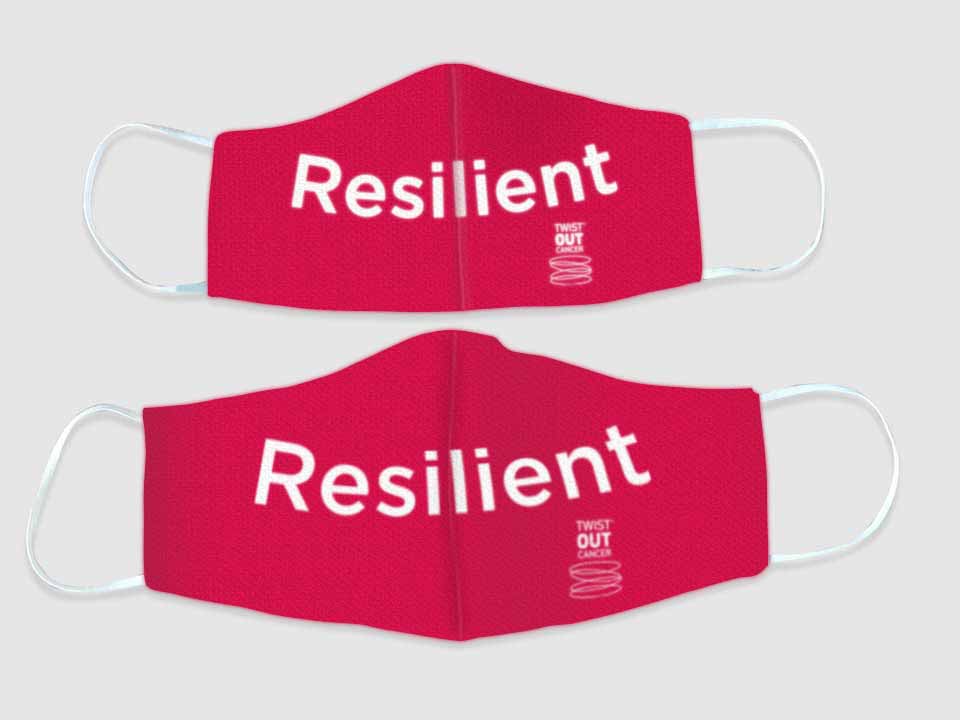 To purchase a Twist Out Cancer resilience mask to support cancer patients and frontline workers check out Twist Out Cancer's store. Twist Out Cancer will donate 50 of Shop4Ties masks to cancer patients and frontline workers for every $500+ donation. To join our campaign click here.
To learn more about Shop4Ties mission and work check out their website.