By Jacqueline Carmody, LCPC, ATR-BC
Receiving a cancer diagnosis is a life-altering experience. You are immediately forced to shift your current plans and deal with a new reality, all while coping with a flood of emotions such as fear, anxiety, depression, grief and worry. These feelings can be hard to express with words, which exacerbates your ability to cope.  
Currently, I facilitate art therapy within Twist Out Cancer's TwistShop program and I have found that creating art is a wonderful tool for helping cancer patients in the midst of treatment. Additionally, the techniques we use in art therapy are extremely beneficial for family and friends who are providing support to their loved ones during the challenging time.  
What is the Twistshop program?
"TwistShops" are art therapy-focused workshops that promote healing, relaxation and emotional recovery through art therapy-based interventions that are designed to reduce symptoms of depression, anxiety and stress related to cancer.
What is art therapy?
The understanding of "art as therapy"  is that the act of making art is the "healing" factor in successful art therapy. The pioneer of this belief, Edith Kramer, believed that the individual in art therapy benefits from gratification in the outcome of the final art product. Art as therapy is rooted in the idea that creative expression can foster healing and mental well-being.
How can art therapy help during treatment?
I like to think of emotions as a constantly moving energy that must be recognized, felt, expressed and released. If we do not acknowledge our emotional experiences, they often stay trapped inside of our bodies and minds. Subsequently, they create a heavy weight on our mental and physical health, leading to the detriment of other aspects of our mental health.
After these emotions are recognized, creating artwork can be extremely helpful in expressing and releasing them. The art you create also fosters a safe space for you to observe your experience. Your artwork will help when reflecting on the emotions at a later time. In addition to art therapy, I strongly recommend that any individual experiencing difficult emotions during their own cancer experience, or that of a loved one, also seek support from a licensed professional (LCPC, LCSW, ATR, DMT, LMT). 
Do I need to be good at art to do Art Therapy?
NO! Many participants are new to art-making and often feel silly or insecure with their art-making abilities. Often, I remind my participants that "You do not have to be Picasso to benefit from art therapy! If you can make a few marks on your paper, you have done it right!"  I believe in the power of "art as therapy" and the healing qualities of art-making as a medium to release emotion. Your work is the physical documentation of your personal experience and that is all that matters.  
What is an "Art Therapy Tool-Kit"? 
Creating an "Art Therapy Tool-Kit" can be especially helpful for those who may be stuck at home or in a hospital bed and unable to access an art studio or creative space. Also, an "Art Therapy Tool-Kit" can be accommodated to any age, demographic or specific population. The majority of the art therapy based TwistShops that I facilitated during quarantine were held virtually, and I was unable to offer everyone the variety of supplies that I can in person. This tool kit can help familiarize individuals with new supplies and play around with what feels good for them.
What goes into your Tool-Kit?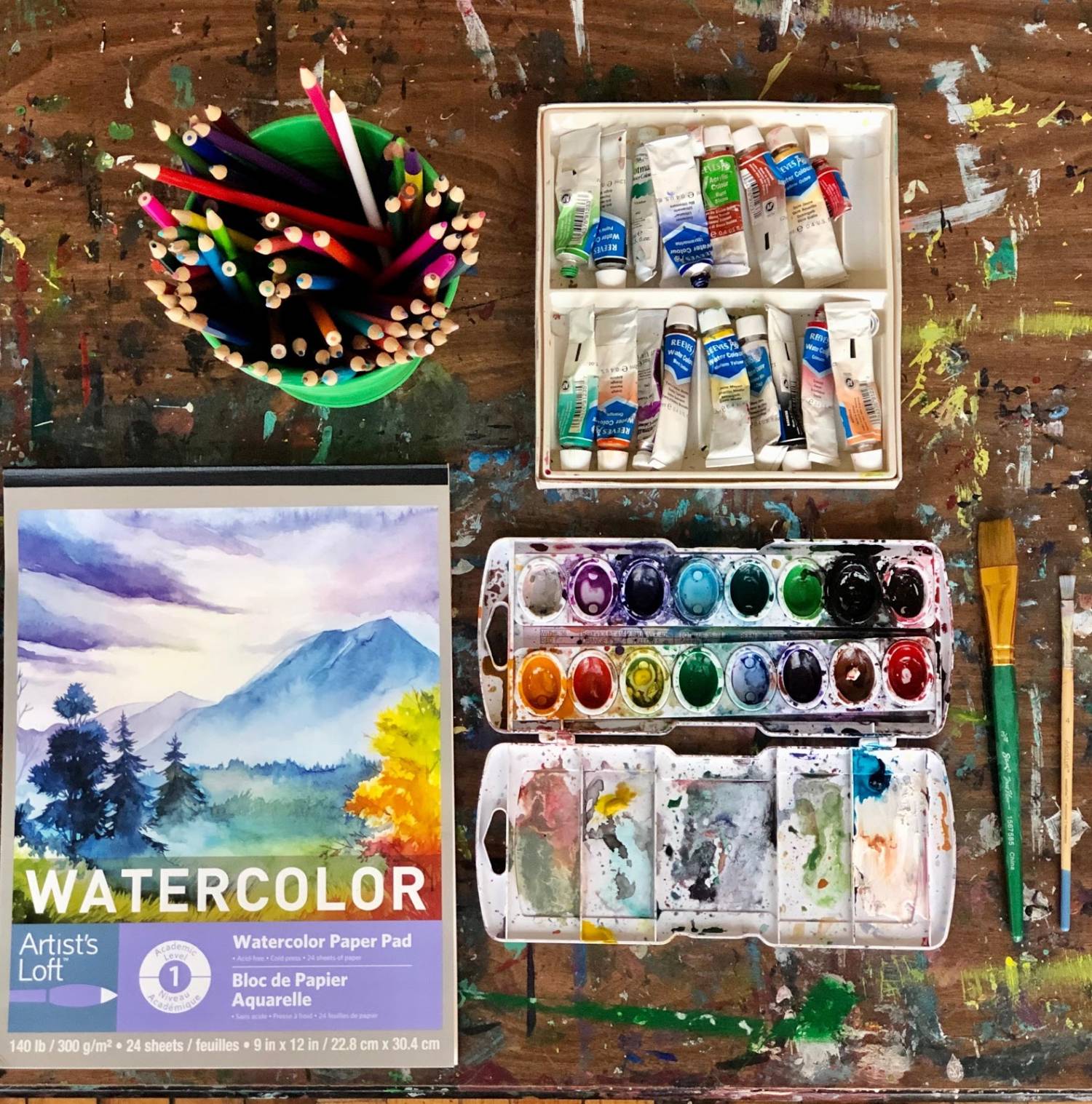 I love watercolor paints! You can get a set for very cheap and they are a minimal mess. Watercolors can be soft and delicate in their appearance, or show up very vibrant. For a beginner, you can create some really beautiful abstract art by dampening your paper and dropping in splashes of the water color with your wet brush. Let the colors move around on the paper and enjoy beautiful shades that develop.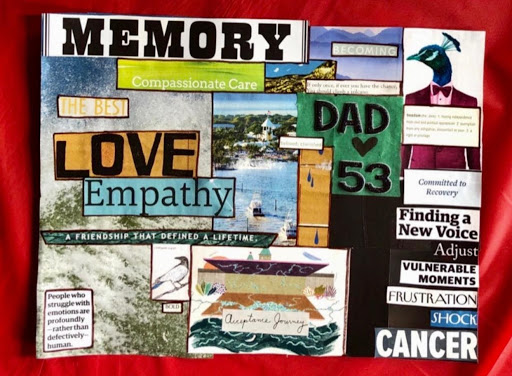 Materials
Magazines/ old books
Glue
Scissors
I find it very satisfying to flip through old magazines or books and cut out images that speak to me. I often ask family and friends to save old magazines so that I can build an eclectic variety. The act of cutting out images or words can be a fulfilling act in itself. I recommend having two tupperware containers with labels: "words" and images." You can then sort the images in these containers to have on hand when you are ready to create. You will find that an image or word acts as a prompt for what you want to express through the collage work. You can pair collage work with mixed media, journaling or personal art making.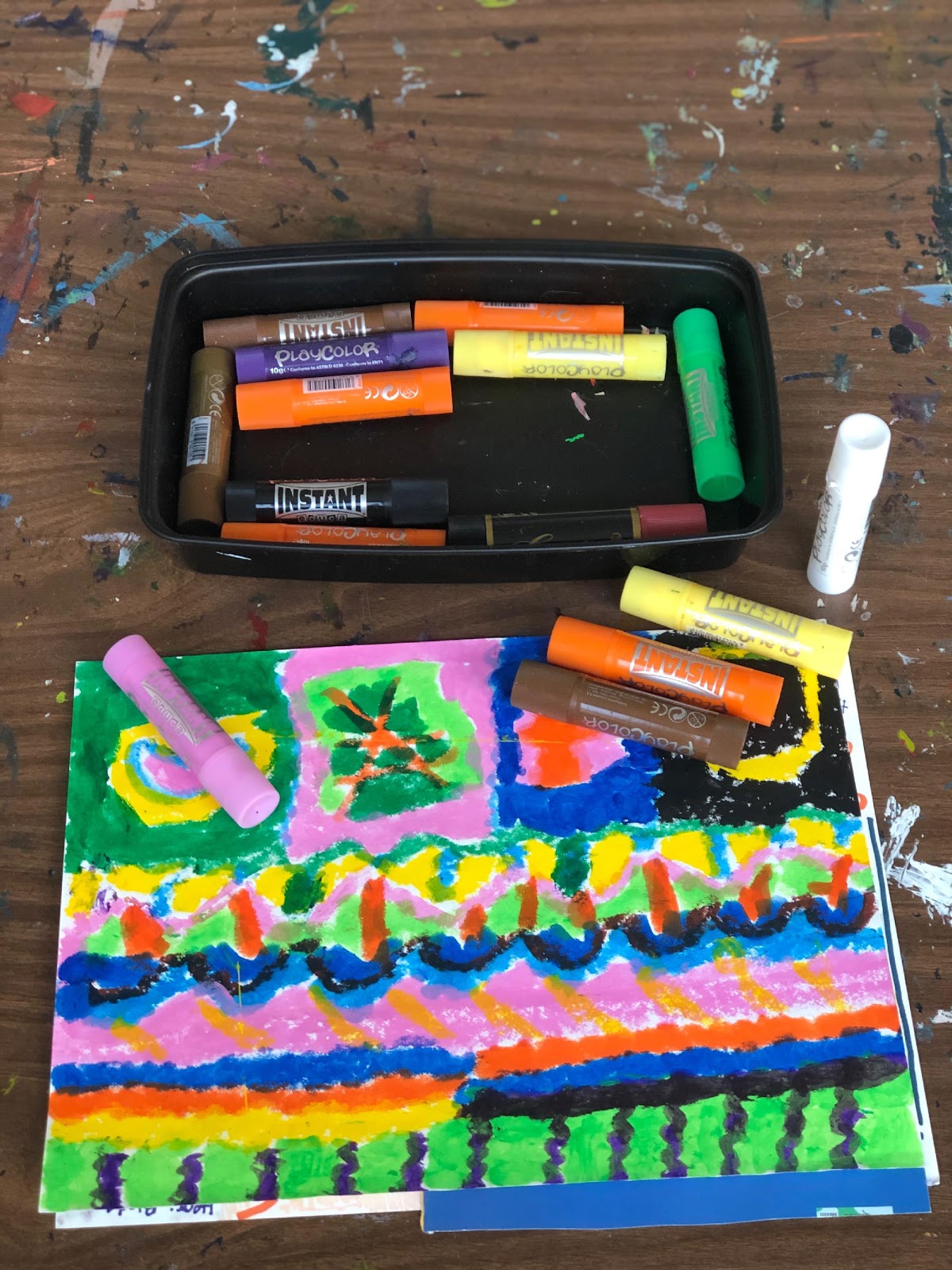 If you have ever sat down for an art-therapy session with me, you know these are my favorites! They are extremely satisfying in texture and color. They move smoothly on the paper and are comparable to what it would feel like to paint with lipstick. I love this art material for any age and artistic level.
Best tools for neuropathy
Tempra paint sticks
Buddha board
Kinetic sand
Model magic
Do not let neuropathy defer you from letting your creative juices flow. If you or your loved one have undergone chemotherapy, you are most likely familiar with the side effect of neuropathy. Art making may be uncomfortable for participants who are experiencing neuropathy due to the nerve damage that can cause tingling, numbness, and other sensations, often in the feet and hands. The materials provided are gentle on neuropathy discomfort and allow participants to engage with art making in nonconventional ways. The materials provide sensory pleasure and are satisfying to engage with.
Other great materials to have on hand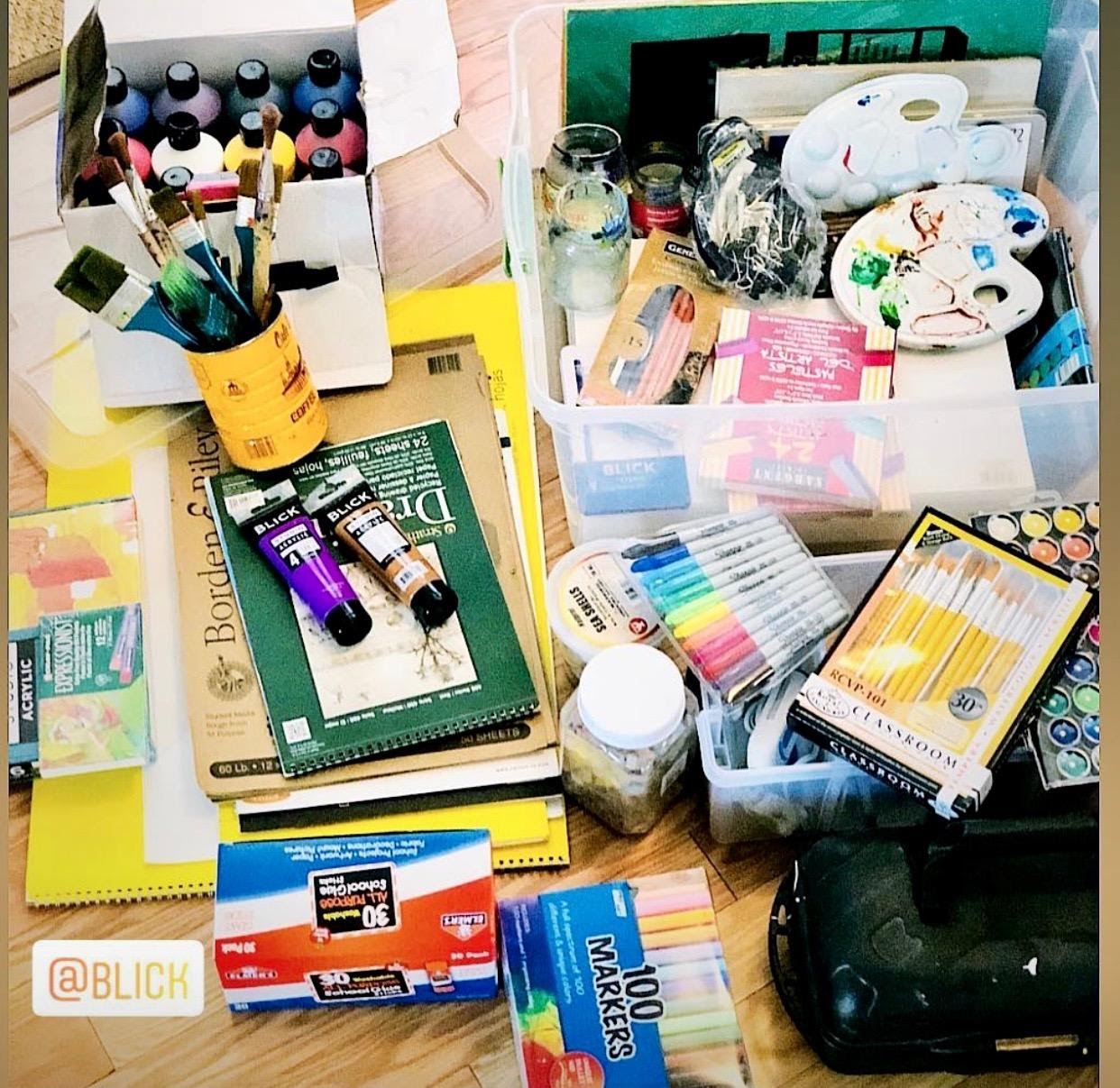 Water based markers
Colored pencils
Chalk pastel
Oil pastel
Stay tuned for more detailed directives and activities to use with your Art Therapy Tool-Kit! If you found this to be helpful, please provide your feedback, questions, or comments below. To learn more about the TwistShop programs, check out the page on our website. We are accepting requests for virtual groups and small outdoor gatherings.
If you are a local or corporate supplier that wishes to donate or provide discounted supplies for our community, please let me know!