Laura Gronda and Jacqueline Carmody

Laura Gronda
Goodyear, AZ
Ovarian Cancer Survivor
Twist on Cancer: I absolutely love and immediately connected with my Artist, Jackie Carmody! I want to have her art all over my home! I love her vibrant colors and abstract style. Jackie inspired me not only with being a talented artist, but combining it with a therapy degree. I am now attending art therapy classes two times a week locally. I have so many art pieces that I started Laura's Louve, my own gallery at home to share my art with friends and family. I am so thankful for my connection, sharing and healing with Jackie. She is not only my artist, but MY INSPIRATION! ♡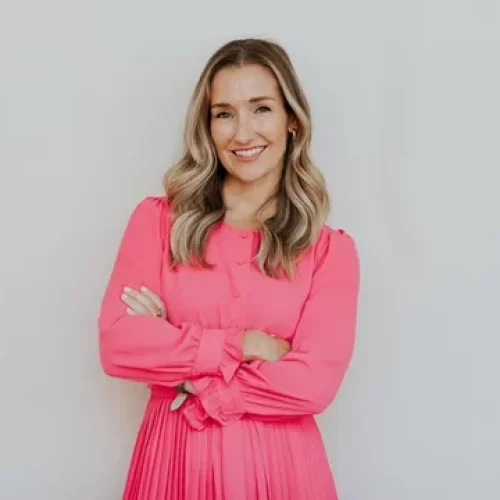 Jacqueline Carmody
Chicago, IL
Social Media: @jcarmody_art (IG)
"JOY"
Acrylic paint & posca pen
36"x36"
$1500
Artist Statement: Laura and I met through video call and instantly connected. We both have a love for family, travel, and Midwest roots! I titled the artwork "Joy" because it was the emotion that I felt through every call and text message with Laura. Laura has a fun and joyous presence that is undeniable. The vibrant colors, lines, and movement throughout the piece represent how Laura has continued to feel the joy throughout her life. She is an amazing friend, mother, and person. I wanted the audience to experience her personality through the loud color. The small paint dots are inspired by artwork that Laura created and shared with me during our calls. She enjoys painting rocks and I was so inspired by the intricate designs of her special rock creations. Other inspirations throughout the art are the mountain landscapes in Arizona where she resides, as well as the alpaca farm she used to own with her husband in Michigan. Overall, Laura is an inspiring human being and I hope this painting inspires each viewer to feel JOY.