Marge Solak & Jennifer Green

Marge Solak
Troy, Michigan
Twist On Cancer: As a two-time survivor, and caregiver for my husband, cancer has forever changed my life. Hearing that I was stage 4 with my first cancer diagnosis initially devastated me. Being a planner and task-oriented most of my life, the irony wasn't lost on me, as you cannot plan your way out of this disease. What I could do was try to stay positive and focus my energy on the treatment plan ahead. Along this journey, I was humbled by the support of my immediate family, close friends, and medical staff. They showed me nothing but compassion and encouragement.

I am a survivor, and don't take this second chance at life lightly. My journey caused me to reassess my priorities, this is a blessing. My mantra is:
Live each day with gratitude.
Live in the moment – I often have to remind myself of this.
Focus on what is really important, relationships with family and friends.
Be adventurous and open.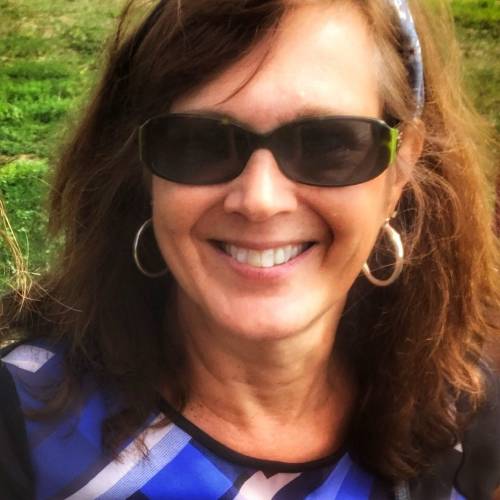 Jennifer Green
"... afterwards …"
Mixed Media Encaustic
24"x 36" Cradle Board
$450
Artist Statement : As a two-time cancer survivor, Marge has been blessed twofold in many areas and aspects along life's journey. These double blessings include a son and daughter, two grandchildren, two homes, two guardian angels who assisted during her battle, two degrees, and so many more. As an artist and friend, I have had the privilege of working with Marge two times in different capacities during both of our 40-year automotive careers.
The artwork depicts the double blessings and realities, yet focuses on the 'afterwards.' Marge enjoys every day as a gift from above. Her homes provide a sanctuary, a resting place, the story of who she is, along with her loved ones and the things she cherishes. Her foundation rests upon her faith, family, and friends.
So being refreshed, Marge prepares herself for moving forward, pressing on, now walking far more circumspectly. Having gone a distance, she looks behind both of her recoveries 'afterward.' She reflects knowing they were brought about through a providential means of grace by a healing branch from the tree of life.

Materials and supplies are nearby and at the ready for experimenting and developing my creative pursuits, which I truly relish now that I'm relaxed and retired.