Mary Jenkins and Kate Van Doren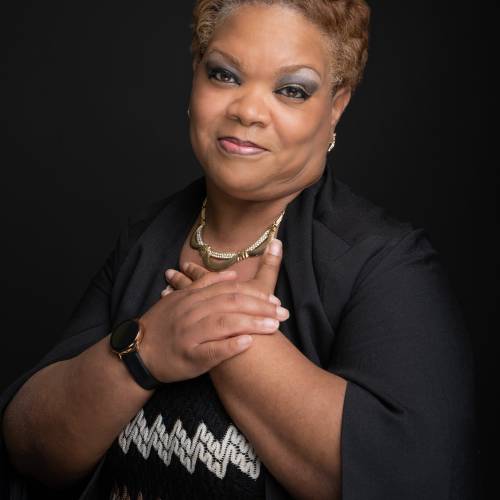 Mary Jenkins
Columbus, OH
Social Media: @MaryJayee7 (IG); mary.a.jenkins (FB); maryjenkins7 (LI)
2 time Breast Cancer - Invasive Ductal Carcinoma Triple Negative (both times/not metastatic)
Twist on Cancer: My experience with Twist Out Cancer has been wonderful. My artist, Kate Van Doren, has been amazing. Going in, I didn't have any expectations. I wanted to embrace the full moment of having someone else learn about me, hear my story, and share it through an artist medium.

I want everyone to step into having their own experience with Twist Out Cancer. As a result of being a part, I gained a sister-friend for life!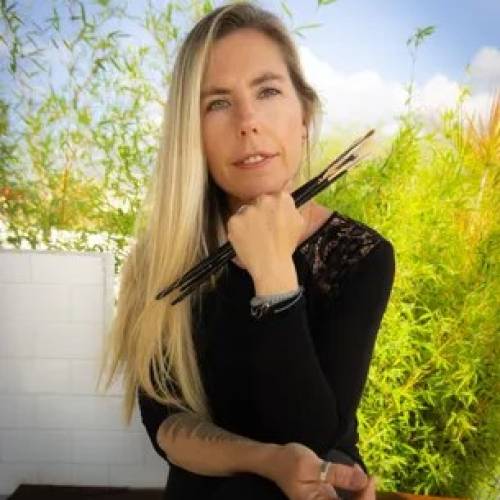 Kate Van Doren
San Miguel de Allende, Mexico
www.katevandoren.com
Social Media: @catvandoren (IG); Kate Van Doren fine art (FB); KateVandoren (TikTok)
"Mary Angel Warrior"
Oil on Dibond
36"x36" without frame 38"x38" with metal gallery black frame
$1500
Artist Statement: Over the last six months it has been an honor and privilege to get to know Mary Angel Jenkins. Mary is a two-time cancer survivor. She is also an advocate, friend, mentor, mother, and an inspiration to everyone who meets her. When Mary was diagnosed with cancer she and her children were faced with becoming homeless. Thanks to the support of her church she was able to pay her household bills.

During her own treatment she became an advocate for others with cancer. Through her journey she realized that current cancer support systems focused more on research and less on patient support. Thus Mary took it upon herself to start a donation funded nonprofit called the Cancer Option Collaborative (previously known as Christians Overcoming Cancer). This program raises money and support for active cancer patients in regard to their physical needs during treatment.

During Mary's second battle with cancer she chose to go through chemotherapy treatment quicker than recommended so that she could get back to helping others. Little did she know that this decision would weaken her heart and lead to heart failure. The rapid chemotherapy treatment also forced all of the skin on her hands and feet to painfully peel off. Fortunately she was able to heal her body, but her heart continues to be under stress in a state of failure.

Mary's story speaks volumes to the person she is. She is a healer and a helper. So much so that she risked her recovery to help others.

To honor her I chose to paint a pair of hands, raw, and bigger than life just like Mary's personality and kindness. The flower held in between the wrist of the hands is her favorite flower and also represents her ever present faith —a huge and important drive in her life. The broken butterfly in the palm of her hand signifies her health and what she gave up and continues to give up in order to help others to heal. The butterfly also represents her metamorphosis into a new person— a changed warrior. Warrior is written on her wrist, a word she says often to represent who she is now.

Always with a smile, always with a helping hand, Mary is the light through the darkness.

I am forever grateful to Mary for sharing her inspirational journey with me and helping me to see that everything works for good if you are quiet enough to listen.