Sarah Mansour & Casie Warnke

Sarah Mansour
Austin, Texas
Survivor
Twist on Cancer: Well, I thought I had said it all before, the lessons that cancer had taught me, but then came the second battle. My first battle with breast cancer was at the age of 39, I had been married less than five years, and had two toddlers (18 months and 3 ½ years.) The diagnosis was a devastating shock, and my cancer had already progressed into the lymph nodes. My two year battle was fought with 6 months of intense chemo, bi-lateral mastectomy and 40 rounds of radiation, along with reconstruction surgeries. Through it all, my motivation was to be around for my family. My husband made sure I had the very best of care, and it was the prayers of many that helped support me through this very difficult time.

Then, after celebrating 15 years of being cancer free, I was again shockingly diagnosed with a second primary (a whole new type) of breast cancer- within my less than 5% of remaining breast tissue. I couldn't decide if I should go to Vegas or stay away! However, I knew what I had learned the first time…God knew when my first breath would be and ONLY he will know when my last will take place. What happens in between is for me to do my part in taking care of myself and to not take one day for granted.

The goal of my second bout with breast cancer was to find joy in each day! Admittedly, some days were much more difficult than others, but again I had so many prayers buoying me. So many dear friends that were cheering me on, driving me to chemo, and helping me save my hair! And, this time my children were right by my side supporting me through the process! They saw me lean into my faith, cling to hope and fight with tenacity. I reminded them that God is good-even when our circumstances are not. What better legacy can you leave to your children?

By now, I've stopped counting each year I've been cancer free, because it's too confusing based on the second round! I simply try to celebrate each day-remembering that life is fragile and short; focusing on finding joy and fulfilling my purpose. I am blessed to be cancer free again!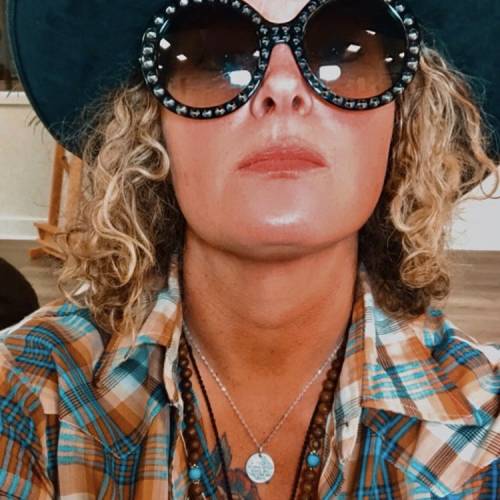 Casie Warnke
www.artbycasie.com
Instagram: @artbycasie
"Love and Light"
Soft pastels
25.5" by 37.5"
$1,000.00
Artist Statement: The first time I talked to Sarah and heard her whirlwind of a story, I knew exactly what I wanted to depict in my piece. I remember her specifically saying that she tries to teach her kids about faith, resilience, courage, love and strength; just to make a few traits to live by. And I thought to myself that she didn't need to go out of her way to teach them these things. They've already witnessed a stellar example of how to "be" simply from watching how she handles life. I saw Sarah as a librarian handing specific books to her family to represent the knowledge she tried to bestow upon them. Of all the books on all the shelves, she chooses the most important ones. Even I have witnessed her amazing attitude towards life. During this whole process, she unfathomably lost her father, her dog and eventually, her mother. Every time I talked to her, she and her family had just suffered another loss. And throughout all of that, I got to personally witness her profound resilience, faith and positive attitude. Her family is so fortunate to have her as a part of their tribe. I came to the point where I couldn't complete the piece without paying homage to the ones her family has recently lost. There are 3 kerosene lamps in the piece; one burning for each of the souls who have gone on. This piece is a way of keeping those fires lit. The books on the shelves holding the lamps all have titles pertaining to who the lamp is for.
This match is generously sponsored by Robby Marks.
Sponsored by Diagnostic Pain Center