Sarah Tonkin & Jenna Gabrowski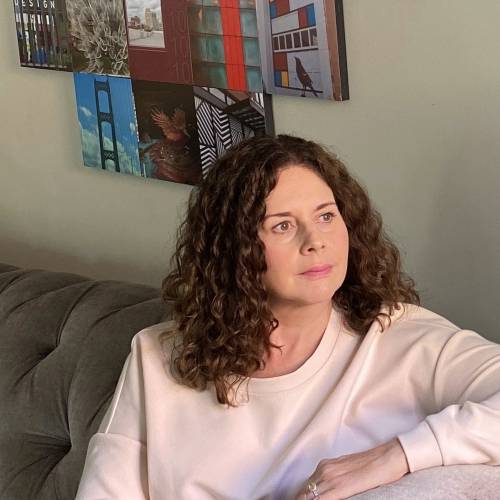 Sarah Tonkin
Ferndale, MI
Survivor and Caregiver
Twist on Cancer: I first became aware of the Brushes with Cancer program by reading an email call for participation sent out to all of us in the GM Design team. The call was simply asking for participants to be either inspirations or artists in a program meant to tell the stories of those touched by cancer. My reaction to it was visceral and unexpected. Reading it made me cry, which is something I don't often do. I had definitely been touched by cancer. But maybe until that moment I thought I had moved past the experience. Reading the call took me right back to all of the feelings and emotions I had experienced in 2016. That year brought a diagnosis of cervical cancer for me and the death of my mother from pancreatic cancer. My reaction to the call helped me realize maybe that I had more to work through and maybe this could help me do it.

So, in the midst of a pandemic and in the age of the ubiquitous Zoom call, the artist who I had been thoughtfully matched with and I made our first connection. This was the first of many conversations and self-reflection that helped me process my experience in new ways. I realized that there really isn't a time when one is "over" cancer. For me it's about taking the lessons of empathy, acceptance, thankfulness and hope with me for the rest of my life. And remembering that the love and kindness of so many family and friends helped get me through.

Those lessons are once again coming into focus. My dad, who so lovingly and selflessly took care of my mother while she was sick, was diagnosed with lymphoma two months ago. He will be with me watching them on the big night. I so look forward to seeing how Jenna interprets my cancer story, which is intertwined with my parent's cancer story. And I hope this will help him too.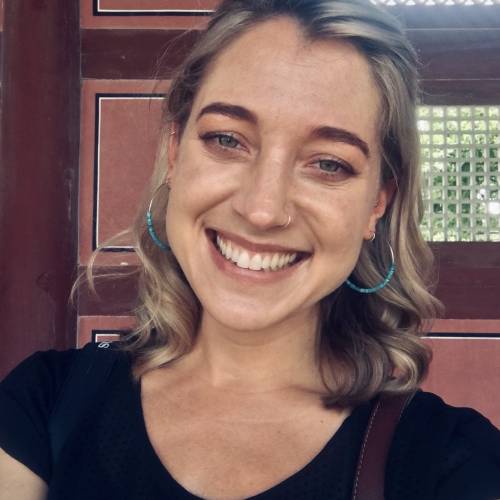 Jenna Grabowski
Jennagrabowski.carbonmade.com
"Resilience"
Mixed Media
11 x 14 inches
$250
Artist Statement: After my first meeting with Sarah, I felt really inspired to create a special piece that would reflect her journey with cancer, so I wrote down some questions for her to answer concerning that stage of her life; I was hopeful her answers would help spark some ideas for a painting that would tell her unique story. One of the most remarkable things I noted through Sarah's written retelling of her experience with cancer was how open, honest, and direct she was in her writing, and it was this that inspired the final direction for the artwork. I chose to capture Sarah in the painting, surrounded by the very words she used to describe her personal story. The word "resilience" was one I chose to highlight in the piece because to me, the noun best describes Sarah's remarkable bravery, recovery and positive outlook throughout all the adversity she faced while undergoing treatment for cancer. The gold rings surrounding her figure in the painting symbolically represent her mother and father, who have also been afflicted by cancer; when trying to decide how to represent them in the painting, Sarah chose their identical gold rings as symbols. I thoroughly enjoyed creating this artwork in response to Sarah's story, and hope to have captured a bit of her amazing spirit for others to see.