A Mother Gives Herself Completely to Her Caregiver Daughter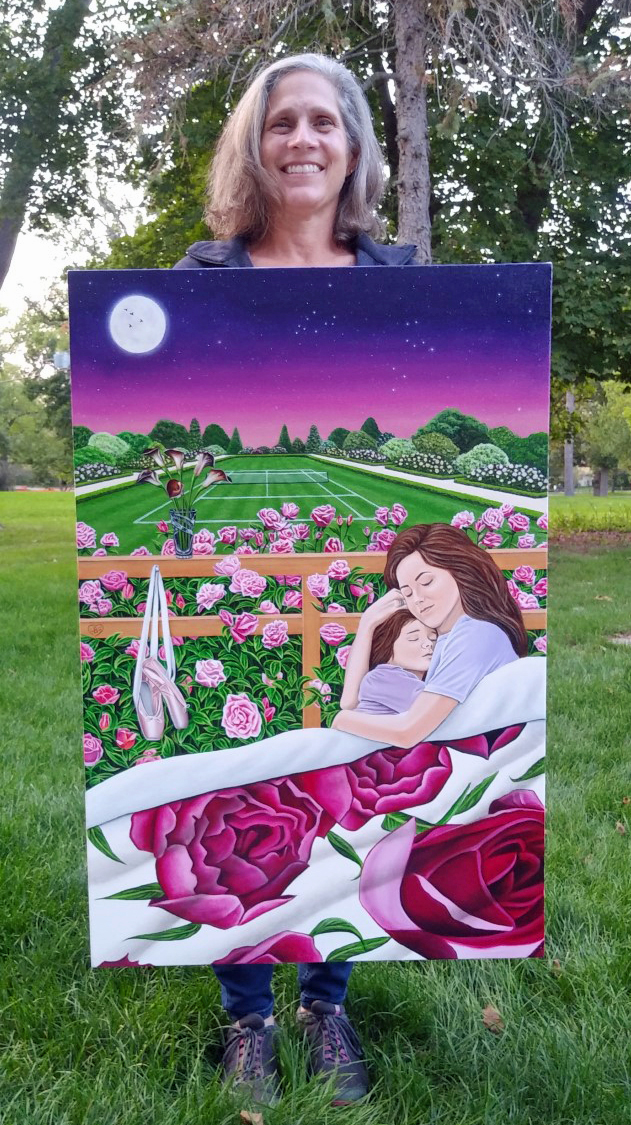 Coming up on nine years since her mother Lois' passing, Lisa Glick was invited to take part in Brushes with Cancer as an Inspiration. She had attended the previous year's event in Chicago and was deeply touched by the featured Artists and Inspirations. Honored by the extended invite, she accepted and was paired with Artist Nicole Gordon. 
The Glick family has long been an important part of the Twist Out Cancer community, with Lisa's brother Danny serving as a generous donor and the Chicago 2020 Event Honoree. While Lisa was familiar with Twist Out Cancer through her brother and the 2019 Chicago event, she didn't know what to expect prior to meeting Nicole. 
Due to circumstances of the times, the two first met by video conferencing on ZOOM. What might have been an impersonal exchange turned out to be quite the opposite.
"It really felt like we were old friends, almost like you have a friend you haven't connected with in a while and you pick right up," Nicole said. 
For Lisa, the feeling was mutual. 
"Nicole and I hit off instantaneously," she said. "I feel like we have been friends a long, long time. I don't know who paired us, but it has been so natural and easy. Nicole has such an engaging and inviting aura about her. We got lucky."
The rapport between the two created a safe and supportive environment for Lisa to share intimate details about being her mother's caregiver.
"Nicole's information gathering approach was generous, gentle and sensitive – she was always checking my emotional barometer," Lisa said. "She gave me the space to express and experience the continuum of emotions that came flooding back as I retold my story."
A daughter's role reverses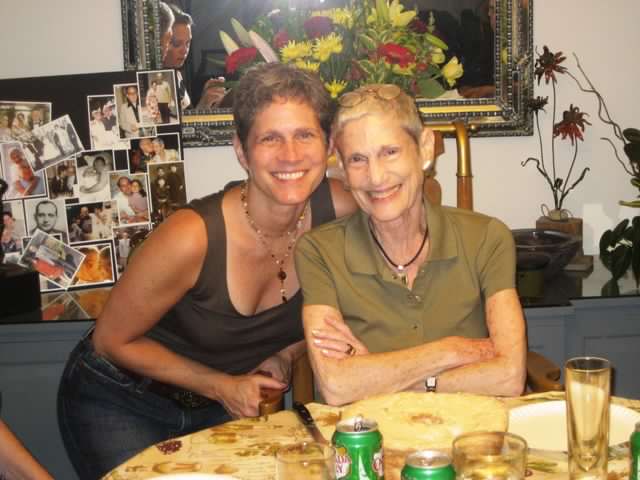 Lisa served as Lois' caregiver for 13 months. 
When it became clear that Lois' condition was terminal, Lisa began reaching out to family and friends near and far who had touched and or had been touched by Lois' life. 
Lisa's message to all was "If you have to make a choice between visiting Lois while she is living or attending her funeral, you should visit Lois WHILE SHE IS LIVING."
Lisa and Lois found joy and humor in some of the most unusual circumstances. Routine tasks, like bathing, toileting and dressing often required creativity which ultimately led to hysterical laughter. 
Lisa remembers one particularly poignant moment when she and Lois were at a follow-up appointment with Lois's surgical oncologist. As we waited for the doctor, "we looked deep into each other's eyes lovingly and intensely," Lisa said. Then, my mother said "I gave you your life, now you are giving me mine." "It was at this moment our roles changed. I would become her lifeline until her passing," Lisa said.
"Caring for my mother was the most joyful and intimate experience of my life. I knew every inch of her body, her thoughts and how to care for her. It was an amazing journey," Lisa said. Lois lived another 13 months under Lisa's care.
Lisa and Nicole's first awkward moment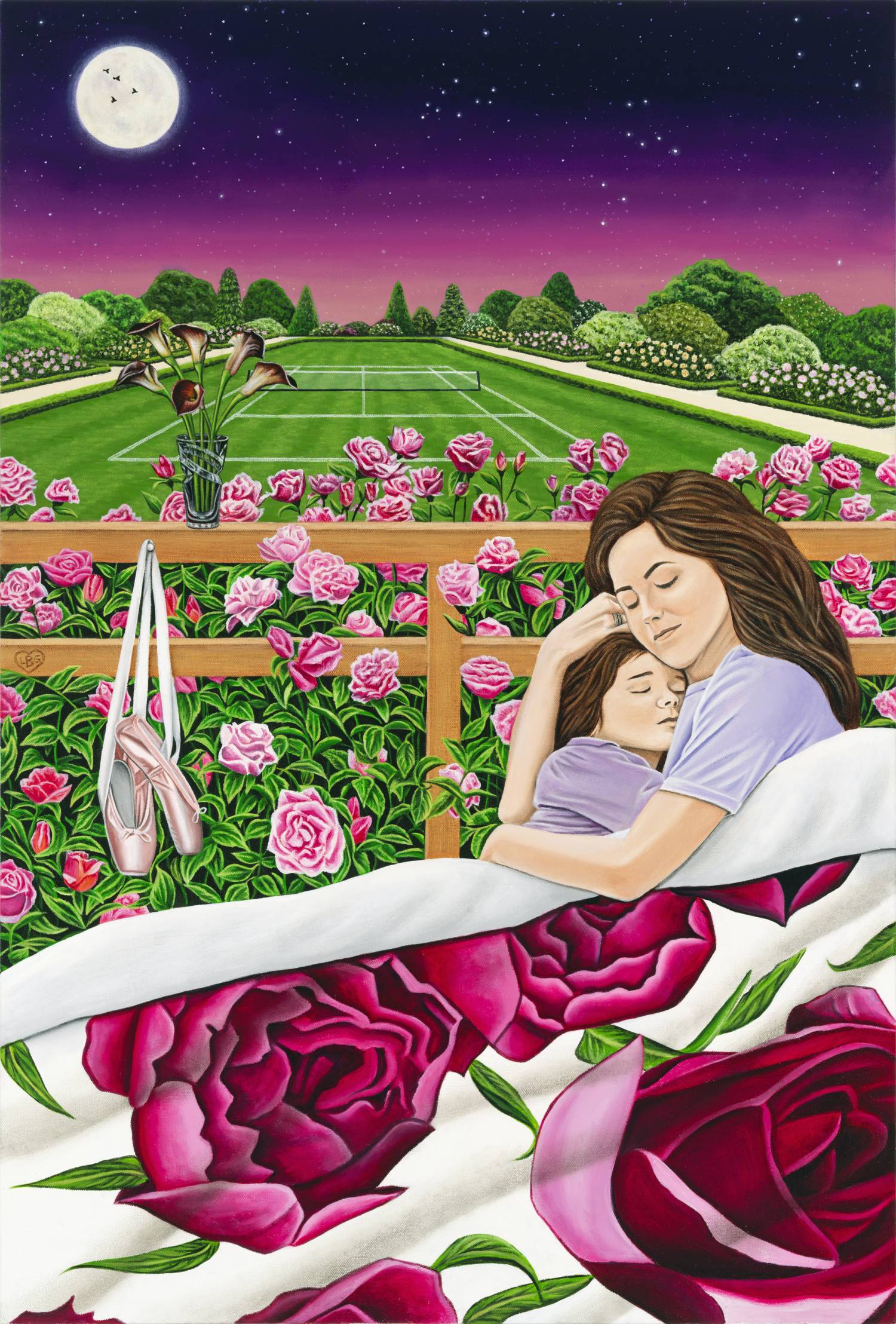 It was the duo's instant connection that fueled Nicole's creativity. Their natural chemistry made it less like a project with a due date and more like friends getting to know one another better. 
"It didn't feel like I was carrying the story of a stranger, it was really interesting," Nicole said. "As Lisa was speaking and telling me her stories, every once in a while, she would reveal a story that immediately clicked as a visual image."
Nicole would "collect" these stories as images for her piece. It was important that she connect the work to Lisa whenever possible.
"In this piece, there are details hidden everywhere that are symbols," Nicole said. "I wanted the whole painting to be filled with little pieces of Lisa. Learning about Lisa's story, it is so moving. As a recipient of the storytelling, it was really powerful."
The painting, titled "Embrace," shows a mother holding her young daughter, representing Lisa and Lois. Surrounding the two are the symbols Nicole took from her time with Lisa. The central theme surrounds a trip Lisa took with Lois. They went to New York City to see a professional tennis match. During this trip, there was a moment when Lisa curled up in her mother's lap like she used to do as a child. Other symbols include ballet, the color purple, a French rose garden and more.
"The image of a mother and child as the centerpiece to this painting is symbolic of the feelings of tenderness, connectedness and joy between Lisa and her mother," Nicole wrote in her artist statement. 
Both Nicole and Lisa were anxiously anticipating the painting reveal. 
"It was cute, we were both nervous, it was like our first date," Lisa said.
"First time there was an awkward moment in our relationship," Nicole added. 
Being someone who likes surprises, Lisa closed her eyes for the reveal and had Nicole yell "OPEN!"
The painting was beyond what Lisa could have imagined.
"The moment I opened my eyes, the focal point of the mother and daughter emoted what that relationship was for me," Lisa said. "I anticipated that I was going to cry, but I actually didn't because I could feel the warmth of my story in the art she created."
Lisa had no idea what to expect, too. During the process, she fully trusted Nicole with her story. 
"I didn't need to know what she was doing, I trusted she was taking the info and creating something beautiful and meaningful."
Even nine years later, Lisa still feels every emotion of her mother's cancer journey and her own journey as a caregiver. While some of those emotional moments are challenging, Lisa views her time as her mother's caregiver as something to be treasured.
"Taking care of my mother was the most fulfilling experience of my life," Lisa said. "Seeing the art and meeting the artists and inspirations at last year's Brushes with Cancer event- I just cried. You never forget. You never lose that emotion you experience when you care for your loved one. I was really overwhelmed with emotion, but it was all good."