Audre Lorde's Twist on Cancer 
Audre Lorde wore her labels with pride. 
She's a self-described "Black, lesbian, mother, warrior, poet" who once famously stated "Women are powerful and dangerous." Lorde was never one to mince words. 
Her writings addressed societal issues like racism, capitalism and homophobia, feminism and Black identity. Born in New York in 1934, Lorde discovered poetry at a young age and realized how it helped her communicate. 
"I literally communicated through poetry," she has said. "And when I couldn't find the poems to express the things I was feeling, that's what started me writing poetry, and that was when I was twelve or thirteen." 
So when she was diagnosed with breast cancer in 1977, Lorde needed an outlet for the wave of emotions that came crashing after learning her diagnosis and new, unsolicited identity. 
She turned to the art form that had always helped her make sense of things: writing. Lorde wrote The Cancer Journals between 1977 and 1979, which chronicled her journey with breast cancer and includes passages from her diary. The book was released in 1980, providing an outlet for cancer journeys that didn't fit the mainstream. 
The work is just as relevant today as it was 41 years ago. In 2016 – 24 years after Lorde's passing – Guardian writer Rafia Zakaria explained what it means to women, especially Black, queer women. 
"Cosseted in prosthesis, literal or figurative, she argues, women are kept from confronting loss, of breasts or of formerly healthy selves. Entrapped in the "terror and silent loneliness" of denial, they experience a second victimisation. No feminist must permit this."
"This is it Audre, you're on your own."
Lorde wrote her book, The Cancer Journals, because there were no resources for a Black, lesbian woman going through a cancer journey. She felt alone and needed a space to process her thoughts – a space that opened up room for other people to feel like they were no longer alone.
In The Cancer Journals, Lorde wrote how isolating her diagnosis was:
"I have cancer. I'm a black lesbian feminist poet, how am I going to do this now? Where are the models for what I'm supposed to be in this situation? But there were none. This is it, Audre. You're on your own."
Lorde received her first cancer diagnosis in 1977. It was breast cancer, and Lorde ended up having a mastectomy as part of her treatment process. On Oct. 10, 1978, she described her experience of what it's like to suddenly wake up and no longer have part of her body. 
"I want to write about the pain. The pain of waking up in the recovery room which is worsened by that immediate sense of loss. Of going in and out of pain and shots. Of the correct position for my arm to drain. The euphoria of the 2nd day, and how it's been downhill from there.

I want to write of the pain I am feeling right now, of the lukewarm tears that will not stop coming into my eyes—for what? For my lost breast? For the lost me? And which me was that again anyway? For the death I don't know how to postpone? Or how to meet elegantly? I'm so tired of all this. I want to be the person I used to be, the real me. I feel sometimes that it's all a dream and surely I'm about to wake up now."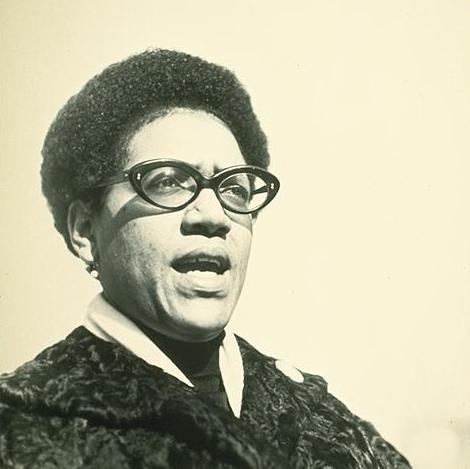 Audre Lorde's legacy
For 14 years, Lorde battled cancer and grappled with how to incorporate it into her identity. It was her way of confronting the illness and taking control of her own narrative. She did so by intertwining her activism, art and queerness with her diagnosis. By owning this new identity, Lorde empowered herself and others who could relate to her journey.
Six years after being diagnosed with breast cancer, Lorde received a liver cancer diagnosis. In total, her cancer journey lasted 14 years. During this time, she kept working, releasing Zami: A New Spelling of My Name (1982), Sister Outsider: Essays and Speeches (1984) and A Burst of Light (1988). Additionally, she founded Kitchen Table: Women of Color Press with fellow writer Barbara Smith in 1981. Lorde's accolades include a fellowship from the National Endowment for the Arts and poet laureate of New York from 1991-1992. 
In 1992, Lorde passed from the disease at 58 years old. At the time of her death, she had chosen a different name: Gamba Adisa. An African name, it means "she who makes her meaning clear." A perfect fit for the prolific writer. 
Lorde made her impact globally, living in places like Mexico, Germany, Mississippi and more. On Oct. 13, 2020, The Cancer Journals was re-released, proving what a groundbreaking, important piece of work it means to our culture. 
The Cancer Journals is available through Penguin Random House. 
Image: Wikimedia Commons