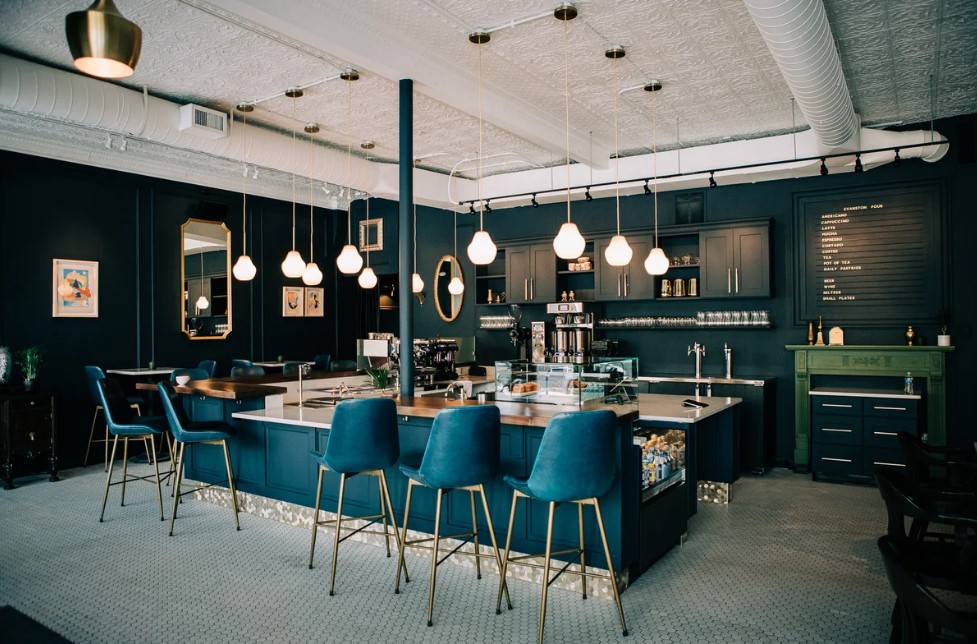 Veteran Brushes with Cancer Artists Jen and John Stumbaugh love to entertain. So, when COVID sent everyone home, their favorite activity was taken away. 
"COVID was the worst for us because we love to gather and cook large meals for our friends and family," John said. "That was a real crusher for us."
So, when a beautiful space in Evanston, Illinois opened up, the Stumbaughs took their love of hosting to the next level. With their partners Eric and Seren Payne, and Mike Sieja, the team got to work imagining their dream gathering place. 
"Aesthetics are big to us," John said. "When you think of a coffee shop, there is a vibe. We then started researching places we would like to hang out in, like swanky hotel bars."
"I love a good hotel lobby," Jen added.
The Stumbaughs knew what they liked, they just needed something to tie it all together. After Mike Sieja came back from a trip to Europe, the partners knew their vision. Mike had enjoyed Europe's all-day cafes, which combine aesthetics of a coffee shop, bar and small-bites restaurant.
"That's where the seed was planted," Jen said. "He came back excited about this idea that we could have everything." 
Over the course of a year, the partnership team worked hard to launch their vision. In February 2022, their all-day café, Evanston Pour, opened and had its grand-opening celebration in July. 
The Twist Connection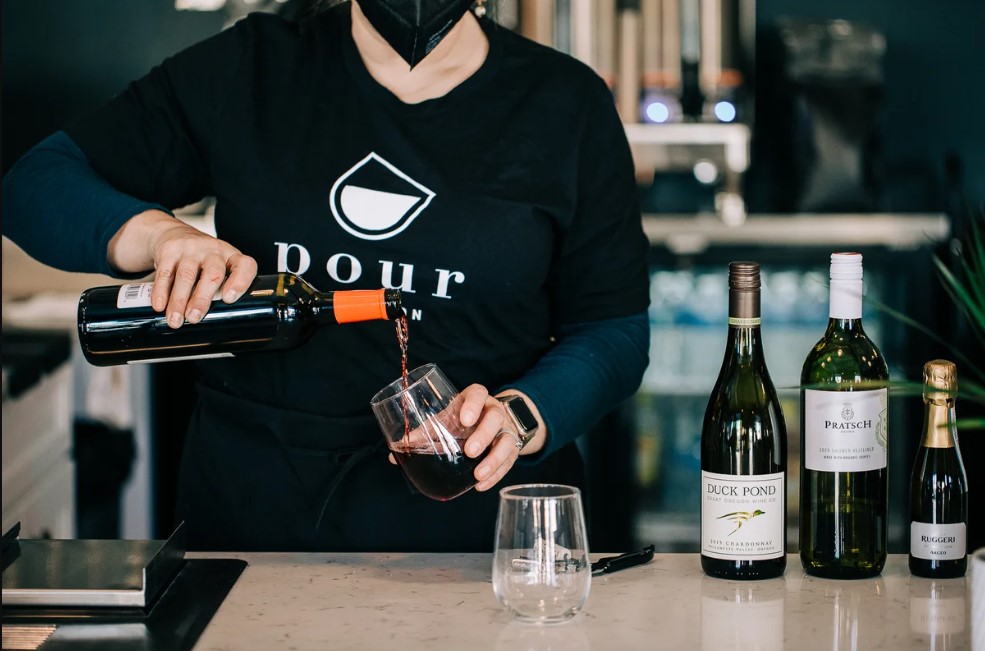 The Stumbaughs have been involved in the Twist Out Cancer community for nearly a decade. When August Spree – Jen's best friend of 28 years – went through the Brushes with Cancer program for the first time in 2013, Jen was by her side. 
"We're soulmates," Jen said. "So, when she first became involved, I was at that first event where she was an Inspiration and met Brad Young."
For those unfamiliar with August and Brad's story, the two were paired as Inspiration and Artist in 2013, and over time, became romantic partners. They may be Brushes with Cancer's first and only "official" couple, but as Jen surmises, there is plenty of love to go around.  
"As everyone knows, you become part of the program, you meet Jenna, the people and the Inspirations – and fall in love, you're hooked," she said. 
So, when the Stumbaughs got to work on Evanston Pour, August and her family were there to help. Brad – a woodworking artist – built Evanston Pour's walnut wood bartops, and August helped the Stumbaughs assemble a lot of their team. 
"A lot of our staff still thinks she's one of the owners because she was very much involved
She comes in and works out of the café," Jen said. "She's a connector and is continually bringing people in because she's good at what she does."
"She did such a phenomenal job of helping us find and vet people," John added. 
Additionally, August's son, Caleb, was hired for food preparation. The opportunity allows him to follow his culinary passion.
"Caleb started culinary school before COVID hit, so it has been great for him to get in the kitchen and do the stuff he loves," Jen said. 
A Focus On Art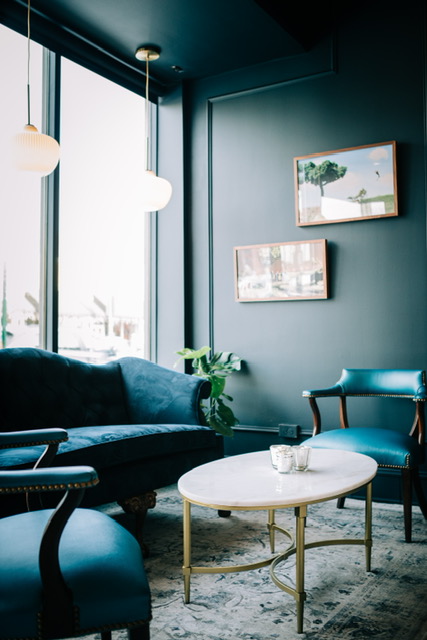 Naturally, art is a huge piece of Evanston Pour's aesthetic. The establishment worked with Evanston Made, an art nonprofit that connects creators with art enthusiasts and provides professional-development opportunities to artists within the community. 
"Every month we have a rotating art exhibition," Jen said. "Our walls are painted dark and there is a lot of space to showcase art. Part of our aesthetic is to bring in local artists to adorn the space."
"We worked hard on it," John added. "We knew it was going to be beautiful."
The Stumbaughs shared that people often walk in from off the street to admire the art and take pictures. 
"The artistic vision has been flattering," John said "People have been incredibly complimentary on it."
The two eventually want to have a conversation about incorporating Brushes with Cancer art into the space, but right now, they're focused on offering a warm, inclusive space to their Evanston neighbors. 
"One of our values is to be as diverse and inclusive as we can, and I think bringing other people to the table is beneficial," Jen said. 
And even though the Stumbaughs just started their Evanston Pour journey, they're already seeing the impact of having an all-day cafe in their community. 
"This job is all-encompassing – we're open every day." Jen said. "But when I talk to customers, or people say 'I met a friend there and it was a welcoming space,' and 'We were treated respectfully,' I feel like my soul has been fed."