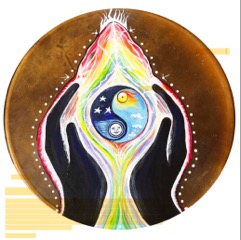 December 9, 2021 6:30 pm central time
Facilitated by Mignon Dupepe and Noah Plotkin
Self-soothing through the senses
Self-soothing is doing things to calm and relax yourself through your five senses. Join Brushes with Cancer participants/friends, collaborators, and creators, Noah Plotkin and Mignon Dupepe for an evening of soothing practices, creative exploration, and connection. Using rhythm making and art processes, we will explore a deeper understanding of managing stress and supporting wellness by intentionally engaging in soothing enjoyable sensory experiences. No music or artistic skills required to participate-just an interest in using art materials and music for expression, growth, and relaxation.
Materials to be considered for this workshop include:
Watercolor or thick art paper-3 pieces-
Watercolor paints
Water/ watercolor brush/paper towels
Colorful markers-
Permanent black marker-thin if possible
Colorful pens
Scissors
Glue stick
Noah will be providing soothing melodies on an instrument called a HandPan along with various percussion items.
Noah Plotkin's Life Rhythms was founded in 2013 to facilitate health and wellness in diverse populations through the power of rhythmic music. Programs are designed to express the creative spirit, vent stress and re-establish a healthy and beneficial life rhythm.
Throughout his life Noah has recognized the power of music to unite people of all ages and backgrounds to build strong and sustainable communities. He believes that music is a universal language that reaches across all cultural and demographic boundaries. It is in this spirit that Noah hopes to bring awareness of rhythmic music as a complementary tool to enable people of all ages to create and maintain good health.
Mignon is a Twistshop facilitator, Licensed Clinical Professional Counselor, Registered Art Therapist, and art explorer. Mignon is passionate about using the creative process to connect, to promote insight and understanding, and to imagine possibilities.

CLICK HERE TO MAKE SUGGESTED $5-$10 DONATION. All donations go towards future Twistshop programming.